With 825,000 kilometres of transmission, gathering and distribution pipelines in Canada safety is of most importance. The pipeline network relies on the pipeline survey professionals to ensure safe operations.
Pipelines in Alberta
Every day in Alberta, a complex network of pipelines operates right under our feet, moving oil and gas to markets at home and beyond. In fact, oil and gas pipelines stretch more than 433, 000 kilometres across the province. Pipeline rights-of-way rely on an accurate pipeline survey and are required under the Pipeline Regulation and are part of the pipeline survey process.
Which pipelines is the AER responsible for?
The AER regulates pipelines within Alberta's borders, with the exception of utility pipelines, which are regulated by the Alberta Utilities Commission. Oil and gas pipelines that cross provincial or international borders are regulated by the Canadian Energy Regulator.
Most pipelines that they are responsible for are smaller lines that connect individual wells to processing facilities, which then connect to larger-diameter lines. The AER also provides inspection and incident and emergency response support for 12 000 kilometres of utility pipelines. All regulated pipelines by the AER require a pipeline survey.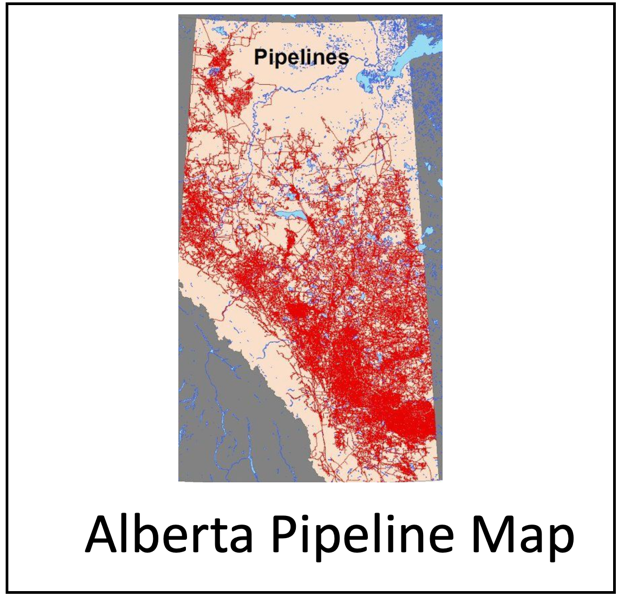 Importance of a Pipeline Survey in the Oil & Gas Industry
It is important to create a public record of buried facilities for the safety and benefit of the public, developers, utility companies, municipalities, emergency responders and government regulatory agencies. It is the professional obligation of the Alberta Land Surveyor to create a public record of monuments placed in the ground within two years of completing the survey.
Utility strikes can result in costly property damage, injury and death. Knowing the specific location of buried utilities is a critical first step in avoiding a utility strike. Further to this issue of safety, knowing the location of utilities also allows for efficiency in planning for landowners, developers, energy companies, utility companies, municipalities and so on.
How to determine the location of a pipeline?
There are a number of ways to determine the location of buried utilities in Alberta, including observing signage on the ground, performing locates (Alberta One-call or private locators), searching the title for registered interests, searching the AER licensed pipeline mapping/plans and searching public databases, like SPIN2, for registered rights-of-ways. The matter at hand is that of registered rights of-ways, specifically on private land. This is not currently an issue on public land as the Crown has stipulated a disposition process for all interests on public land, including pipelines, which involves the public pipeline survey mapping of the disposition.
Experienced survey professionals will follow the proposed pipeline route collecting all of the data required to create maps and drawings for engineering design, regulatory applications, crossing agreements and detailed site plans. The data flows from the field into the GIS and CAD technicians to prepare the final maps and drawings using multi-stage quality control procedures.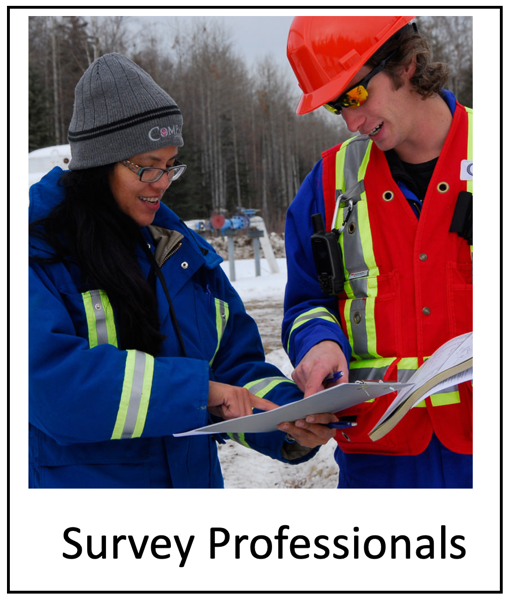 Working around a pipeline?
Before beginning work around oil and gas pipelines, it's important to obtain all required approvals to ensure that workers, the public, and the environment are safe.
Below is a brief overview of what to do and who to contact when planning surface work or a ground disturbance around oil and gas pipelines. This information applies to pipelines that we regulate.
Surface Work Near a Pipeline – What activities are considered surface work?
Operating vehicles or equipment on or across a pipeline other than via a highway or public road is considered surface work.
Ground Disturbance Near a Pipeline – What activities are considered ground disturbances?
Ground disturbances, as defined under the Pipeline Act, can include excavating, digging, trenching, plowing, drilling, tunnelling, augering, backfilling, blasting, stripping topsoil, levelling, removing peat, quarrying, clearing, grading, and pounding posts.
Activities that are not considered to be a ground disturbance include
a disturbance that is less than 30 centimetres deep and that does not reduce the pipeline cover to less than what currently exists, and cultivation less than 45 centimetres deep.
Prepare to Carry Out a Ground Disturbance
Before conducting a ground disturbance anywhere, a person must search for pipelines within 30 metres (m) of the perimeter of the area that they plan to disturb, and contact Alberta One-Call and request the location of any buried utilities in the area.
Note that not all underground services are registered on the Alberta One-Call system—do not assume that they are!
Ways of searching for pipelines, in addition to contacting Alberta One-Call, include the following:
Check with local utility providers.
Check the land title for easements or rights-of-way.
Look for pipeline warning signs, which are typically located at road or water crossings.
Look for nearby wells, tanks, valve stations, and meter stations, which might indicate the presence of a pipeline.
Look for ground settling from previous work.
Talk to nearby residents and landowners.
Hire a service provider that locates pipelines.
Order Pipeline As Built / Base Maps / Right Of Way Plans through the AER products and services catalogue, or contact the AER Customer Contact Centre for help ordering it.
Determine Where Work Is To Be Conducted Around a Pipeline
To ensure the 825,000 kilometres of transmission, gathering and distribution pipelines in Canada operate safely they require professional pipeline surveys.
Sponsor

Compass Geomatics services a number of industries in Alberta and Saskatchewan. We realize each project is different, and each industry is unique. By offering tailored and complete geomatics packages to our clients, we're able to provide efficient and cost-effective solutions to meet your needs and budget. We utilize the most advanced technologies available to ensure accuracy, and our highly skilled field and office staff are able to manage projects of any scale in a variety of conditions. Our professional team will never sacrifice safety, and customer service is a priority. We always aim to go beyond your expectations, providing due care and attention to exceed industry standards in the most efficient way possible.
Compass in the Community
Compass Geomatics Ltd. believes in the importance of giving back to our community.
We emphasize community involvement that is inspired by the community enhancement goals and passions of our employees. It is important to us that our employees feel connected to the causes that we pursue, and this helps us in the allocation of our charitable funds and resources. These are just a few of the organizations and causes to which we have recently given our support.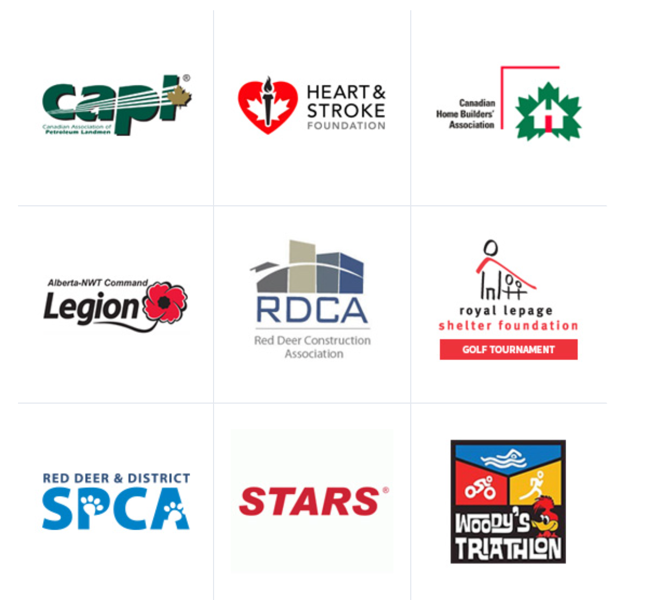 Compass Services

Compass Safety
Compass Geomatics is committed to doing business in a safe and productive environment. The personal safety of our employees and our environmental impact is of paramount importance in all of our policies and procedures.
Compass Geomatics maintains current Certificates of Recognition (COR) within Alberta, through certifying partner Alberta Association for Safety Partnerships. We are also in good standing with ISN world, Complyworks, along with PICS Auditing.
Compass Geomatics field crews often work in remote areas. Our crews are provided with cellular phones and two-way radios, as well as SPOT personal satellite messenger (on site specific basis). Spot units allow crews to set waypoints to track their progress, as well as "check in" if in a poor cell service area or if working alone. These units also will notify management and emergency services in the event of an emergency providing GPS coordinates.