Who Is Siemens Energy?
Siemens Energy, our mission is to empower our customers to meet the growing global demand for energy while transitioning to a more sustainable world. How? Our innovative technologies, extensive energy experience and an ambitious strategy to decarbonize global energy systems are all central to our efforts to be the partner and driver of the energy transition. And our top focus areas in ESG, innovation and transformation share how we're making the future of tomorrow different today, for both our partners – and our people.
---
The Linkedin Ad Process
The following overview are the steps we used to create the content, set-up the Linkedin ad and measure the response.
Step 1 – Create Campaign Objective
Siemens Energy has partnered with ProFlex's technology to help customers pinpoint small leaks fast and avoid environmental and regulatory issues. Siemens wanted to use content & digital marketing to create brand awareness and generate sales leads. As a result they turned to Oilgasleads.com to create an article "Pipeline Leak Detection System Reduces Methane Gas" and a Linkedin Ad campaign.
Step 2 – Content Creation
Business blogging is a marketing tactic that uses blogging to get your business more online visibility. A business blog is a marketing channel (just like social media, direct mail, email marketing, etc.) that helps support business growth.
The Content Process
Research – The market research process confirms the target market and we research the solutions deployed by target customers and competitors.
Keyword Phrase Research – Keywords are important because they are the linchpin between what people are searching for and the content you are providing to fill that need. Using keyword phrases allows us to determine how relevant the blog topic is to the target audience.
Create the Post – We have 3 objectives when we crate the post
Make it Relevant – Industry information that is valuable.
Establish authority – the advertiser is associated with
Publish the Content – we create a landing page that contains the content. This is the fist step of conversion process to create a qualified lead.
Step 3 – Identify Target Audience
The definition of account based selling (ABS) refers to a primarily business-to-business (B2B) sales model that targets companies – or "accounts," in business speak – rather than specific leads. B2B companies use the account based selling model to predict and target the accounts that will be most receptive to buying. While this is a relatively old business-selling model, it has become more common thanks to new technological advancements.
We use our market research skills to create a segmented list of accounts to target that accounts that are most likely to purchase the Siemens product.
SM Energy Company, Laredo Petroleum, Inc., Kinder Morgan, Inc., Citation Oil & Gas Corp., Diamondback Energy, West Texas Gas, Inc., Callon Petroleum, Centennial Resource Production, LLC, BTA Oil Producers, LLC, CenterPoint Energy, Chesapeake Energy, Enterprise Products, Pioneer Natural Resources Company, XTO Energy, CrownQuest Operating, LLC, EOG Resources, BPX, Plains All American, Birch Resources……
Step 3 – Set-up the Linkedin Ad
We set-up the Linkedin ad with the message, target audience and pointed to the landing page.

---
Measure the Linkein Ads Results
Linkedin Ad Views
An impression is counted each time your ad is shown on a Linkedin feed each time your ad appears on the Linkedin network, it's counted as one impression. We use this data

Linkedin Ad Clicks
When someone clicks your ad, like on the blue headline or phone number of a text ad Linkedin Ads counts that as a click. A click is counted even if the person doesn't reach your website, maybe because it's temporarily unavailable. … Relevant, highly-targeted ads are more likely to receive clicks.

Linkedin Demographics
Company Views – we use this to determine what accounts are clicking on the content.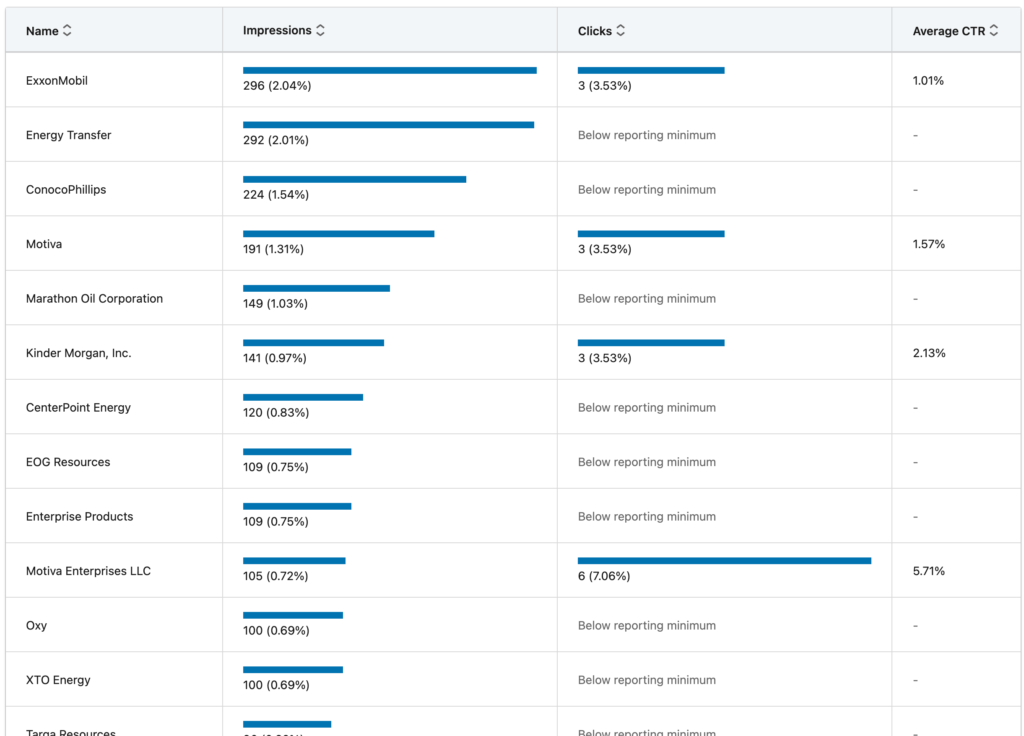 Contact Roles – A Contact Role is the position/post of contact for any account, Case, or opportunity. Contact can have multiple roles for n numbers of accounts, case, or opportunity. Contact roles is the way to establish many to many relationships with Contacts and accounts, Contacts and cases or contacts, and opportunities.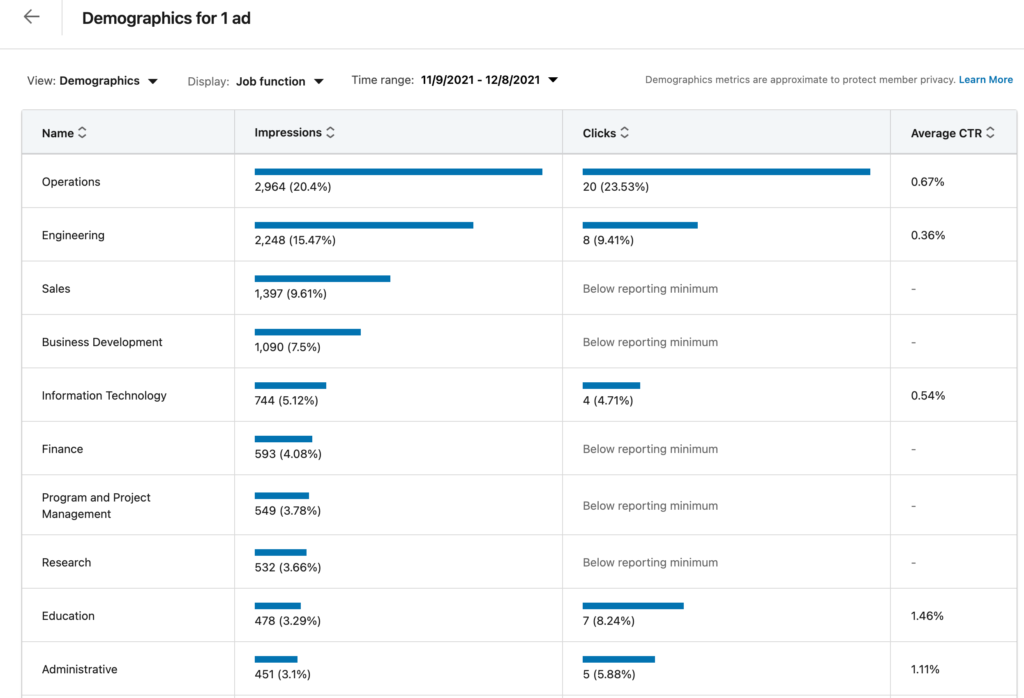 Lead Creation
Banner Ad – we use a banner ad on the content page to promote a "demo" of the pipeline leak detection solution. A web banner or banner ad is a form of advertising on the World Wide Web delivered by an ad server. This form of online advertising entails embedding an advertisement into a web page. It is intended to attract traffic to a website by linking to the website of the advertiser.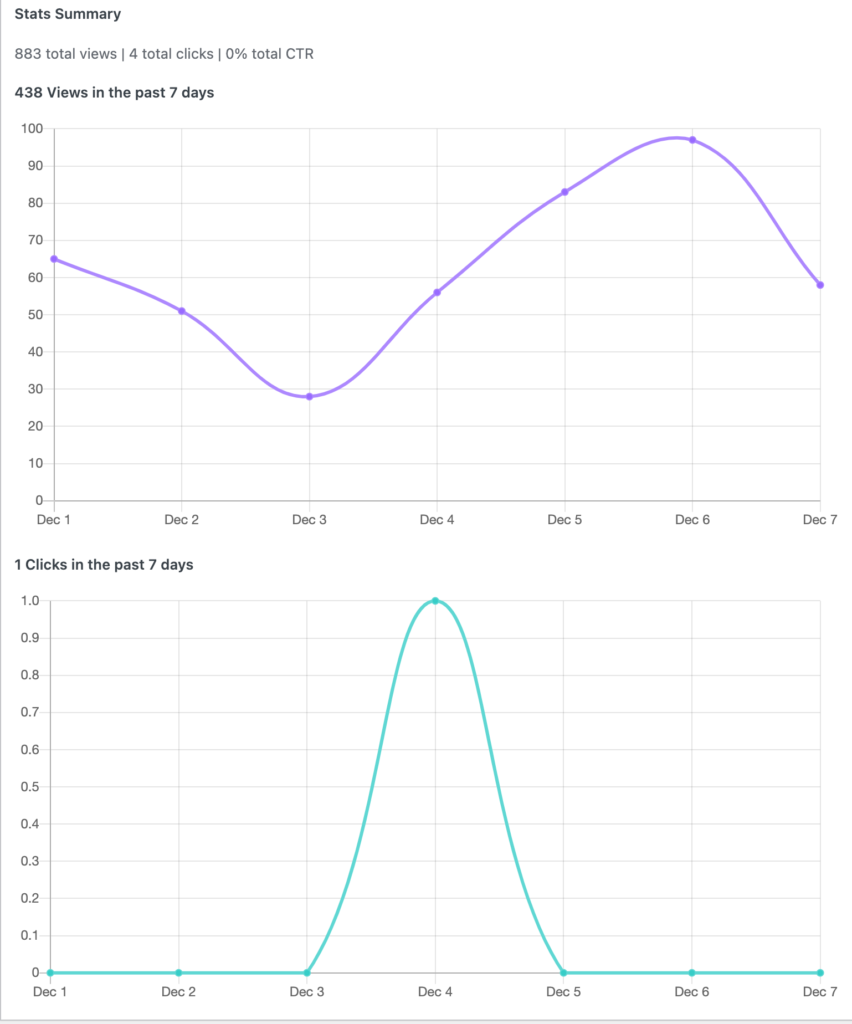 Demo Form Conversion – An action that's counted when someone interacts with your ad or free product listing (for example, clicks a text ad or views a video ad) and then takes an action that you've defined as valuable to your business, such as an online purchase or a call to your business from a mobile phone. In our case the conversion is a request for a demo.