---
Western Canada Wells Spud – Reports Report Downloads
The link below will allow you to download for free the list of Operators and drilling rigs that spud wells in Western Canada last 30 days.
---
Content Sponsor
Material Resource Management
Material Resource Management (MRM) is a material management company specializing in site clean up, co-ordination of planning, sourcing, purchasing, moving , storing and controlling materials in an optimum manner so as to provide a pre-decided service to the customer at a minimum cost. MRM has a large inventory of owned equipment. We buy and sell Production Equipment, Access & Rig Matting, OCTG, Storage Tents, Copper and Aluminum Teck Cable, Line Pipe, Camps, Office/MCC Buildings and much more.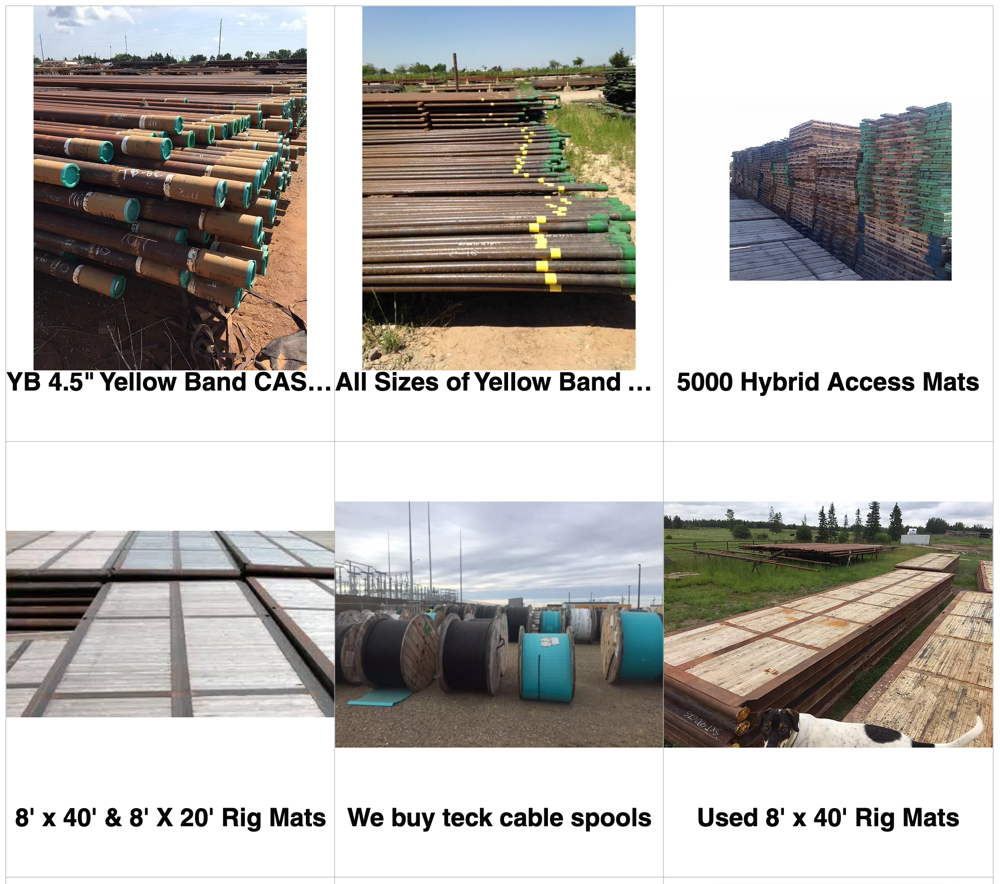 ---
Permit Details
---
Wells Drilled in the Cardium Western Canada
The Cardium Play has been one of the largest oil fields in the Western Canada Sedimentary Basin with production history of almost six decades. Starting in the mid '50s, the Cardium Play was originally developed with conventional drilling techniques; the production peaked in the early '70s at almost 200,000 boe/d and has been decreasing steadily ever since to around 50,000 boe/d in 2008. The main oil field in the Cardium Play is Pembina. Given the advancements in the horizontal drilling and hydraulic fracturing, Rystad Energy estimates that Cardium Play will once again reach the production peak at almost 200,000 boe/d around 2019
| | | | | | | |
| --- | --- | --- | --- | --- | --- | --- |
| Field ↑ | Account Name ↓ | Near_LSD ↑ | Pad Drilling | Board Field Centre | Contractor_and_Rig | Surface Location |
| FERRIER | Yangarra Resources Ltd. | Caroline | 16-08-037-07W5 | RED DEER | Stampede 6 | 16-08-037-07W5 |
| | | | 16-08-037-07W5 | RED DEER | null 6 | 16-08-037-07W5 |
| | | cityCaroline | 16-08-037-07W5 | RED DEER | Stampede 6 | 16-08-037-07W5 |
| | | | 13-01-037-08W5 | Red Deer | Stampede 6 | 13-01-037-08W5 |
| | | cityRocky Mountain House | 10-28-039-08W5 | RED DEER | Stampede 5 | 10-28-039-08W5 |
| | | | 13-10-037-08W5 | RED DEER | Stampede 6 | 13-10-037-08W5 |
| | | | 07-28-037-07W5 | RED DEER | Stampede 5 | 07-28-037-07W5 |
| | | | 07-28-037-07W5 | RED DEER | Stampede 5 | 07-28-037-07W5 |
| | | | 12-20-037-07W5 | RED DEER | Stampede 5 | 12-20-037-07W5 |
| | | | 12-20-037-07W5 | RED DEER | Stampede 5 | 12-20-037-07W5 |
| | | O'Chiese #203 | 13-34-043-10W5 | RED DEER | Trinidad 42 | 13-34-043-10W5 |
| | | | 13-34-043-10W5 | RED DEER | Trinidad 42 | 13-34-043-10W5 |
| | | Rocky Mountain House | 04-01-040-09W5 | RED DEER | Stampede 6 | 04-01-040-09W5 |
| | | | 04-01-040-09W5 | RED DEER | Stampede 6 | 04-01-040-09W5 |
| | | | 04-01-040-09W5 | RED DEER | Trinidad 53 | 04-01-040-09W5 |
| | | | 10-28-039-08W5 | RED DEER | Trinidad 42 | 10-28-039-08W5 |
| | | | 10-28-039-08W5 | RED DEER | Stampede 5 | 10-28-039-08W5 |
| | | | 10-28-039-08W5 | RED DEER | Trinidad 42 | 10-28-039-08W5 |
| | | | 10-28-039-08W5 | RED DEER | Trinidad 42 | 10-28-039-08W5 |
| | | | 02-17-037-07W5 | Red Deer | Stampede 5 | 02-17-037-07W5 |
| | | | 02-17-037-07W5 | RED DEER | Stampede 5 | 02-17-037-07W5 |
| | | | 08-34-037-08W5 | RED DEER | Trinidad 53 | 08-34-037-08W5 |
| | | | 08-34-037-08W5 | RED DEER | Stampede 6 | 08-34-037-08W5 |
| | | | | RED DEER | Trinidad 53 | 06-02-040-09W5 |
| | | | | RED DEER | Trinidad 42 | 01-36-039-09W5 |
| | | | | RED DEER | Trinidad 53 | 06-02-040-09W5 |
| | | | | RED DEER | Trinidad 53 | 14-33-039-08W5 |
| | | | | RED DEER | Trinidad 53 | 14-33-039-08W5 |
| | | | | RED DEER | Trinidad 42 | 11-06-040-08W5 |
| | ORLEN Upstream Canada Ltd. | | | RED DEER | Star 201 | 15-22-038-09W5 |
| | | cityRocky Mountain House | 16-22-039-09W5 | RED DEER | Ensign 225 | 16-22-039-09W5 |
| | | | 16-22-039-09W5 | RED DEER | Ensign 225 | 16-22-039-09W5 |
| | | | 16-13-039-09W5 | RED DEER | Ensign 225 | 16-13-039-09W5 |
| | | | 16-13-039-09W5 | RED DEER | Ensign 225 | 16-13-039-09W5 |
| | | | 03-14-039-09W5 | RED DEER | Ensign 225 | 03-14-039-09W5 |
| | | | 03-25-039-09W5 | RED DEER | Ensign 225 | 03-25-039-09W5 |
| | | | 03-25-039-09W5 | RED DEER | Ensign 225 | 03-25-039-09W5 |
| | | Rocky Mountain House | 02-15-039-09W5 | RED DEER | Ensign 225 | 02-15-039-09W5 |
| | | | 01-15-039-09W5 | RED DEER | Ensign 225 | 01-15-039-09W5 |
| | | | 16-14-039-09W5 | RED DEER | Star 201 | 16-14-039-09W5 |
| | | | 16-14-039-09W5 | RED DEER | Star 201 | 16-14-039-09W5 |
| | | | 04-34-039-09W5 | RED DEER | Ensign 225 | 04-34-039-09W5 |
| | | | 03-27-039-09W5 | RED DEER | Ensign 225 | 03-27-039-09W5 |
| | | | 03-27-039-09W5 | RED DEER | Ensign 225 | 03-27-039-09W5 |
| | | | 03-25-039-09W5 | RED DEER | Ensign 225 | 03-25-039-09W5 |
| | | | 03-25-039-09W5 | RED DEER | Ensign 225 | 03-25-039-09W5 |
| | | | 03-25-039-09W5 | RED DEER | Ensign 225 | 03-25-039-09W5 |
| | | | | RED DEER | Ensign 225 | 02-19-038-08W5 |
| | Bonavista Energy Corporation | Burnstick Lake | | RED DEER | Savanna 631 | 05-33-036-09W5 |
| | | cityRocky Mountain House | 12-16-038-07W5 | RED DEER | Savanna 655 | 12-16-038-07W5 |
| | | | 12-16-038-07W5 | RED DEER | Savanna 655 | 12-16-038-07W5 |
| | | Rocky Mountain House | 06-07-038-07W5 | RED DEER | Savanna 656 | 06-07-038-07W5 |
| | | | 06-07-038-07W5 | RED DEER | Savanna 656 | 06-07-038-07W5 |
| | | | 10-12-038-09W5 | RED DEER | Savanna 656 | 10-12-038-09W5 |
| | | | 10-12-038-09W5 | RED DEER | Savanna 656 | 10-12-038-09W5 |
| | | | 02-34-037-08W5 | RED DEER | Savanna 656 | 02-34-037-08W5 |
| | | | 02-34-037-08W5 | Red Deer | Savanna 656 | 02-34-037-08W5 |
| | | | 04-06-038-07W5 | RED DEER | Savanna 652 | 04-06-038-07W5 |
| | | | 04-06-038-07W5 | RED DEER | Savanna 652 | 04-06-038-07W5 |
| | | | 15-08-038-07W5 | RED DEER | Savanna 655 | 15-08-038-07W5 |
| | | | | RED DEER | Savanna 656 | 15-35-037-08W5 |
| | | | | RED DEER | Savanna 656 | 02-04-038-08W5 |
| | | | | RED DEER | Savanna 656 | 02-11-038-09W5 |
| | | | | RED DEER | Savanna 656 | 01-11-038-09W5 |
| | TAQA North Ltd. | cityO'Chiese #203 | 04-03-044-11W5 | DRAYTON VALLEY | Precision 231 | 04-03-044-11W5 |
| | | | 04-09-044-10W5 | RED DEER | Precision 231 | 04-09-044-10W5 |
| | | | 04-09-044-10W5 | RED DEER | Precision 231 | 04-09-044-10W5 |
| | | | 08-23-044-10W5 | RED DEER | Precision 241 | 08-23-044-10W5 |
| | | | | RED DEER | Precision 241 | 16-03-043-10W5 |
| | | O'Chiese #203 | 01-28-044-10W5 | RED DEER | Nabors 8 | 01-28-044-10W5 |
| | | | 02-19-042-10W5 | RED DEER | Nabors 8 | 02-19-042-10W5 |
| | | | 02-19-042-10W5 | RED DEER | Nabors 8 | 02-19-042-10W5 |
| | | | | RED DEER | Nabors 8 | 16-08-044-10W5 |
| | | | | RED DEER | Nabors 8 | 16-08-044-10W5 |
| | | | | RED DEER | Nabors 8 | 14-31-042-11W5 |
| | | | | RED DEER | Nabors 8 | 04-22-042-11W5 |
| | | | | DRAYTON VALLEY | Nabors 8 | 01-16-043-11W5 |
| | | Rocky Mountain House | 16-20-040-09W5 | RED DEER | Nabors 8 | 16-20-040-09W5 |
| | | | 16-20-040-09W5 | RED DEER | Nabors 8 | 16-20-040-09W5 |
| | Whitecap Resources Inc. | cityRocky Mountain House | 10-25-037-08W5 | RED DEER | Ensign 434 | 10-25-037-08W5 |
| | | | 02-08-038-07W5 | Red Deer | Ensign 434 | 02-08-038-07W5 |
| | | Rocky Mountain House | 15-17-038-07W5 | RED DEER | Precision 225 | 15-17-038-07W5 |
| | | | 15-17-038-07W5 | RED DEER | Precision 225 | 15-17-038-07W5 |
| | | | 04-29-038-07W5 | RED DEER | Precision 225 | 04-29-038-07W5 |
| | | | 04-03-039-07W5 | RED DEER | Precision 225 | 04-03-039-07W5 |
| | | | 04-03-039-07W5 | RED DEER | Precision 225 | 04-03-039-07W5 |
| | | | 10-25-037-08W5 | RED DEER | Savanna 655 | 10-25-037-08W5 |
| | | | 12-28-038-07W5 | RED DEER | Precision 225 | 12-28-038-07W5 |
| | | | 12-28-038-07W5 | RED DEER | Horizon 23 | 12-28-038-07W5 |
| | | | | RED DEER | Horizon 23 | 03-32-038-07W5 |
| | | | | RED DEER | Horizon 23 | 02-28-038-07W5 |
| | | | | RED DEER | Horizon 23 | 03-32-038-07W5 |
| | | | | RED DEER | Precision 225 | 04-23-038-07W5 |
| | Spartan Delta Corp | O'Chiese #203 | 13-35-044-10W5 | RED DEER | Savanna 679 | 13-35-044-10W5 |
| | | | 13-35-044-10W5 | RED DEER | Savanna 679 | 13-35-044-10W5 |
| | | | 13-35-044-10W5 | RED DEER | Akita 34 | 13-35-044-10W5 |
| | | | 13-35-044-10W5 | RED DEER | Akita 34 | 13-35-044-10W5 |
| | | | 16-12-044-10W5 | Red Deer | Twilight 1 | 16-12-044-10W5 |
| | | | 16-12-044-10W5 | RED DEER | Twilight 1 | 16-12-044-10W5 |
| | | | | RED DEER | Akita 34 | 08-01-044-10W5 |
| | | | | DRAYTON VALLEY | Akita 34 | 15-36-044-10W5 |
| | | | | DRAYTON VALLEY | Akita 34 | 15-36-044-10W5 |
| | | | | DRAYTON VALLEY | Akita 34 | 15-36-044-10W5 |
| | Petrus Resources Ltd | cityRocky Mountain House | 16-17-038-08W5 | RED DEER | Savanna 638 | 16-17-038-08W5 |
| | | Rocky Mountain House | 13-17-039-08W5 | RED DEER | Savanna 639 | 13-17-039-08W5 |
| | | | 13-17-039-08W5 | RED DEER | Savanna 639 | 13-17-039-08W5 |
| | | | 13-17-039-08W5 | RED DEER | Savanna 639 | 13-17-039-08W5 |
| | | | 13-17-039-08W5 | RED DEER | Savanna 639 | 13-17-039-08W5 |
| | | | 13-18-039-08W5 | RED DEER | Savanna 653 | 13-18-039-08W5 |
| | | | 13-18-039-08W5 | RED DEER | Savanna 639 | 13-18-039-08W5 |
| | | | 13-18-039-08W5 | RED DEER | Savanna 653 | 13-18-039-08W5 |
| | | | 16-17-038-08W5 | RED DEER | Savanna 638 | 16-17-038-08W5 |
| | | | | RED DEER | Horizon 5 | 01-23-038-09W5 |
| | Vermilion Energy Inc | cityO'Chiese #203 | | DRAYTON VALLEY | CWC 5 | 03-26-043-11W5 |
| | | | | DRAYTON VALLEY | Ironhand 5 | 02-17-044-11W5 |
| | | | | RED DEER | Ironhand 7 | 15-24-042-11W5 |
| | | O'Chiese #203 | 04-17-044-11W5 | DRAYTON VALLEY | Ironhand 5 | 04-17-044-11W5 |
| | | | 03-13-042-11W5 | RED DEER | Ironhand 8 | 03-13-042-11W5 |
| | | | 03-13-042-11W5 | RED DEER | Ironhand 5 | 03-13-042-11W5 |
| | | | | RED DEER | Ironhand 8 | 01-19-043-10W5 |
| | | | | RED DEER | Ironhand 7 | 09-12-042-11W5 |
| | | | | RED DEER | Ironhand 5 | 03-29-042-10W5 |
| | Canadian Natural Resources Limited | cityRocky Mountain House | 07-16-038-07W5 | RED DEER | Ensign 419 | 07-16-038-07W5 |
| | | | 07-16-038-07W5 | RED DEER | Ensign 419 | 07-16-038-07W5 |
| | | Rocky Mountain House | 08-17-038-07W5 | RED DEER | Horizon 22 | 08-17-038-07W5 |
| | | | | RED DEER | Horizon 22 | 02-06-039-07W5 |
| | | | | RED DEER | Horizon 22 | 02-06-039-07W5 |
| | | | | RED DEER | Horizon 22 | 08-17-038-07W5 |
| | | | | RED DEER | Horizon 22 | 08-17-038-07W5 |
| | TRIPLE FIVE INTERCONTINENTAL GROUP LTD. | cityO'Chiese #203 | 13-18-043-09W5 | RED DEER | Savanna 655 | 13-18-043-09W5 |
| | | O'Chiese #203 | 13-18-043-09W5 | RED DEER | Horizon 46 | 13-18-043-09W5 |
| | | | 13-18-043-09W5 | RED DEER | Horizon 46 | 13-18-043-09W5 |
| | Baytex Energy Corp. | O'Chiese #203 | 05-20-044-10W5 | RED DEER | Savanna 636 | 05-20-044-10W5 |
| | | | | RED DEER | Nabors 11 | 14-18-044-10W5 |
| | | | | RED DEER | Savanna 653 | 10-22-042-11W5 |
| | Baccalieu Energy Inc | cityO'Chiese #203 | 16-05-042-09W5 | RED DEER | Horizon 2 | 16-05-042-09W5 |
| | | | 16-05-042-09W5 | RED DEER | Horizon 2 | 16-05-042-09W5 |
| | Repsol Oil & Gas Canada Inc. | Rocky Mountain House | 16-31-037-06W5 | RED DEER | Precision 571 | 16-31-037-06W5 |
| | Gear Energy Ltd | Rocky Mountain House | | RED DEER | Trinidad 51 | 04-11-040-08W5 |
| | Bonterra Energy Corp. | cityRocky Mountain House | 04-08-041-08W5 | RED DEER | Ironhand 1 | 04-08-041-08W5 |
| PEMBINA | Bonterra Energy Corp. | | 14-24-046-07W5 | DRAYTON VALLEY | Ironhand 1 | 14-24-046-07W5 |
| | | Alder Flats | 14-24-046-07W5 | DRAYTON VALLEY | Ironhand 1 | 14-24-046-07W5 |
| | | | 02-34-046-07W5 | DRAYTON VALLEY | Ironhand 1 | 02-34-046-07W5 |
| | | | 02-34-046-07W5 | DRAYTON VALLEY | Ironhand 1 | 02-34-046-07W5 |
| | | | 02-34-046-07W5 | DRAYTON VALLEY | Ironhand 1 | 02-34-046-07W5 |
| | | | 08-22-046-07W5 | DRAYTON VALLEY | Ironhand 1 | 08-22-046-07W5 |
| | | | 14-20-046-07W5 | DRAYTON VALLEY | Ironhand 1 | 14-20-046-07W5 |
| | | | 14-20-046-07W5 | DRAYTON VALLEY | Ironhand 1 | 14-20-046-07W5 |
| | | | | DRAYTON VALLEY | Ironhand 7 | 04-24-046-07W5 |
| | | | | DRAYTON VALLEY | Ironhand 7 | 04-24-046-07W5 |
| | | | | DRAYTON VALLEY | Ironhand 7 | 13-20-046-07W5 |
| | | | | DRAYTON VALLEY | Ironhand 7 | 13-20-046-07W5 |
| | | | | DRAYTON VALLEY | Ironhand 7 | 07-25-046-07W5 |
| | | Breton | | DRAYTON VALLEY | Ironhand 1 | 01-28-047-05W5 |
| | | | | DRAYTON VALLEY | Ironhand 1 | 04-34-047-05W5 |
| | | | | DRAYTON VALLEY | Ironhand 1 | 04-34-047-05W5 |
| | | | | DRAYTON VALLEY | Ironhand 1 | 08-05-048-05W5 |
| | | | | DRAYTON VALLEY | Ironhand 1 | 08-05-048-05W5 |
| | | | | DRAYTON VALLEY | Ironhand 1 | 13-34-047-05W5 |
| | | | | DRAYTON VALLEY | Ironhand 1 | 13-34-047-05W5 |
| | | | | DRAYTON VALLEY | Ironhand 1 | 08-10-048-04W5 |
| | | | | DRAYTON VALLEY | Ironhand 1 | 08-10-048-04W5 |
| | | | | DRAYTON VALLEY | Ironhand 1 | 13-34-047-05W5 |
| | | Buck Creek | 16-08-048-06W5 | DRAYTON VALLEY | Ironhand 1 | 16-08-048-06W5 |
| | | | 08-04-047-07W5 | DRAYTON VALLEY | Ironhand 1 | 08-04-047-07W5 |
| | | | 08-04-047-07W5 | DRAYTON VALLEY | Ironhand 1 | 08-04-047-07W5 |
| | | | 10-13-047-07W5 | DRAYTON VALLEY | Ironhand 1 | 10-13-047-07W5 |
| | | | 10-13-047-07W5 | DRAYTON VALLEY | Ironhand 1 | 10-13-047-07W5 |
| | | | 16-04-048-06W5 | DRAYTON VALLEY | Ironhand 1 | 16-04-048-06W5 |
| | | | 16-04-048-06W5 | DRAYTON VALLEY | Ironhand 1 | 16-04-048-06W5 |
| | | | 04-04-047-07W5 | DRAYTON VALLEY | Ironhand 1 | 04-04-047-07W5 |
| | | | 04-04-047-07W5 | DRAYTON VALLEY | Ironhand 1 | 04-04-047-07W5 |
| | | | 04-04-047-07W5 | DRAYTON VALLEY | Ironhand 1 | 04-04-047-07W5 |
| | | | | DRAYTON VALLEY | Ironhand 1 | 16-17-048-06W5 |
| | | | | DRAYTON VALLEY | Ironhand 1 | 16-17-048-06W5 |
| | | | | DRAYTON VALLEY | Ironhand 1 | 05-10-047-07W5 |
| | | | | DRAYTON VALLEY | Ironhand 1 | 16-17-048-06W5 |
| | | | | DRAYTON VALLEY | Ironhand 1 | 13-10-047-07W5 |
| | | cityAlder Flats | 08-22-046-07W5 | DRAYTON VALLEY | Ironhand 1 | 08-22-046-07W5 |
| | | | 08-22-046-07W5 | DRAYTON VALLEY | Ironhand 1 | 08-22-046-07W5 |
| | | cityBuck Creek | 08-13-047-07W5 | DRAYTON VALLEY | Ironhand 1 | 08-13-047-07W5 |
| | | Drayton Valley | 16-01-049-07W5 | DRAYTON VALLEY | Ironhand 1 | 16-01-049-07W5 |
| | Tamarack Valley Energy Ltd | Alder Flats | 09-31-045-07W5 | DRAYTON VALLEY | Precision 309 | 09-31-045-07W5 |
| | | | 16-28-045-07W5 | DRAYTON VALLEY | Horizon 46 | 16-28-045-07W5 |
| | | Buck Lake | 01-20-045-06W5 | DRAYTON VALLEY | Excalibur 6 | 01-20-045-06W5 |
| | | | 01-20-045-06W5 | DRAYTON VALLEY | Excalibur 6 | 01-20-045-06W5 |
| | | | 01-20-045-06W5 | DRAYTON VALLEY | Excalibur 6 | 01-20-045-06W5 |
| | | | | DRAYTON VALLEY | Horizon 46 | 08-28-046-06W5 |
| | | | | DRAYTON VALLEY | Horizon 46 | 08-28-046-06W5 |
| | | | | DRAYTON VALLEY | Excalibur 6 | 09-17-045-06W5 |
| | | | | DRAYTON VALLEY | Excalibur 2 | 09-17-045-06W5 |
| | | Buck Lake #133C | 12-33-044-05W5 | RED DEER | Excalibur 6 | 12-33-044-05W5 |
| | | | 12-33-044-05W5 | RED DEER | Horizon 46 | 12-33-044-05W5 |
| | | | 01-01-044-05W5 | RED DEER | Excalibur 2 | 01-01-044-05W5 |
| | | | 01-01-044-05W5 | RED DEER | Excalibur 2 | 01-01-044-05W5 |
| | | | 01-02-045-06W5 | RED DEER | Precision 309 | 01-02-045-06W5 |
| | | | 01-02-045-06W5 | RED DEER | Precision 309 | 01-02-045-06W5 |
| | | | 14-20-045-06W5 | DRAYTON VALLEY | Twilight 2 | 14-20-045-06W5 |
| | | | 14-20-045-06W5 | DRAYTON VALLEY | Twilight 2 | 14-20-045-06W5 |
| | | | | DRAYTON VALLEY | Excalibur 6 | 01-24-045-06W5 |
| | | cityAlder Flats | 04-33-045-07W5 | DRAYTON VALLEY | Precision 309 | 04-33-045-07W5 |
| | | | 04-33-045-07W5 | DRAYTON VALLEY | Precision 309 | 04-33-045-07W5 |
| | | Leedale | 14-35-042-04W5 | RED DEER | Excalibur 6 | 14-35-042-04W5 |
| | | | 14-35-042-04W5 | RED DEER | Excalibur 6 | 14-35-042-04W5 |
| | | | 14-35-042-04W5 | RED DEER | Excalibur 2 | 14-35-042-04W5 |
| | | | 14-35-042-04W5 | RED DEER | Excalibur 2 | 14-35-042-04W5 |
| | | | 14-16-043-04W5 | RED DEER | Excalibur 2 | 14-16-043-04W5 |
| | | | 14-16-043-04W5 | RED DEER | Excalibur 2 | 14-16-043-04W5 |
| | | | 15-07-043-04W5 | RED DEER | Excalibur 6 | 15-07-043-04W5 |
| | | | 15-07-043-04W5 | RED DEER | Excalibur 6 | 15-07-043-04W5 |
| | | | 15-07-043-04W5 | RED DEER | Precision 309 | 15-07-043-04W5 |
| | | | 15-07-043-04W5 | RED DEER | Precision 309 | 15-07-043-04W5 |
| | | Lodgepole | 16-22-046-10W5 | DRAYTON VALLEY | Twilight 2 | 16-22-046-10W5 |
| | | | 16-22-046-10W5 | Drayton Valley | Twilight 2 | 16-22-046-10W5 |
| | | | 16-22-046-10W5 | DRAYTON VALLEY | Twilight 2 | 16-22-046-10W5 |
| | | | 14-09-048-11W5 | DRAYTON VALLEY | Precision 309 | 14-09-048-11W5 |
| | | | 14-09-048-11W5 | DRAYTON VALLEY | Precision 309 | 14-09-048-11W5 |
| | Vermilion Energy Inc | cityCynthia | 06-06-050-12W5 | DRAYTON VALLEY | Savanna 631 | 06-06-050-12W5 |
| | | | 06-06-050-12W5 | DRAYTON VALLEY | Ironhand 5 | 06-06-050-12W5 |
| | | | 16-31-049-12W5 | DRAYTON VALLEY | Savanna 631 | 16-31-049-12W5 |
| | | | 16-31-049-12W5 | DRAYTON VALLEY | Savanna 631 | 16-31-049-12W5 |
| | | | 04-36-049-13W5 | DRAYTON VALLEY | Ironhand 7 | 04-36-049-13W5 |
| | | cityNiton Junction | 16-31-050-13W5 | DRAYTON VALLEY | Savanna 631 | 16-31-050-13W5 |
| | | Cynthia | 01-29-048-11W5 | DRAYTON VALLEY | Ironhand 5 | 01-29-048-11W5 |
| | | | 08-22-049-13W5 | DRAYTON VALLEY | Ironhand 3 | 08-22-049-13W5 |
| | | | 13-36-048-12W5 | DRAYTON VALLEY | Ironhand 3 | 13-36-048-12W5 |
| | | | 13-36-048-12W5 | DRAYTON VALLEY | Ironhand 3 | 13-36-048-12W5 |
| | | | 04-26-050-13W5 | DRAYTON VALLEY | Ironhand 5 | 04-26-050-13W5 |
| | | | 04-26-050-13W5 | DRAYTON VALLEY | Ironhand 5 | 04-26-050-13W5 |
| | | | 01-33-049-12W5 | DRAYTON VALLEY | Horizon 23 | 01-33-049-12W5 |
| | | | 01-33-049-12W5 | DRAYTON VALLEY | Horizon 23 | 01-33-049-12W5 |
| | | | 15-15-049-13W5 | DRAYTON VALLEY | Ironhand 8 | 15-15-049-13W5 |
| | | | 16-29-050-13W5 | DRAYTON VALLEY | Horizon 23 | 16-29-050-13W5 |
| | | | 16-29-050-13W5 | DRAYTON VALLEY | Horizon 23 | 16-29-050-13W5 |
| | | | 16-31-049-12W5 | DRAYTON VALLEY | Ironhand 7 | 16-31-049-12W5 |
| | | | 04-36-049-13W5 | DRAYTON VALLEY | Horizon 23 | 04-36-049-13W5 |
| | | | 16-33-049-13W5 | DRAYTON VALLEY | Ironhand 8 | 16-33-049-13W5 |
| | | | | DRAYTON VALLEY | Ironhand 8 | 16-02-049-12W5 |
| | | | | DRAYTON VALLEY | Ironhand 5 | 10-16-049-12W5 |
| | | | | DRAYTON VALLEY | Ironhand 5 | 09-16-049-12W5 |
| | | Niton Junction | 16-31-050-13W5 | DRAYTON VALLEY | Ironhand 5 | 16-31-050-13W5 |
| | | | | DRAYTON VALLEY | Ironhand 3 | 13-32-050-13W5 |
| | | | | DRAYTON VALLEY | Ironhand 5 | 04-03-051-13W5 |
| | | O'Chiese #203 | | DRAYTON VALLEY | Ironhand 5 | 03-10-045-11W5 |
| | Ridgeback Resources | cityCynthia | 09-36-048-12W5 | DRAYTON VALLEY | Precision 309 | 09-36-048-12W5 |
| | | | 09-36-048-12W5 | DRAYTON VALLEY | Precision 309 | 09-36-048-12W5 |
| | | | 07-24-048-12W5 | DRAYTON VALLEY | Horizon 39 | 07-24-048-12W5 |
| | | | 07-24-048-12W5 | DRAYTON VALLEY | Horizon 39 | 07-24-048-12W5 |
| | | | | DRAYTON VALLEY | Horizon 39 | 02-27-048-11W5 |
| | | | | DRAYTON VALLEY | Horizon 39 | 01-27-048-11W5 |
| | | Cynthia | 10-25-048-11W5 | DRAYTON VALLEY | Nabors 15 | 10-25-048-11W5 |
| | | | 10-25-048-11W5 | DRAYTON VALLEY | Nabors 15 | 10-25-048-11W5 |
| | | | 10-25-048-11W5 | DRAYTON VALLEY | Nabors 15 | 10-25-048-11W5 |
| | | | 10-25-048-11W5 | DRAYTON VALLEY | Nabors 15 | 10-25-048-11W5 |
| | | | | DRAYTON VALLEY | Precision 309 | 04-28-048-11W5 |
| | | | | DRAYTON VALLEY | Precision 183 | 01-12-049-12W5 |
| | | | | DRAYTON VALLEY | Precision 183 | 02-12-049-12W5 |
| | | | | DRAYTON VALLEY | Precision 183 | 04-31-048-10W5 |
| | | | | DRAYTON VALLEY | Precision 309 | 10-27-048-11W5 |
| | | | | DRAYTON VALLEY | Precision 183 | 16-25-049-13W5 |
| | | | | DRAYTON VALLEY | Horizon 39 | 04-02-049-11W5 |
| | | | | DRAYTON VALLEY | Nabors 15 | 16-23-048-12W5 |
| | | Lodgepole | 08-15-048-11W5 | DRAYTON VALLEY | Horizon 39 | 08-15-048-11W5 |
| | | | 08-15-048-11W5 | DRAYTON VALLEY | Horizon 39 | 08-15-048-11W5 |
| | | | | DRAYTON VALLEY | Nabors 15 | 05-18-048-10W5 |
| | | | | DRAYTON VALLEY | Horizon 39 | 04-02-048-11W5 |
| | | | | DRAYTON VALLEY | Precision 183 | 16-03-048-11W5 |
| | | | | DRAYTON VALLEY | Horizon 39 | 01-26-048-11W5 |
| | | | | DRAYTON VALLEY | Nabors 15 | 01-07-048-11W5 |
| | | | | DRAYTON VALLEY | Nabors 15 | 04-08-048-11W5 |
| | | | | DRAYTON VALLEY | Nabors 15 | 04-18-048-10W5 |
| | Whitecap Resources Inc. | cityCynthia | 02-22-049-11W5 | DRAYTON VALLEY | Precision 225 | 02-22-049-11W5 |
| | | Cynthia | 10-06-050-11W5 | DRAYTON VALLEY | Precision 196 | 10-06-050-11W5 |
| | | | 13-06-050-11W5 | DRAYTON VALLEY | Precision 196 | 13-06-050-11W5 |
| | | | 09-29-049-11W5 | DRAYTON VALLEY | Precision 196 | 09-29-049-11W5 |
| | | | 09-29-049-11W5 | DRAYTON VALLEY | Precision 196 | 09-29-049-11W5 |
| | | | 04-23-050-11W5 | DRAYTON VALLEY | Precision 169 | 04-23-050-11W5 |
| | | | 02-22-049-11W5 | DRAYTON VALLEY | Komat 4 | 02-22-049-11W5 |
| | | | 02-22-049-11W5 | DRAYTON VALLEY | Precision 225 | 02-22-049-11W5 |
| | | | | DRAYTON VALLEY | Precision 190 | 04-08-050-11W5 |
| | | | | DRAYTON VALLEY | Precision 190 | 07-08-050-11W5 |
| | | | | DRAYTON VALLEY | Precision 196 | 01-07-050-11W5 |
| | | | | DRAYTON VALLEY | Precision 196 | 16-19-049-11W5 |
| | | | | DRAYTON VALLEY | Precision 190 | 07-08-050-11W5 |
| | | | | DRAYTON VALLEY | Precision 190 | 02-13-050-11W5 |
| | | | | DRAYTON VALLEY | Precision 190 | 02-13-050-11W5 |
| | | | | DRAYTON VALLEY | Precision 196 | 08-23-050-11W5 |
| | | | | DRAYTON VALLEY | Precision 196 | 01-07-050-11W5 |
| | | | | DRAYTON VALLEY | Precision 196 | 01-07-050-11W5 |
| | | | | DRAYTON VALLEY | Precision 196 | 15-22-049-11W5 |
| | | | | DRAYTON VALLEY | Precision 196 | 15-22-049-11W5 |
| | | | | DRAYTON VALLEY | Precision 196 | 01-07-050-11W5 |
| | ARC Resources Ltd | | 05-21-049-07W5 | DRAYTON VALLEY | Precision 187 | 05-21-049-07W5 |
| | | | 05-21-049-07W5 | DRAYTON VALLEY | Precision 187 | 05-21-049-07W5 |
| | | | 14-10-049-06W5 | DRAYTON VALLEY | Precision 187 | 14-10-049-06W5 |
| | | | 14-10-049-06W5 | DRAYTON VALLEY | Precision 187 | 14-10-049-06W5 |
| | | | 14-10-049-06W5 | DRAYTON VALLEY | Precision 187 | 14-10-049-06W5 |
| | | cityDrayton Valley | 14-29-049-08W5 | DRAYTON VALLEY | Precision 187 | 14-29-049-08W5 |
| | | | 12-10-049-08W5 | DRAYTON VALLEY | Precision 187 | 12-10-049-08W5 |
| | | | 12-10-049-08W5 | DRAYTON VALLEY | Precision 187 | 12-10-049-08W5 |
| | | cityViolet Grove | 13-06-049-08W5 | DRAYTON VALLEY | Precision 187 | 13-06-049-08W5 |
| | | Drayton Valley | 09-19-049-07W5 | DRAYTON VALLEY | Precision 190 | 09-19-049-07W5 |
| | | | 09-19-049-07W5 | DRAYTON VALLEY | Precision 190 | 09-19-049-07W5 |
| | | | 09-19-049-07W5 | DRAYTON VALLEY | Precision 190 | 09-19-049-07W5 |
| | | | 09-19-049-07W5 | DRAYTON VALLEY | Precision 190 | 09-19-049-07W5 |
| | | | 09-19-049-07W5 | DRAYTON VALLEY | Precision 190 | 09-19-049-07W5 |
| | Westbrick Energy Ltd | Buck Lake #133C | | RED DEER | Savanna 653 | 09-02-044-06W5 |
| | | cityO'Chiese #203 | 04-31-045-11W5 | Drayton Valley | Savanna 653 | 04-31-045-11W5 |
| | | O'Chiese #203 | 16-27-044-11W5 | DRAYTON VALLEY | Savanna 653 | 16-27-044-11W5 |
| | | | 16-33-044-11W5 | DRAYTON VALLEY | Savanna 652 | 16-33-044-11W5 |
| | | | 16-33-044-11W5 | DRAYTON VALLEY | Savanna 652 | 16-33-044-11W5 |
| | | | 16-07-045-11W5 | DRAYTON VALLEY | Savanna 652 | 16-07-045-11W5 |
| | | | 16-07-045-11W5 | DRAYTON VALLEY | Savanna 652 | 16-07-045-11W5 |
| | | | 16-07-045-11W5 | DRAYTON VALLEY | Savanna 652 | 16-07-045-11W5 |
| | | | | DRAYTON VALLEY | Savanna 653 | 12-27-044-11W5 |
| | | | | DRAYTON VALLEY | Savanna 653 | 12-27-044-11W5 |
| | Baytex Energy Corp. | cityHoadley | 07-28-045-02W5 | ST. ALBERT | Savanna 652 | 07-28-045-02W5 |
| | | | 07-28-045-02W5 | ST. ALBERT | Savanna 652 | 07-28-045-02W5 |
| | | Hoadley | 11-30-044-02W5 | ST. ALBERT | Savanna 652 | 11-30-044-02W5 |
| | | | 11-30-044-02W5 | ST. ALBERT | Savanna 652 | 11-30-044-02W5 |
| | | | 07-28-045-02W5 | ST. ALBERT | Savanna 652 | 07-28-045-02W5 |
| | | Poplar Bay | 05-25-046-02W5 | DRAYTON VALLEY | Savanna 652 | 05-25-046-02W5 |
| | | | 05-25-046-02W5 | DRAYTON VALLEY | Savanna 652 | 05-25-046-02W5 |
| | | | 05-25-046-02W5 | DRAYTON VALLEY | Savanna 652 | 05-25-046-02W5 |
| | | | 05-09-046-02W5 | DRAYTON VALLEY | Savanna 652 | 05-09-046-02W5 |
| | | | 05-09-046-02W5 | DRAYTON VALLEY | Savanna 652 | 05-09-046-02W5 |
| | Sifton Petroleum Inc. | | 16-21-046-03W5 | DRAYTON VALLEY | Savanna 689 | 16-21-046-03W5 |
| | | citySundance Beach | | DRAYTON VALLEY | Savanna 687 | 06-09-048-01W5 |
| | | Leedale | | RED DEER | Trinidad 51 | 02-31-042-04W5 |
| | | Poplar Bay | 16-08-046-02W5 | DRAYTON VALLEY | Trinidad 51 | 16-08-046-02W5 |
| | | | 16-08-046-02W5 | DRAYTON VALLEY | Savanna 689 | 16-08-046-02W5 |
| | | Winfield | 16-29-046-03W5 | DRAYTON VALLEY | Trinidad 51 | 16-29-046-03W5 |
| | | | 16-29-046-03W5 | DRAYTON VALLEY | Trinidad 42 | 16-29-046-03W5 |
| | | | 16-21-046-03W5 | DRAYTON VALLEY | Trinidad 51 | 16-21-046-03W5 |
| | | | | DRAYTON VALLEY | Trinidad 51 | 01-33-046-03W5 |
| | Velvet Energy Ltd | | 13-15-051-13W5 | Drayton Valley | Horizon 50 | 13-15-051-13W5 |
| | | cityNiton Junction | 15-06-051-13W5 | DRAYTON VALLEY | Horizon 50 | 15-06-051-13W5 |
| | | | 01-20-051-13W5 | DRAYTON VALLEY | Horizon 50 | 01-20-051-13W5 |
| | | Niton Junction | 02-30-051-13W5 | DRAYTON VALLEY | Savanna 685 | 02-30-051-13W5 |
| | | | 02-30-051-13W5 | DRAYTON VALLEY | Savanna 685 | 02-30-051-13W5 |
| | | | 01-20-051-13W5 | DRAYTON VALLEY | Horizon 50 | 01-20-051-13W5 |
| | Teine Energy Ltd | Breton | | DRAYTON VALLEY | Nabors 15 | 05-32-049-04W5 |
| | | cityBuck Creek | 12-12-047-07W5 | DRAYTON VALLEY | Excalibur 14 | 12-12-047-07W5 |
| | | | 12-12-047-07W5 | DRAYTON VALLEY | Ironhand 1 | 12-12-047-07W5 |
| | | Cynthia | | DRAYTON VALLEY | Savanna 655 | 03-28-051-10W5 |
| | | Drayton Valley | | DRAYTON VALLEY | Ironhand 6 | 15-16-049-06W5 |
| | | | | DRAYTON VALLEY | Nabors 15 | 15-16-049-06W5 |
| | Inplay Oil Corp | cityRocky Rapids | 09-26-049-07W5 | DRAYTON VALLEY | CWC 9 | 09-26-049-07W5 |
| | | | 09-26-049-07W5 | DRAYTON VALLEY | CWC 9 | 09-26-049-07W5 |
| | | | 09-26-049-07W5 | DRAYTON VALLEY | Ironhand 9 | 09-26-049-07W5 |
| | | Drayton Valley | 01-26-049-07W5 | DRAYTON VALLEY | Precision 187 | 01-26-049-07W5 |
| | | | 01-26-049-07W5 | DRAYTON VALLEY | Precision 187 | 01-26-049-07W5 |
| | | | 01-26-049-07W5 | DRAYTON VALLEY | Precision 187 | 01-26-049-07W5 |
| | Baccalieu Energy Inc | Cynthia | 13-11-051-12W5 | DRAYTON VALLEY | Ensign 544 | 13-11-051-12W5 |
| | | | 13-11-051-12W5 | DRAYTON VALLEY | Ensign 544 | 13-11-051-12W5 |
| | | | 15-11-051-12W5 | DRAYTON VALLEY | Ensign 544 | 15-11-051-12W5 |
| | | | 13-09-051-12W5 | DRAYTON VALLEY | Ensign 544 | 13-09-051-12W5 |
| | | Lodgepole | 06-12-048-12W5 | DRAYTON VALLEY | Ensign 544 | 06-12-048-12W5 |
| | | | 06-12-048-12W5 | DRAYTON VALLEY | Ensign 544 | 06-12-048-12W5 |
| | TAQA North Ltd. | cityLeedale | 06-25-042-05W5 | RED DEER | Nabors 11 | 06-25-042-05W5 |
| | | | 06-25-042-05W5 | RED DEER | Nabors 11 | 06-25-042-05W5 |
| | | cityO'Chiese #203 | 15-27-044-10W5 | RED DEER | Precision 241 | 15-27-044-10W5 |
| | | Leedale | | RED DEER | Nabors 11 | 13-08-043-04W5 |
| | Obsidian Energy | Cynthia | | DRAYTON VALLEY | Trinidad 95 | 07-22-049-11W5 |
| | | | | DRAYTON VALLEY | Trinidad 95 | 07-22-049-11W5 |
| | | Lodgepole | | DRAYTON VALLEY | Trinidad 95 | 08-25-047-10W5 |
| | KIWETINOHK RESOURCES CORP. | Bluffton | | RED DEER | PattersonUTI 15 | 07-05-044-03W5 |
| | | Leedale | 08-16-042-04W5 | RED DEER | PattersonUTI 15 | 08-16-042-04W5 |
| | | Rimbey | | RED DEER | PattersonUTI 15 | 06-04-043-03W5 |
| | Journey Energy Inc | Bluffton | | RED DEER | Nabors 60 | 16-04-044-03W5 |
| | | Rimbey | 06-28-042-03W5 | RED DEER | Nabors 60 | 06-28-042-03W5 |
| | | | 06-28-042-03W5 | RED DEER | Ironhand 7 | 06-28-042-03W5 |
| | Gear Energy Ltd | Leedale | | RED DEER | Trinidad 434 | 09-32-042-04W5 |
| | | | | RED DEER | Trinidad 51 | 08-34-042-04W5 |
| | | | | RED DEER | Trinidad 51 | 15-29-042-04W5 |
| | Crescent Point Energy Corp. | cityMission Beach | | DRAYTON VALLEY | Horizon 46 | 15-04-048-02W5 |
| | | Sunnybrook | | DRAYTON VALLEY | Horizon 46 | 16-15-048-02W5 |
| | | Westerose | | ST. ALBERT | Horizon 46 | 05-32-045-01W5 |
| | TORC Oil & Gas Ltd | O'Chiese #203 | | DRAYTON VALLEY | Trinidad 31 | 13-27-045-12W5 |
| | | | | DRAYTON VALLEY | Trinidad 31 | 04-24-045-12W5 |
| | Resourceful Petroleum Canada Limited | cityHoadley | 02-07-045-03W5 | DRAYTON VALLEY | Savanna 652 | 02-07-045-03W5 |
| | | Hoadley | | DRAYTON VALLEY | Savanna 639 | 16-15-045-04W5 |
| | Hitic Energy Ltd | Warburg | | DRAYTON VALLEY | Ironhand 5 | 07-12-049-04W5 |
| | | | | DRAYTON VALLEY | Ironhand 5 | 07-12-049-04W5 |
| | DELTAWEST ENERGY LTD. | cityMission Beach | 02-22-047-02W5 | DRAYTON VALLEY | Savanna 687 | 02-22-047-02W5 |
| | | | 02-22-047-02W5 | DRAYTON VALLEY | Savanna 687 | 02-22-047-02W5 |
| | Bonavista Energy Corporation | | | RED DEER | Savanna 631 | 06-25-042-05W5 |
| | | Leedale | | RED DEER | Savanna 631 | 08-28-042-05W5 |
| | Spartan Delta Corp | O'Chiese #203 | | DRAYTON VALLEY | Akita 34 | 01-11-045-11W5 |
| | Eclipse Resources Ltd | cityTomahawk | | DRAYTON VALLEY | Ironhand 5 | 07-34-049-05W5 |
| | CLEARVIEW RESOURCES LTD. | Hoadley | | RED DEER | Excalibur 6 | 15-08-044-04W5 |
| | Cenovus Energy Inc. | cityO'Chiese #203 | 10-31-045-09W5 | DRAYTON VALLEY | Ensign 449 | 10-31-045-09W5 |
| | CASTLEGATE ENERGY LTD. | cityLeedale | 16-06-043-04W5 | RED DEER | Ironhand 1 | 16-06-043-04W5 |
| | Canadian Coastal Resources Ltd | Sunnybrook | | DRAYTON VALLEY | Horizon 43 | 16-15-048-02W5 |