---
CNRL Well, Facility & Pipeline Permit Last 356 Days – Reports Report Downloads
The link below will allow you to download for free the list of the well, facility and pipeline permits for Athabasca Oil Corp since 2014
---
Permits Last 365 Days
The map shows the Athabasca well permits since 2014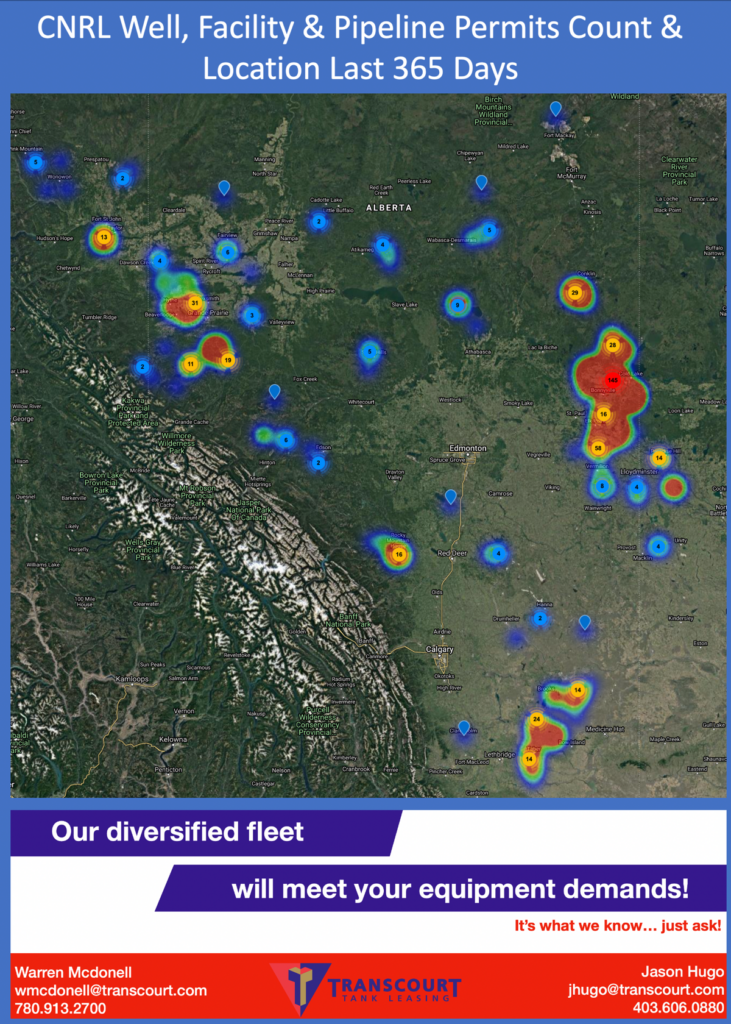 Sponsor
Transcourt Inc
Transcourt Inc. was founded in 1997 specifically to meet the leasing and long-term rental needs of the liquid bulk transport industry. Today our large fleet of tankers is available to customers across Canada for a variety of unique industry segments and in a wide selection of tank trailer configurations. From the beginning,
Transcourt has been committed to providing our customers with the best equipment in the industry through leasing solutions that support clients in meeting their business objectives.
---
Canadian Natural Resources Limited announces 2021 budget
CALGARY, Alberta – Canadian Natural's President, Tim McKay, commented "Canadian Natural is a unique, sustainable and robust company, proven by its ability to generate sustainable free cash flow through the commodity price cycle, setting us apart from our peers. Our balanced, diverse and high-quality assets, of which the majority are long-life no decline Synthetic Crude Oil reserves with low reservoir risk and low capital requirements, provide us the opportunity to sustain or grow production. Our effective and efficient operations, culture of continuous improvement, disciplined capital allocation and strong balance sheet position the Company for success, allowing us to continue to innovate through technology to lower costs and reduce our environmental footprint.
The Company has been nimble in the past to changing market conditions and can quickly adjust our targeted capital expenditure levels or reallocate capital to our highest returning assets. Our 2021 plan will be no different, targeting capital of approximately $3.2 billion, delivering targeted production of approximately 1,225,000 BOE/d, with disciplined growth of approximately 62,000 BOE/d from forecasted 2020 levels. Safe, reliable, low cost operations continue to be a focus for the Company as we target to capture synergies, increase margins and maximize value for our shareholders in 2021 and beyond."
Canadian Natural's Chief Financial Officer, Mark Stainthorpe, continued "In 2021, our capital program will be prudent and disciplined. Our commitment to maintain our robust financial position is supported by effective and efficient operations, significant adjusted funds flow generation, and ample liquidity. Free cash flow, at US$45 WTI is targeted to be strong in 2021, between $2.0 billion – $2.5 billion after dividend requirements, with continued priority towards further strengthening the Company's balance sheet. We continue to deliver value to our shareholders and have proven throughout 2020 that our dividend is sustainable, with a 20-year track record of dividend growth. Our sustainable and growing returns are underpinned by our low cost structure, industry leading break-even of WTI US$30-31 per barrel and our financial strength, affording us the ability to deliver on our plan and continue to drive long-term shareholder value."
Tim McKay continued "Canadian Natural is delivering leading environmental performance. Our long-life, low decline assets are advantaged as we can leverage technology, innovation and continuous improvement to deliver ever-improving environmental performance. Some of the highlights achieved to date include corporate GHG emissions intensity decreasing by 16% from 2015 to 2019 and the Company reduced its GHG emissions intensity in its Oil Sands Mining and Upgrading and thermal in situ segments by 36% from 2016 to 2019. In our North American E&P segment we reduced methane emissions by 15% from 2016 to 2019.
Canadian Natural is also committed to progressively reclaim land and return sites to their natural state. Canadian Natural's reclamation team at the Athabasca Oil Sands Project placed the one millionth reclamation tree in the ground in Q3/20. This milestone follows the one millionth tree being planted at Horizon Oil Sands in Q3/18. To date, the Oil Sands Mining and Upgrading segment has planted over 2.3 million trees and reclaimed over 1,600 hectares of land. In the Company's North America E&P segment, Canadian Natural has reclaimed more than 7,600 hectares of land since 2015, planted over 2 million trees and abandoned over 5,000 wells, reducing our environmental footprint."
HIGHLIGHTS OF THE 2021 BUDGET
The Company's large, balanced and diverse asset base is complemented by an extensive network of owned and operated infrastructure and is supported by a deep inventory of long life low decline assets as well as conventional and unconventional assets. The Company's focus on effective and efficient operations and cost control provides high return on capital projects that deliver industry leading free cash flow.
Canadian Natural's 2021 capital budget is disciplined, targeted at approximately $3.205 billion, of which $1.345 billion is allocated to conventional and unconventional assets and $1.860 billion is allocated to long life low decline assets.
Production in 2021 is targeted between 1,190,000 BOE/d and 1,260,000 BOE/d, an increase of approximately 5% from 2020 forecasted levels.

Product mix is approximately 48% high value Synthetic Crude Oil ("SCO") and light crude oil and NGLs, approximately 30% heavy crude oil and approximately 22% natural gas.

Liquids production, including crude oil, SCO and NGLs, is targeted to grow approximately 4% from targeted 2020 levels, ranging from 920,000 bbl/d to 980,000 bbl/d. Long life low decline production is targeted to be approximately 81% of total liquids production.
Natural gas production is targeted between 1,620 MMcf/d to 1,680 MMcf/d, representing growth of approximately 11% from targeted 2020 levels, as capital investment within the Company's natural gas portfolio is targeted to increase in 2021. Canadian Natural targets to capture additional value from improving natural gas strip pricing as a result of the Company's ability to be nimble and flexible with capital allocation decisions within the Company's large, balanced and diversified asset base.
PRODUCTION AND CAPITAL EXPENDITURES
Canadian Natural's strategy of maintaining a large, diverse portfolio of assets enables the Company to maximize shareholder value through flexible capital allocation and optimized product mix. Annual budgets are developed and scrutinized throughout the year and can be changed, if necessary, in the context of price volatility, project returns and the balancing of project risks and time horizons. Canadian Natural maintains a high ownership level and operatorship in its properties and can therefore control the nature, timing and extent of expenditures in each of its project areas.
| | | |
| --- | --- | --- |
| Daily Production Volumes (before royalties) | 2020 Forecast | 2021 Budget |
| Natural gas (MMcf/d) | 1,481 | 1,620 – 1,680 |
| Crude oil, SCO and NGLs (Mbbl/d) | 916 | 920 – 980 |
| Total MBOE/d | 1,163 | 1,190 – 1,260 |
| | | |
| --- | --- | --- |
| Capital Expenditures (C$ millions) | 2020 Forecast(1) | 2021 Budget |
| Total Capital Expenditures | $2,700 | $3,205 |
(1) 2020 forecast excludes net acquisition costs.
Details of Canadian Natural's leading ESG performance can be found in the Company's 2019 Stewardship Report to Stakeholders on the Company's website at www.cnrl.com.