ConocoPhillips exercised its right to acquire TotalEnergies SE's 50 per cent stake in the Surmont oilsands field for as much as US$3.33 billion ($4 billion), giving it full control of the Alberta operation and thwarting efforts by Suncor Energy Inc. to buy into the site.
The purchase includes a US$3 billion price tag and as much as US$325 million in contingent payments, Houston-based ConocoPhillips said on May 26. The transaction is expected to close in the second half of the year and will be funded with cash and short- and medium-term financing or a combination of those options.
Oil & Gas Data Download
ConocoPhillips Wells Drilled Since 2022
Taking full control of Surmont's low-cost production helps ConocoPhillips chief executive officer Ryan Lance meet a commitment to return US$11 billion in cash to shareholders this year by letting the company generate free cash flow at even lower crude prices. ConocoPhillips projected the purchase would add about US$600 million of annual free cash flow next year, assuming a benchmark U.S. oil price of US$60 a barrel.
"They are thinking about returns and free cash flow and being stewards of capital and putting shareholders first," Phil Skolnick, an analyst at Eight Capital, said in an interview. Surmont is "a very good project," he said.
Suncor, one of the largest players in Canada's oilsands, had agreed in April to buy TotalEnergies' assets in the region in a roughly US$4 billion deal.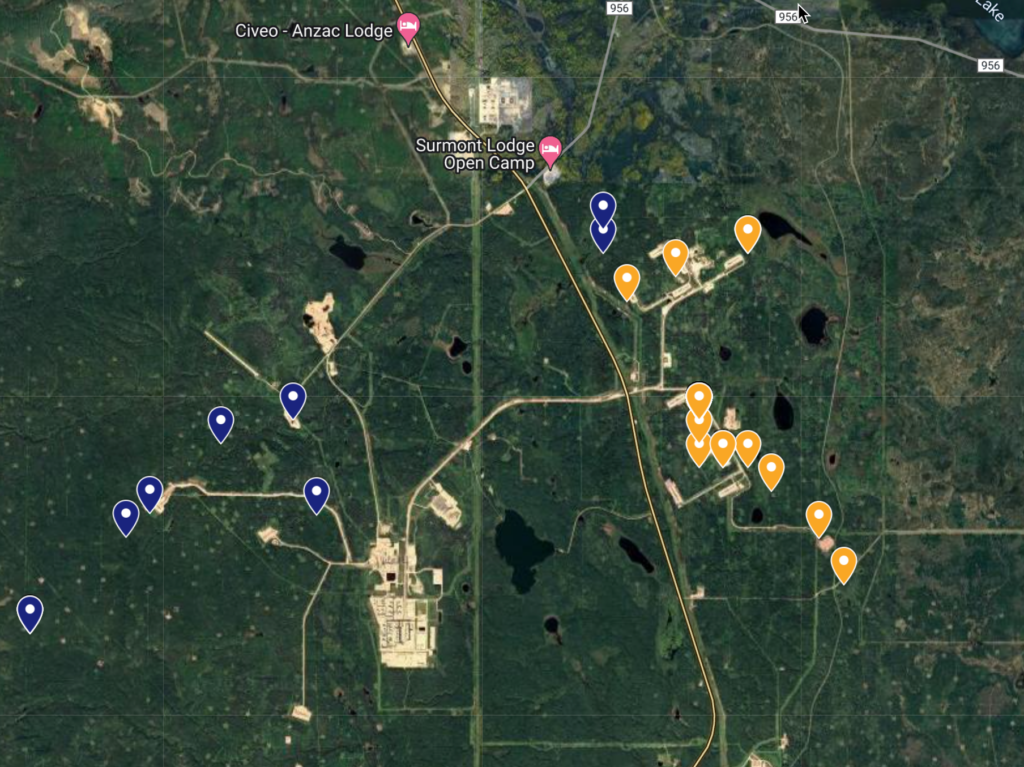 ConocoPhillips, however, had the right of first refusal on the French company's 50 per cent stake in Surmont. Suncor has said it reached out to ConocoPhillips about the Surmont stake, with a message that it was willing to invest and grow the asset.
Suncor said on May 26 that both it and TotalEnergies now have the right to terminate their agreement because of ConocoPhillips' decision and that it will be "assessing the transaction in light of this change."
ConocoPhillips rose after the announcement, reversing earlier losses to trade up 0.4 per cent to US$102.07 at 2:33 p.m. in New York. Calgary-based Suncor fell about one per cent to $38.42 in Toronto.
For Suncor, the Surmont site wasn't an essential part of the deal with Total, which also included a 31 per cent stake in the Fort Hills project and was focused on ensuring supplies for its Base Plant upgrader when other production streams run out as early as the next decade, Skolnick said.
While Suncor has an "offramp" from the TotalEnergies deal, "it wouldn't surprise me if they continue to go with it and just buy the Fort Hills portion," he said.
Oil is produced at Surmont, located in northeastern Alberta, by injecting steam into underground wells to force the region's heavy bitumen to the surface. Surmont is the fourth-largest oilsands well site in Canada, producing about 135,000 barrels of oil a day in April.
Taking control also gives ConocoPhillips autonomy to operate the assets at a pace it prefers instead of coordinating with partners.