Sub-$3.00/MMBtu Henry Hub prices are not good for the returns of Haynesville operators, especially in an inflationary environment. Rig levels in the Ark-La-Tex region at the start of the year seemed unsustainable, but remained stubbornly high in Q1, according to Enverus Foundations data. The rig count in the region peaked at 96 in January and averaged 90 in Q1. In Q2, the declines have picked up pace with the activity levels averaging 79 rigs in April and 71 rigs in May. As of June 11, there are 65 rigs running in the region, down by 31 rigs from the peak.
Data Download Center
Haynesville Wells Drilled 2023
Haynesville Operator List
List of 75+ Operators that have drilled wells in Haynesville in 2023
By Louisiana parish or Texas county, the most notable declines were in Red River Parish (down by seven rigs to five), DeSoto Parish (down by five rigs to 11) and Harrison County (down by five rigs to four). Paloma Natural Gas went from running as many as five rigs at the beginning of the year to zero by the end of April. ExxonMobil has also frozen its drilling program, dropping its two rigs by early April. Southwestern Energy was running as many as 10 rigs earlier this year, but has dropped three rigs since its peak. Chesapeake Energy, Comstock Resources, Tellurian Inc. and GHA Barnett have dropped two rigs each.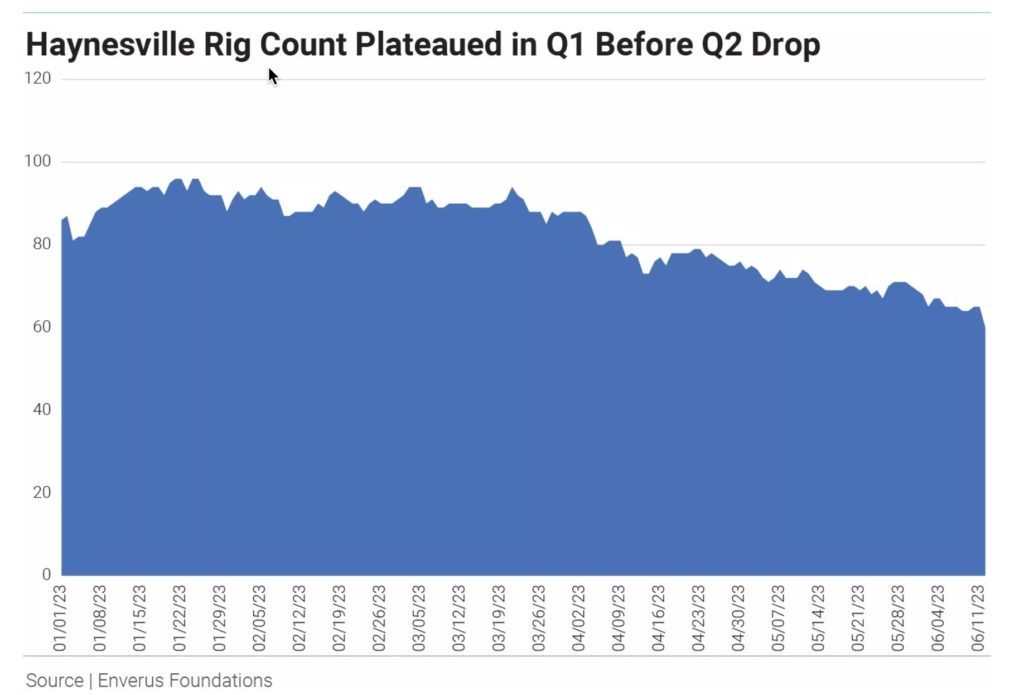 In addition, the number of Haynesville wells completed each month has fallen every month this year and the DUC inventory is on the rise, according to the EIA. January had the highest Haynesville completion activity YTD at 140, and the monthly tally had fallen 24% by May when 107 were completed. The DUC total of 761 in May is a record for the play since the EIA started keeping DUC information in December 2013 and is up by 165 from a year earlier.