HOUSTON–(BUSINESS WIRE)– Today Western Midstream Partners, LP (NYSE: WES) ("WES" or the "Partnership") announced the sanctioning of a new 250 MMcf/d cryogenic processing plant in the North Loving area of our West Texas complex ("North Loving Plant"). The expected in-service date is the end of the fourth quarter of 2024.
Concurrent with the sanctioning of the North Loving Plant, and based on the most current production-forecast information from our producer customers, WES updated 2023 guidance as follows:
Total capital expenditures(1) are expected to range between $700.0 million and $800.0 million, representing a $125.0 million increase to the midpoint of guidance previously issued with WES's fourth-quarter 2022 earnings results ("Prior Guidance"). Total-year capital expenditures guidance includes capital attributable to a portion of Mentone Train III, a portion of the North Loving Plant, and additional expansion capital needed to support continued commercial success.
Free cash flow(2) is expected to range between $1.000 billion and $1.100 billion, representing a $125.0 million decrease to the midpoint of Prior Guidance as a result of revised capital expenditures guidance.
Oil & Gas Data Download
WES Texas Air Permits
WES Texas Pipeline Permits
WES is maintaining its 2023 Adjusted EBITDA(2) guidance range of $2.050 billion to $2.150 billion, and its full-year 2023 Base Distribution of at least $2.00 per unit(3), which excludes the impact of any potential Enhanced Distribution.
"We are pleased to announce the expansion of our West Texas complex with the addition of the North Loving Plant," said Michael Ure, President and Chief Executive Officer. "The recent amendment to Occidental's natural-gas processing agreement to provide up to 300 MMcf/d of additional firm-processing capacity provides greater certainty regarding WES's future profitability and underpins our decision to sanction an additional plant. Including Mentone Train III and the North Loving Plant, we expect our West Texas complex to grow from today's processing capacity of 1.54 Bcf/d to 2.09 Bcf/d by year-end 2024."
WES Texas Pipeline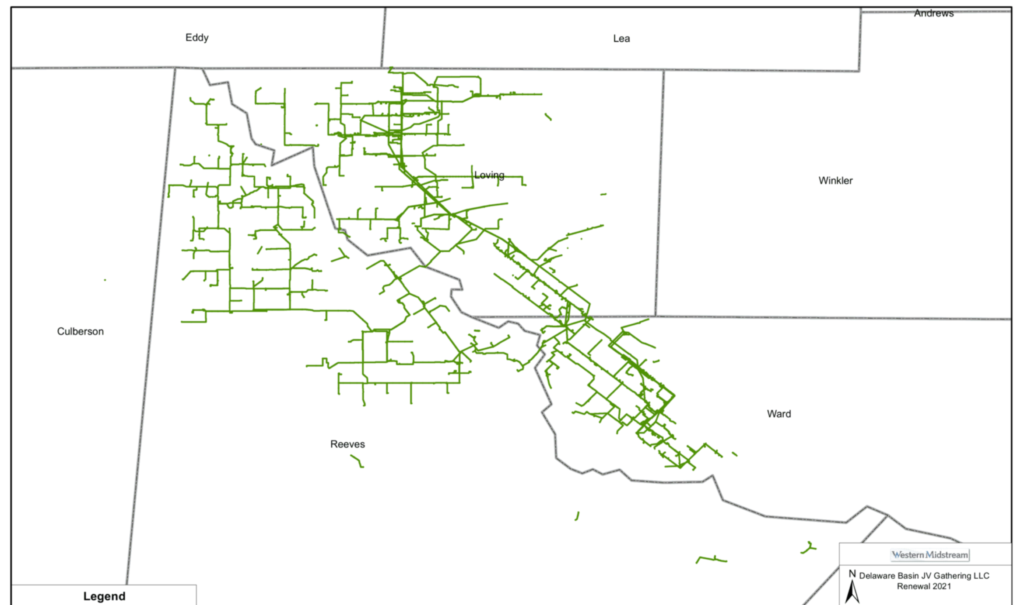 "Over the past year, our commercial team has generated substantial value for WES by executing multiple, long-term agreements that provide up to 950 MMcf/d of firm processing commitments. While we have already realized some benefit from these agreements, the vast majority of the volumes are expected over the coming years, and the decision to sanction an additional plant greatly enhances our ability to accommodate our producer customers and generate incremental value for our stakeholders," concluded Mr. Ure.