OxyChem, a top global manufacturer of chlorine and caustic soda, is contemplating a strategic initiative to modernize and expand its existing chlorine and caustic soda manufacturing complex with more efficient and effective technology. Last week Williams Pipeline Partners had a 14 mile pipeline approved to connect OxyChem Deer Park plant to Bayer plant.
Texas T4 Pipeline Permit Map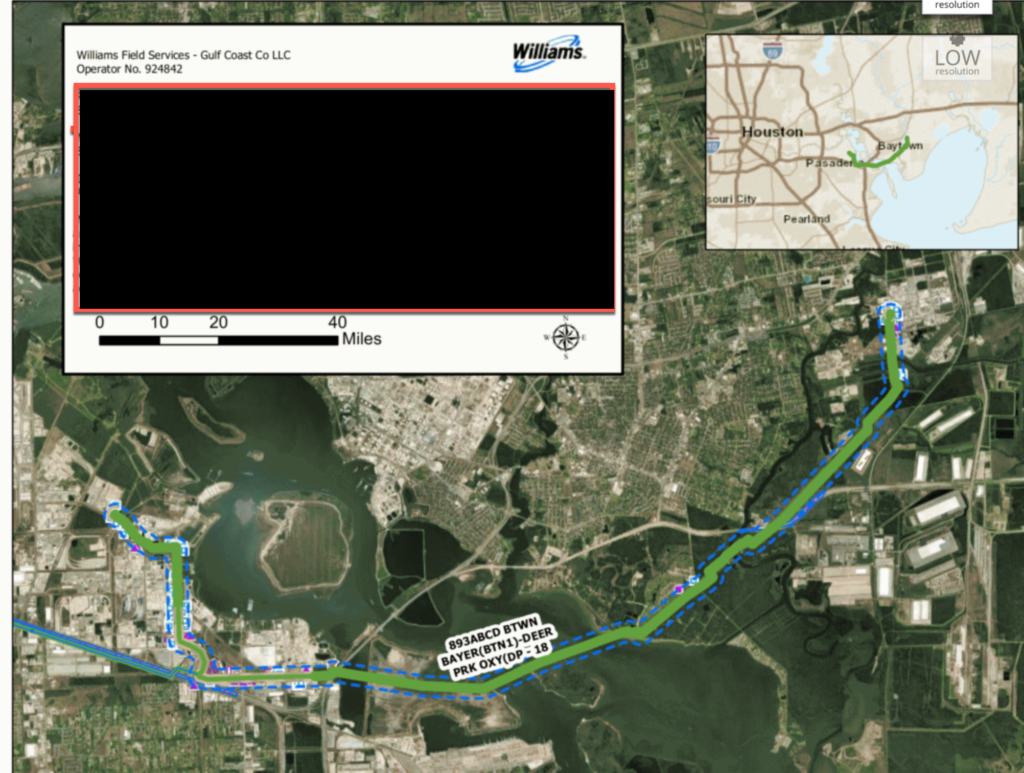 OxyChem Deer Park Expansion Details
The Project is to be constructed within the existing Battleground site of approximately 197 acres within Harris County in a reinvestment zone to be established on land generally northeast of Texas Highway 225 and Beltway 8, near the San Jacinto Battleground Site. Maps in Tab 11 further define the location of the proposed investment.

Should the Project be approved by OxyChem's and Oxy's management and Oxy's Board of Directors and be constructed, the Project would result in a significant expansion of chlorine and caustic soda production, thereby reducing dependency on imported chlorine into the State of Texas and the associated rail car tonnage. The conversion of the existing site to the latest technology would also provide a long-term solution to address potential future regulation. These benefits, among many more, would help ensure the long-term viability of existing site operations. This application covers any and all qualified investment and property within Deer Park ISD necessary for the commercial operations of the proposed Project.
The Project consists of the following proposed improvements:
 Expansion of the existing salt purification process and auxiliary equipment
 New salt purification process to meet the new cell technology requirements
 New membrane cells and related equipment with the latest technology
 Expansion of the chlorine purification system
 New caustic processing equipment for production of higher quality caustic soda
 New piping and pipe racks to support the integration and expansion of the new technology
 Expansion of supporting systems required for production
 New electrical main power distribution system
 New buildings to house new membrane cell equipment, electrical substations, maintenance
shops and supporting systems
 All ancillary and eligible equipment necessary for operations