The Lower 48 represents the largest ConocoPhillips business segment today based on production. The company has high-quality positions in the United States unconventionals, which are low cost of supply and low GHG intensity assets with significant upside potential.
The company's large Lower 48 position of 10.8 million net acres, including unconventional holdings of approximately 2 million net acres, gives access to scalable inventory with low cost of supply and low GHG emissions intensity that can generate significant returns over many years of future development. The Lower 48 segment is organized into two business units covering the Permian and Gulf Coast & Rockies. Current major focus areas for the Lower 48 include the Delaware and Midland Basins in Permian, as well as the Eagle Ford and Bakken.
Oil Gas Permit Download
ConocoPhillips Drilling Report 2022
ConocoPhillips Texas Air Permits New Last 12 Months
On Dec. 1, 2021, ConocoPhillips completed the acquisition of Shell Enterprises LLC's prolific position in the Delaware Basin. These assets include ~225,000 net acres and producing properties located entirely in Texas, as well as over 600 miles of operated crude, natural gas and water pipelines and infrastructure. This transaction, along with the recent acquisition of Concho Resources Inc., represent two highly accretive and transformational deals that further strengthen the company's position in the Permian Basin. During 2021, the company continued optimizing the portfolio through dispositions of its Wind River Basin assets in Wyoming, K2 assets in the Gulf of Mexico, and various other non-core positions in assets across the Lower 48.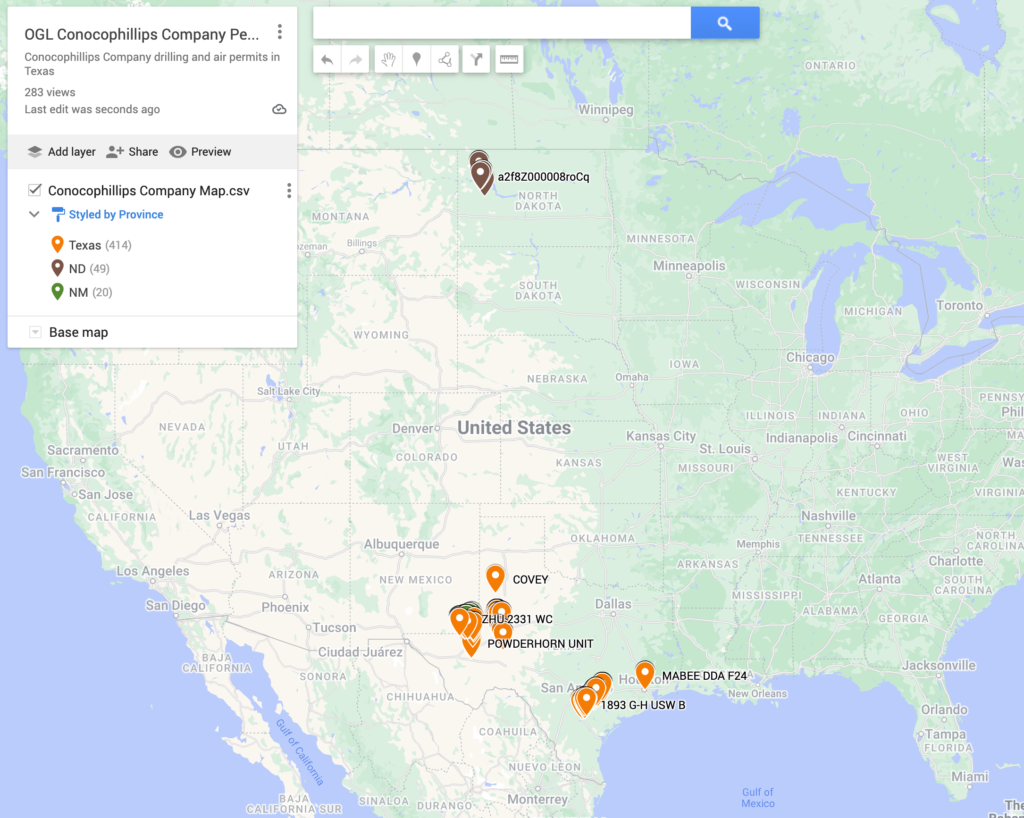 Permian Business Unit
The Permian saw significant growth in 2021 with the acquisition of Concho Resources Inc. in January 2021 and the addition of Shell's Permian acreage in December 2021 At year-end, the company held approximately 1.5 million net acres in the Permian Basin. Net production for the Permian in 2021 was 442 MBOED.
Delaware Basin
Spanning West Texas through Southeast New Mexico, ConocoPhillips holds approximately 709,000 total net acres in the Delaware Basin, which includes approximately 654,000 unconventional net acres.
Midland Basin
ConocoPhillips holds approximately 376,000 total net acres in the Midland, Basin, which includes approximately 266,000 unconventional net acres located in the heart of West Texas.
In 2021 ConocoPhillips held approximately 200,000 net leasehold and mineral acres, primarily in DeWitt, Karnes and Live Oak counties.
Bakken
ConocoPhillips position in the Bakken development area is comprised of approximately 560,000 net acres, which include 382,000 net mineral acres and 178,000 net leasehold acres.