DELAWARE BASIN MAP
The Delaware Basin map shows how it extends from Lea and Eddie counties, NM, in the north down to Pecos County, TX, in the south. Counties include LEA, EDDY, REEVES, LOVING, WARD, CULBERSON, WINKLER, PECOS, CRANE, SAN JUAN, CHAVES, STEPHENS, BLAINE, GRADY, SANDOVAL, SEMINOLE, CARTER, RIO ARRIBA.
Wells Drilled Last 90 Days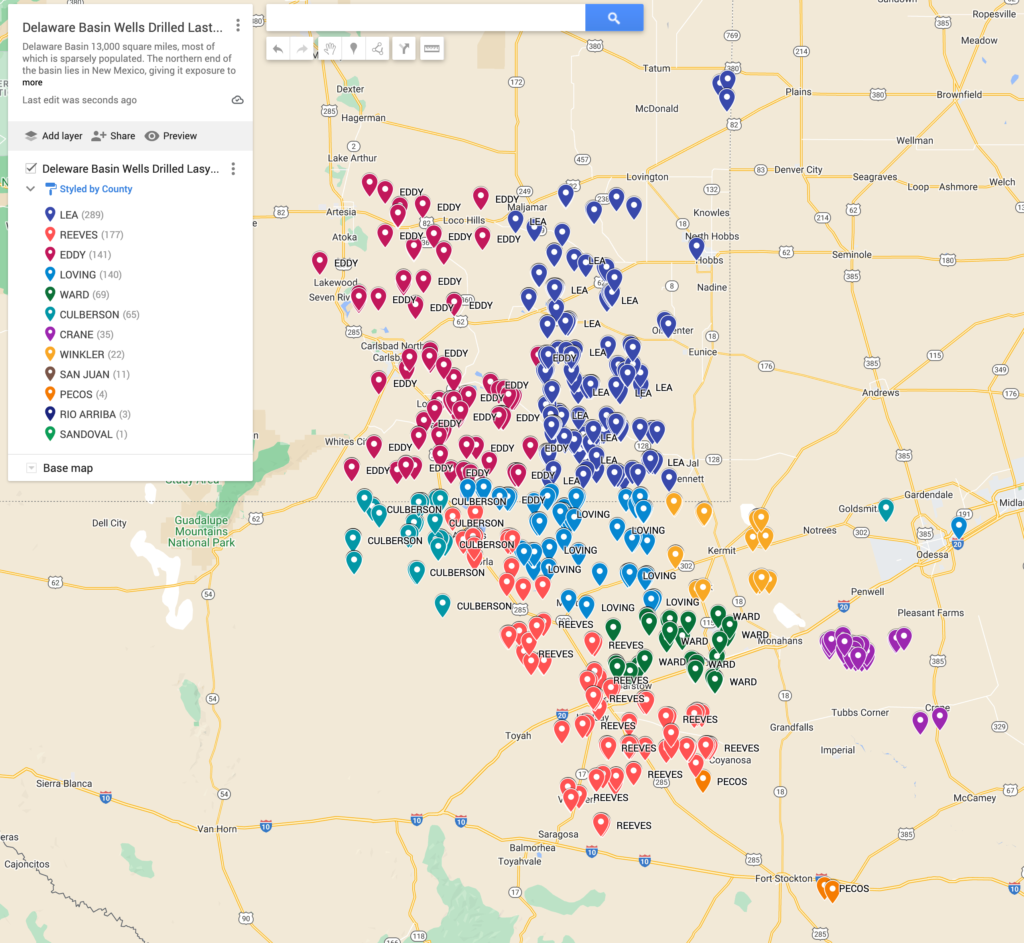 WHAT IS THE DELAWARE BASIN
The basin's areal extent covers 13,000 square miles, most of which is sparsely populated. The northern end of the basin lies in New Mexico, giving it exposure to federal land which typically carries a lower royalty rate compared the private leases in Texas and some regions of New Mexico.
The Delaware Basin is approximately 2,000 feet deeper than the Midland Basin. This increase in depth has caused, over a long period of time, the sediment to experience over twice as much pressure during burial. This is a leading factor in the stratigraphic discontinuities between the two sub-basins.
DELAWARE BASIN DOWNLOADS
Wells Drilled Delaware Basin 2022
Delaware Air Permits
Delaware Pipeline Permits
DELAWARE BASIN OIL COMPANIES
The prolific oil reserves of the Delaware Basin have attracted the supermajors and leading publicly traded firms. Delaware Basin oil companies also include many smaller independent exploration and production companies. The following table lists top oil companies of the Delaware Basin by barrel of oil equivalent (BOE). The Delaware map shows the operation areas for the Producers
Producers
Wells Drilled Delaware 2021
Website
Linkedin Page
Eog Resources, Inc.
276
www.eogresources.com
https://www.linkedin.com/company/eog-resources/
Devon Energy Corporation
215
www.devonenergy.com
https://www.linkedin.com/company/devon-energy/
Mewbourne Oil Company
190
www.mewbourne.com
https://www.linkedin.com/company/mewbourne-oil-co/
OXY USA Inc.
150
www.oxy.com
https://www.linkedin.com/company/oxy/
Tap Rock Resources
115
www.taprk.com
https://www.linkedin.com/company/tap-rock-resources/
Coterra Energy
96
www.cabotog.com
Conocophillips Company
92
www.conocophillips.com
https://www.linkedin.com/company/conocophillips/
XTO Energy Inc.
81
www.xtoenergy.com
https://www.linkedin.com/company/xto-energy/
Kaiser-Francis Oil Company
71
www.kfoc.net
Chevron U.S.A. Inc.
70
www.chevron.com
https://www.linkedin.com/company/chevron/
Callon Petroleum Company
57
www.callon.com
https://www.linkedin.com/company/callon-petroleum-company/
Matador Resources Company
54
http://www.matadorresources.com/
https://www.linkedin.com/company/matador-resources-company/
Centennial Resource Production, LLC
52
http://www.cdevinc.com/
https://www.linkedin.com/company/centennial-resource-development-inc./
Colgate Energy
49
www.colgateenergy.com
https://www.linkedin.com/company/colgate-energy/
Diamondback Energy
41
www.diamondbackenergy.com
https://www.linkedin.com/company/diamondback-energy-services/
Citation Oil & Gas Corp.
40
www.cogc.com
https://www.linkedin.com/company/citation-oil-&-gas-corp./
Bta Oil Producers, LLC
39
www.btaoil.com
Spur Energy Partners LLC
33
www.spurenergy.com/
TITUS OIL & GAS PRODUCTION, LLC
33
https://www.titusoil.com/
https://www.linkedin.com/company/titus-oil-gas/about/
Blackbeard Operating, LLC
32
www.blackbeardoperating.com
BPX
31
www.bp.com
https://www.linkedin.com/company/bp/
ADVANCE ENERGY PARTNERS, LLC
28
https://advanceenergypartners.com/
PRI OPERATING, LLC
27
http://www.patriot-resources.com/
Franklin Mountain Energy LLC
27
NOVO OIL & GAS TEXAS, LLC
24
http://novoog.com/
DJR OPERATING, LLC
18
https://djrllc.com/
AMEREDEV LLC
17
https://www.ameredev.com/operations
PDC PERMIAN
17
www.pdce.com/
Point Energy Partners
13
www.pointep.com/
APR OPERATING LLC
12
https://www.admiralpermian.com/
RIO OIL AND GAS (PERMIAN) II,LLC
12
www.rioog.com
CAZA OPERATING, LLC
12
Jetta Operating Company, Inc.
11
www.jettaoperating.com
Longfellow Energy, LP
11
www.longfellowenergy.com
Enduring Resources, LLC
10
www.enduringresources.com
Pioneer Natural Resources Company
10
https://www.pxd.com/
https://www.linkedin.com/company/pioneer-natural-resources-company/
CHISHOLM ENERGY OPERATING, LLC
9
Burnett Oil Co., Inc.
8
www.burnettoil.com
Mack Energy Co.
8
www.mackenergycorp.com
OASIS PETROLEUM PERMIAN LLC
8
www.oasispetroleum.com
Stronghold Energy II
8
http://www.strongholdoperating.com/
CP EXPLORATION III OPERATING,LLC
8
Tall City Operations LLC
7
LUXE OPERATING LLC
6
https://www.luxeenergy.com/
Pride Energy Company
6
www.pride-energy.com
FAE II Operating LLC
5
ASCENT ENERGY, LLC.
4
http://www.ascentenergy.us/
Avant Natural Resources
4
https://www.avantnr.com/#about-us
Flat Creek Resources, LLC
4
http://www.flatcreekresources.com/
JUNO OPERATING COMPANY III, LLC
4
LOGOS OPERATING, LLC
4
SOUTHERLAND JOE DON dba TAYLOR OIL CO
4
Lime Rock Resources Iv-A, L.P.
3
https://www.limerockresources.com/
Upcurve Energy
3
www.upcurveenergy.com
ALCHEMIST ENERGY, LLC
3
APC WATER HOLDINGS 1, LLC
3
BOSQUE TEXAS OIL LLC
3
BOYD & MCWILLIAMS OPERATING, LLC
3
MARSHALL & WINSTON, INC.
3
MURCHISON OIL & GAS INC
3
OAK PRAIRIE OPERATIONS, LLC
3
ARMSTRONG ENERGY CORP
2
http://www.armstrongenergycorp.com/?file=home
Bopco, L.P.
2
www.wellsfargo.com
Brigham Resources Operating, LLC
2
www.brighamresources.net
CAMINO NATURAL RESOURCES LLC
2
http://www.caminoresources.com/
Catena Resources Operating, LLC
2
https://www.catenares.com/
Seaboard Operating Inc
2
www.seaboardoil.net
HALCON OPERATING CO., INC.
2
www.halconresources.com
https://www.linkedin.com/company/halcon-resources-corporation/
BOYKIN ENERGY LLC
2
HALL GREG OIL & GAS LLC
2
Manzano LLC
2
NGL WATER SOLUTIONS PERMIAN, LLC
2
SADDLEBACK EXPLORATION, LLC
2
STEWARD ENERGY, LLC
2
Tascosa Energy Partners, L.L.C
2
TRIGO OIL AND GAS, LLC
2
Bc Operating Inc.
1
www.bcoperating.net
Breitburn Operating L.P.
1
www.breitburn.com
Great Western Drilling Company
1
www.gwdc.com
SOLARIS WATER MIDSTREAM, LLC
1
www.solarismidstream.com
V-F Petroleum Inc.
1
www.vfpetroleum.com
WATERBRIDGE TEXAS OPERATING LLC
1
0
Williams Oil Company, Inc.
1
www.williamsoil.com
Continental Resources
1
www.clr.com
https://www.linkedin.com/company/continental-resources_2/
Forge Energy, LLC
1
www.forgenergy.com
https://www.linkedin.com/company/forge-energy/about/
3:16 DISPOSAL SYSTEMS,SERIES LLC
1
BAM PERMIAN OPERATING, LLC
1
CPB WATER LLC
1
DBM WATER SERVICES, LLC
1
DUGAN PRODUCTION CORP
1
FAIR OIL, LTD
1
GOODNIGHT MIDSTREAM PERMIAN, LLC
1
Gordy Oil Company
1
OKLAND OIL COMPANY
1
Permian Oilfield Partners, LLC
1
RANGER 40 PETROLEUM, LLC
1
Redwood Operating LLC
1
RKR EXPLORATION INC
1
RUCKUS ENERGY OPERATING, LLC
1
San Mateo Stebbins Water Management, LLC
1
SANBAR BRINE AND FLUIDS, LLC
1
SCO PERMIAN, LLC
1
SEAWOLF RSWD RESOURCES, LP
1
Tacitus, LLC
1
TRIUMPH ENERGY PARTNERS LLC
1
DELAWARE BASIN PLAYS
Bone Spring ("BSPG") / Avalon – The Bone Spring is typically divided further into 1st, 2nd, and 3rd Bone Spring benches. Each Bone Spring bench is comprised of an alternating carbonate-sand sequence. Generally, the Bone Spring has been developed more heavily to date in New Mexico than in Texas, and the 2nd Bone Spring has been the most heavily targeted of the three benches.
Wolfcamp – The Wolfcamp is typically divided further into Wolfcamp XY, A, B, and C benches. Generally, the Wolfcamp has been developed more heavily to date in Texas than in New Mexico, and the Wolfcamp A has been the most heavily targeted of the four benches.
Other – Since 2008, Delaware Basin Horizontals completed outside of the Bone Spring/Avalon, or Wolfcamp have generally targeted the Delaware Mountain Group (e.g., Bell Canyon, Cherry Canyon, or Brushy Canyon) or Barnett/Woodford intervals at Alpine High.
COUNTIES OF THE DELAWARE BASIN
The counties of the Delaware Basin stretch from Eddy county, New Mexico in the north to Pecos county, Texas in the south. Population sizes range from less than 200,000 in Lea, Eddy, and Chaves Counties in New Mexico to the sparsely populated Loving County of Texas with just over 100 residents. The counties below are located in the Delaware map.
| | |
| --- | --- |
| County | Wells Drilled 2021 |
| LEA | 689 |
| EDDY | 431 |
| REEVES | 358 |
| LOVING | 290 |
| WARD | 87 |
| CULBERSON | 78 |
| WINKLER | 50 |
| PECOS | 27 |
| CRANE | 21 |
| SAN JUAN | 13 |
| CHAVES | 6 |
| STEPHENS | 4 |
| BLAINE | 3 |
| GRADY | 3 |
| SANDOVAL | 3 |
| SEMINOLE | 3 |
| #N/A | 2 |
| CARTER | 2 |
| RIO ARRIBA | 2 |
| CANADIAN | 1 |
| CLEVELAND | 1 |
| ELLIS | 1 |
| LOVE | 1 |
CITIES OF THE DELAWARE BASIN
The cities of the Delaware Basin are spread out along its vast 6.4M acre area and include Mentone, a remote town in Loving County, Texas with a population of 29. The largest city in the basin area is Odessa, Texas. The cities below are located on the Delaware basin map.
| | |
| --- | --- |
| City | Wells Drilled 2021 |
| MENTONE | 289 |
| ORLA | 214 |
| PECOS | 172 |
| PYOTE | 45 |
| Coyanosa | 41 |
| Verhalen | 41 |
| MONAHANS | 33 |
| Barstow | 29 |
| KERMIT | 27 |
| Wink | 19 |
| Ft. Stockton | 1 |