TC Energy Corp. is gauging customer interest in oil transportation services that would connect Oklahoma crude supply with downstream refining markets on the Texas coast.
The binding open season to solicit firm commitments for oil transportation service on the Marketlink Pipeline System was launched Friday. Marketlink has a capacity of 750,000 b/d and connects to TC's Keystone oil pipeline system, which transports Canadian crude from northern Alberta to U.S. Midwest refineries.
The expansion would move oil supply from Cushing, OK, to destinations in Houston and nearby Port Arthur.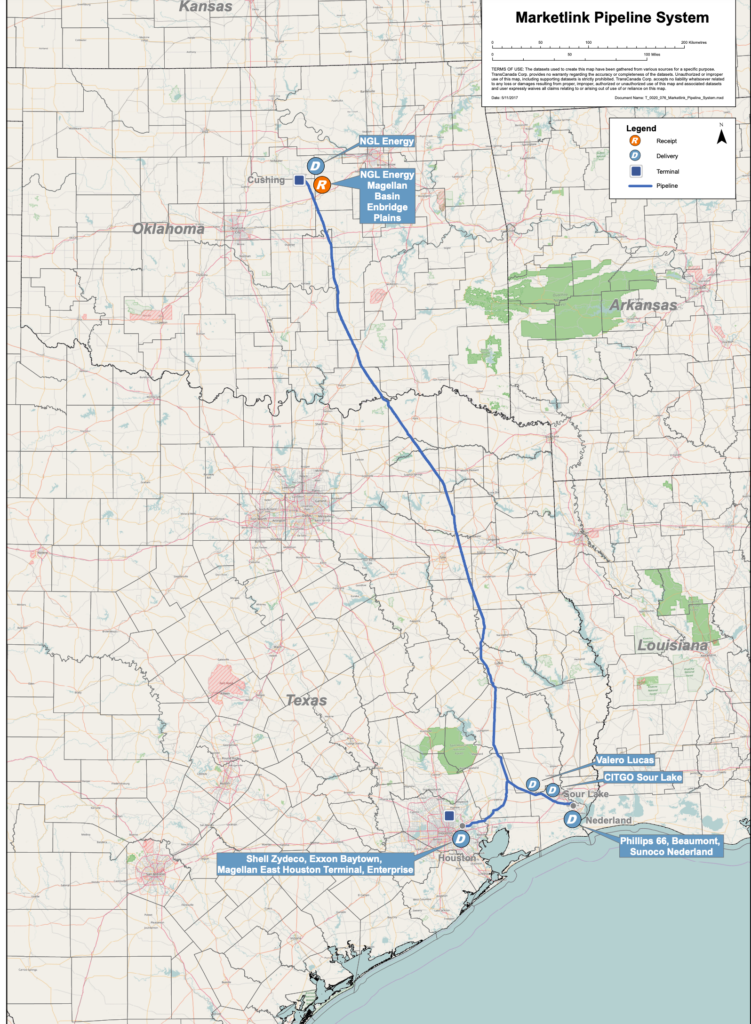 A TC spokesperson told NGI that the company has been working with prospective customers to develop the service and is offering the available system capacity "above our current commitments."
The spokesperson also noted that its Port Neches Link Pipeline project, a common carrier crude pipeline, is more than half-way to completion and expected to start deliveries in the second half of 2022. TC is building the 36-inch diameter, 3.5-mile pipeline through a joint venture with Motiva Enterprises LLC. The pipeline would connect TC's existing Keystone Pipeline system at the Nederland delivery station and deliver crude oil supplies to Motiva's refinery and terminal, along with other downstream infrastructure near Port Arthur, TX.
TC is looking to forge a path to becoming a top energy infrastructure company in North America, turning the page after the Keystone XL expansion was canceled. The scrapping came after President Biden revoked the permit for the proposed 830,000 b/d project.
During the fourth quarter, the Calgary-based pipeline giant realized lower earnings from its Liquids Pipeline business unit, partly from lower volumes on the Gulf Coast section of the Keystone system. However, the lower volumes were partially offset by increased contributions from liquids marketing activities, reflecting higher margins and volumes.
Meanwhile, the midstreamer has more than $18 billion targeted for natural gas infrastructure projects. About $4.4 billion is earmarked for power and storage projects, with $400 million to expand liquids pipelines. Information about the open season is available online or by contacting liquids_pipelines@tcenergy.com. Bids are due by May 9.