Top Drilling Company is a free list download the contains the drilling operators that have drilling rigs located in the US. Included in the list are company names, telephone, Linkedin URL and websites. The top drilling company list includes drilling companies that operate in Texas, Oklahoma, New Mexico, Louisiana and Western Canada. Check out our rig locator page.
Top Drilling Company Sample List
| | |
| --- | --- |
| Drilling Contractor Name | Drilling Contractor Website |
| Helmerich & Payne, Inc. | www.hpinc.com |
| Patterson-UTI Drilling Company, LLC | www.patenergy.com |
| Nabors Industries, Ltd. | www.nabors.com |
| Precision Drilling Corporation | www.precisiondrilling.com |
| Ensign Energy Services, Inc. | www.ensignenergy.com |
| Cactus Drilling Company, LLC | www.cactusdrilling.com |
| Scandrill | www.scandrill.com |
| Savanna Energy Services | www.savannaenergy.com |
| Independence Contract Drilling, Inc. | www.icdrilling.com |
| AKITA Drilling | www.akita-drilling.com |
| Unit Drilling Company | www.unitdrilling.com |
| Horizon Drilling | www.wesc.ca |
| Pioneer Energy Services Corp. | www.pioneeres.com |
| Latshaw Drilling & Exploration Company | www.latshawdrilling.com |
| Murfin Drilling Company, Inc. | www.murfininc.com |
| VALARIS | www.valaris.com |
| Cyclone Drilling, Inc. | www.cyclonedrilling.com |
| NorAm Drilling Company | www.noramdrilling.com |
| Stampede Drilling Ltd. | www.stampededrilling.com |
| Bonanza Drilling Inc. | www.bonanzadrilling.ca |
| Capstar Drilling, LP | www.oilstatesintl.com |
| SWN Drilling Company | www.swn.com |
| Transocean Inc. | www.deepwater.com |
| CWC Ironhand Drilling | www.cwcironhanddrilling.com |
| Doyon Drilling, Inc | www.doyondrilling.com |
| Big E Drilling | www.bigedrilling.com |
| Citadel Drilling Ltd. | www.citadeldrilling.com |
| Energy Drilling Company | www.energydrilling.com |
| Orion Drilling Company | www.oriondrilling.com |
| Predator Drilling, LLC | www.predatordrilling.com |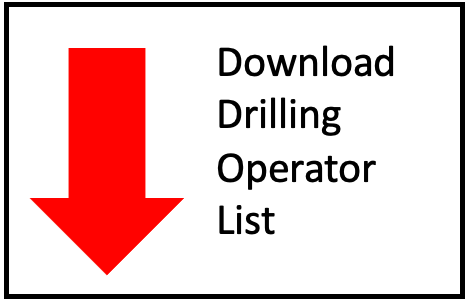 Top Drilling Company
Additional Download Lists Available
Top Drilling Company Top 10
Helmerich & Payne, Inc. (H&P) is a top drilling company in US that began in 1920, when Walter "Walt" Helmerich II—a thrill-seeking aviator from Chicago, and William "Bill" Payne—a hard-working microbiologist from Shawnee, Oklahoma, met on a Star 29 cable rig in South Bend, Texas. From this unlikely pairing was born a partnership, a deep friendship and the oil and gas drilling company that still bears their names.
Fast forward 100 years, Helmerich & Payne continues to lead the drilling industry through a commitment to innovation and unmatched reliability. And by expanding our drilling operations to meet the increasing demands of a complex and globalized industry, we've established ourselves as an industry trailblazer and trusted partner.
Corporate Office
1437 South Boulder Ave.
Tulsa, Oklahoma 74119
+1 918-742-5531
Patterson-UTI (NASDAQ: PTEN) is a top drilling company in US that pushes the boundaries of innovation so you can embrace new possibilities. With expertise and scale in major operational areas, we provide a diverse network of drilling and pressure pumping services, directional drilling, rental equipment and technology to forge your path to success. Our oilfield solutions deliver results that lead your business into the next generation of oil and gas.
We have a fleet of fit for purpose land-based drilling rigs and significant pressure pumping horsepower, as well as a leading position in directional drilling and wellbore placement services that are positioned in the most active plays throughout the U.S. With headquarters in Houston, Texas and regional offices throughout our operating areas, let's team up to advance your business.
Corporate Office
10713 West Sam Houston Parkway North
Suite 800 Houston, TX 77064
Office: 281-765-7100
Fax: 281-765-7175
Nabors is a top drilling company in US and Canada that owns and operates one of the world's largest land-based drilling rig fleets and is a provider of offshore platform rigs in the United States and numerous international markets. Nabors also provides directional drilling services, performance tools, and innovative technologies for its own rig fleet and those of third parties. Leveraging our advanced drilling automation capabilities, Nabors' highly skilled workforce continues to set new standards for operational excellence and transform our industry.
Corporate Office
Crown House
Second Floor
4 Par-la-Ville Road
Hamilton, Pembroke HM08
Bermuda
Precision is a top drilling company in US has a reputation for operating safely, lowering customer risks and costs, developing people, generating financial growth and attracting investment. Precision Drilling Corporation is an integrated oilfield drilling and energy service company providing services to the oil and gas industry. The Company provides oilfield rentals, well services, catering services, and drilling services through its several business units.
Corporate Office
525-8th Avenue S.W,
Suite 800 Calgary,
AB T2P 1G1 Canada
Office: (403)716-4500
info@precisiondrilling.com
ENSIGN IS A GLOBAL ENTERPRISE, PROVIDING A UNIQUE EDGE IN OILFIELD SERVICES. We've grown to be one of the world's largest and technologically advanced oilfield service providers. Premium services include contract drilling, directional drilling, underbalanced and managed pressure drilling, rental equipment, well servicing and production services. Established in 1987, our operations now extend from Canada and the United States to Latin America, the Middle East and Australia.
Corporate Office
400 – 5th Avenue SW, Suite 1000
Calgary, AB
T2P 0L6
As the largest privately-held domestic land drilling contractor in the United States, Cactus provides competent, motivated personnel utilizing premium equipment to meet and exceed the drilling requirements of our customers. We are committed to delivering consistent and dependable results for each of our clients, while protecting the environment and ensuring the safety of everyone affected by our operations. It is the vision and objective of our employees to provide maximum value for our customers… and to be the "Contractor of Choice".
Corporate Office
8300 SW 15th
Oklahoma City, OK 73128­‐9594
Phone: 405.577.5347
Fax: 405.577.9306
Since 1977 SCANDRILL, INC. has provided land contract drilling services to independent and major oil and gas exploration companies. Headquartered in Houston with Operations offices in Tyler, Odessa and Yukon, the company's 30 NORSEMAN Series ™ rigs are drilling in the ARK-LA-TEX, Oklahoma and Permian Basin, which includes the Midland and Delaware Basins of West Texas and New Mexico.
Corporate Office
11777 Katy Freeway, Suite 300
Houston, TX 77079
(281) 496-5571
(281) 496-7314 FAX
Savanna Group of Companies is a top drilling company in US & Canada is a wholly owned subsidiary of Total Energy Services Inc. Savanna offers a complimentary suite of oilfield services. Savanna Drilling, Savanna Well Servicing and our rentals divisions work in unison to provide well-balanced, well-centred programs. From spud to release and beyond, Savanna's group of divisions work together to ensure customers receive the best possible equipment, people, and value to deliver results and maximize value.
Corporate Office
Suite 800, 311 6 Ave SW
Calgary, AB T2P 3H2
Tel: +1 403 503 9990
Fax: +1 403 503 0654
Independence Contract Drilling
Independence Contract Drilling is a premium land drilling services provider. From our corporate headquarters in Houston, Texas, we develop and assemble our ShaleDriller® series rig design based on E&P operator feedback and field requirements. ShaleDrillers are designed for safe and efficient drilling operations on large, multi-well drilling locations. They are designed to move fast and are capable of walking in multiple directions. The ShaleDriller series rigs are AC programmable, energy efficient BiFuel, and custom designed to be best in class for the development of our clients' most demanding and financially impactful exploration and development programs. We excel in shale plays and other areas where completions require long horizontal sections, drilling quickly and accurately to minimize nonproductive time for our clients. We also excel where multi-well pads offer the option to walk between well bores and provide the opportunity to plan 3-hour release-to-spud times.
Corporate Office
20475 SH 249, Suite 300
Houston, Texas 77070
AKITA Drilling Ltd. is a top drilling company in US & Canada was formed in January of 1993 through a Plan of Arrangement with our predecessor, ATCO Drilling Ltd. At its inception, AKITA operated 26 drilling rigs in Canada. In addition to Canadian operations, AKITA also conducted drilling operations in the United States.
In 2000, AKITA re-established significant operations in Canada's northern territories. As technology evolved, we were among the earliest adopters of pad rigs, including their use in the development of heavy oil and shale gas resources. This quickly became a market strength for AKITA, and today pad rigs make up approximately half of our deep capacity fleet. In 2018, AKITA Drilling Ltd. and Xtreme Drilling Corp. combined the two companies through a Plan of Arrangement to create a leading intermediate North American land drilling contractor. The combined company, operating under the AKITA Drilling name, has a fleet of 40 high-spec drilling rigs with operations in major resource basins in the US and Canada.
Corporate Office
1000, 333 – 7th Ave SW
Calgary, Alberta, T2P 2Z1
Phone: (403) 292-7979
Fax: (403) 292-7990
Oil & Gas News
Sign-up Free Weekly Western Canada Rig Report
* These fields are required.