CALGARY, AB, May 4, 2022 /CNW/ – Tourmaline Oil Corp. (TSX: TOU) ("Tourmaline" or the "Company") is pleased to release financial and operating results for the first quarter of 2022 and declare a special dividend.
HIGHLIGHTS
Record quarterly cash flow(1)(2) of $1,076.0 million ($3.18 per diluted share(3)).
Record quarterly free cash flow(4) ("FCF") of $618.2 million ($1.82 per diluted share) enabling the Company to declare a special dividend of $1.50 per common share to be paid May 19, 2022. Tourmaline's trailing 12 months of distributed dividends now total $4.21 per share (inclusive of this May 2022 special dividend), an implied 7% trailing yield(5).
Full-year 2022 free cash flow forecast of $3.9 billion(6) coupled with quarterly special dividends for the balance of 2022.
Gulf Coast Cheniere LNG arrangement of 140 mmcfpd begins January 1, 2023. The 2023 JKM ("Japan Korea Marker") strip price as of April 21, 2022 was $26.07 US/mmbtu.
First quarter 2022 average production was a record 507,059 boepd, including liquids production of 113,569 bpd.
March 31, 2022 net debt(7) of $769.1 million or 0.15 times 2022 full-year forecast cash flow of $5,215.0 million.
Oil & Gas Permits Download
Tourmaline Oil Well Permits
Tourmaline Oil Facility Permits
PRODUCTION UPDATE
First quarter 2022 production average was a record 507,059 boepd, within the guidance range of 500,000-510,000 boepd and above full-year guidance of 500,000 boepd. Record first quarter liquids production was 113,569 bpd (oil, condensate, NGLs), up 23% from Q1 2021.
The Company exited the first quarter of 2022 at average production levels of 515,000-520,000 boepd, ahead of expectation, driven by modestly higher activity levels during Q1 and strong well performance in all three operated complexes. Record daily production achieved to date was 526,500 boepd on April 7, 2022, well ahead of current 2023 average production guidance of 515,000 boepd.
Q2 2022 average production of 500,000-505,000 boepd is anticipated after adjusting for storage injections at Dawn and California and Q2 facility turnarounds.
Tourmaline Oil Well Permits Summary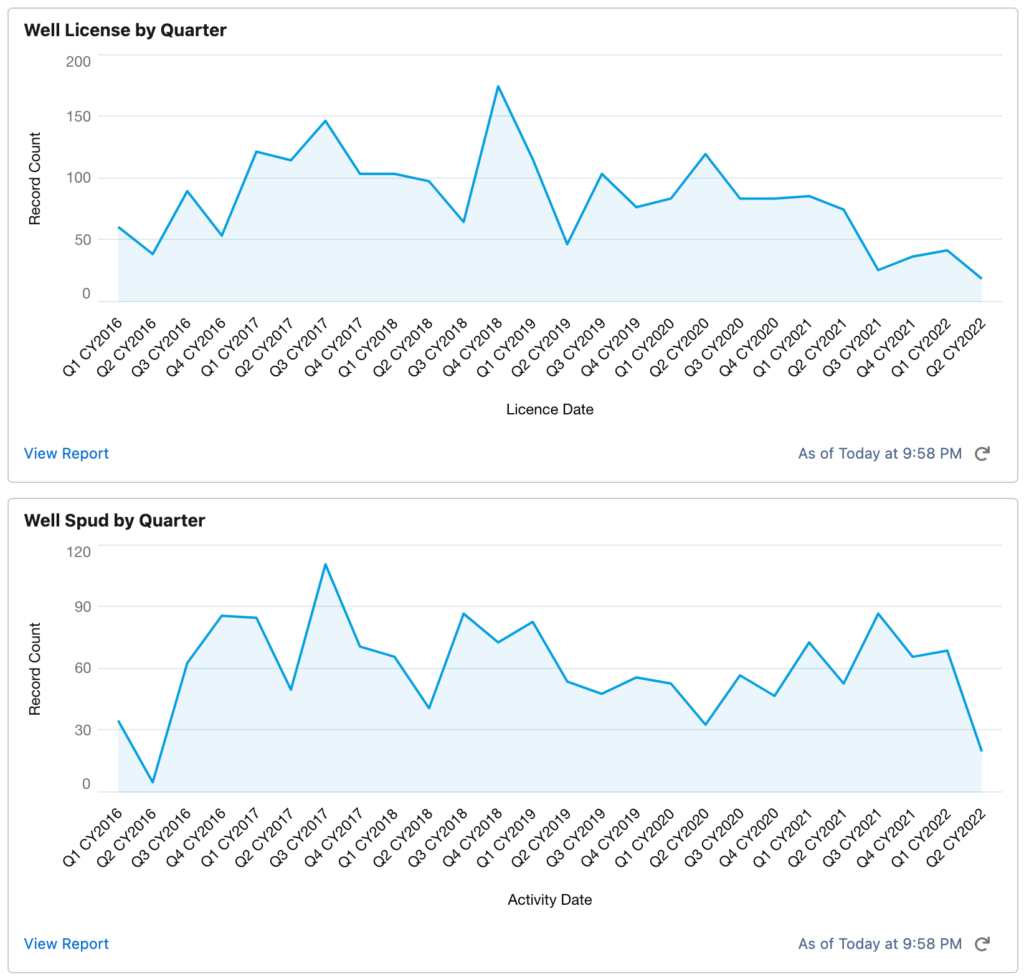 FINANCIAL RESULTS
First quarter 2022 cash flow was a record $1.08 billion ($3.18 per diluted share).
First quarter free cash flow was $618.2 million.
Full-year 2022 cash flow of $5.22 billion is now anticipated ($15.34 per diluted share), up 29% from the Company's previous forecast, and full-year 2022 FCF of $3.92 billion is now expected ($11.53 per diluted share).
First quarter 2022 net earnings were $261.3 million ($0.77 per diluted share).
Since achieving the long-term net debt target in Q4 2021, the Company has committed to return the majority of free cash flow to shareholders through base dividend increases, special dividends and share buybacks. A component of free cash flow will also be used for asset acquisition opportunities within existing core complexes and select, margin-improving, infrastructure investments.
Given the record FCF outlook in 2022, the Company is pleased to announce quarterly special dividends for the remaining three quarters of 2022. The Q2 2022 special dividend of $1.50 per common share will be paid May 19, 2022 to shareholders of record on May 12, 2022. The magnitude of the special dividends in the third and fourth quarters will be a function of commodity prices and resultant available quarterly free cash flow. Special dividends are designated as "eligible dividends" for Canadian income tax purposes.
Additional sustainable base dividend increases are also planned in 2022, as well as tactical share buybacks.
CAPITAL SPENDING AND FINANCIAL OUTLOOK
First quarter 2022 EP capital spending was $442.3 million. Total capital expenditures in the quarter, including acquisitions, were $479.4 million. The acquisitions of property and land are funded by available annual free cash flow and are not included in the Company's base EP budget.
The Company operated a larger proportion of the drilling rig fleet and completion spreads through March, compared to previous years, given the continued strong commodity price outlook. This will allow for stronger Q2 production volumes than the typical annual production profile. The incremental activity in March added approximately $20.0 million to the original Q1 EP capital estimates.
Full-year 2022 EP capital spending of $1.225 billion is now anticipated, up from $1.125 billion. The increase reflects an incremental $75.0 million related to a 6.7% full-year cost inflation provision as well as $25.0 million to be allocated to the Company's successful new zone/new pool exploration program.
First quarter 2022 exit net debt was $769.1 million, well below the long-term net debt target of $1.0 billion. Net debt was 0.15 times 2022 forecast cash flow, an all-time low for the Company. Including the Company's Topaz Energy Corp. investment of $1,069.0 million(8), the Company's net debt would decrease from $769.1 million to a surplus of $299.9 million.
MARKETING UPDATE
Average realized natural gas price in Q1 2022 was $4.86/mcf as the Company continued to benefit from rising natural gas prices.
Tourmaline currently has 625 mmcfpd accessing US markets through long-term firm transport agreements. This volume will grow to 905 mmcfpd by exit 2023.
The Company's 140 mmcfpd Gulf Coast LNG deal with Cheniere commences January 1, 2023 and provides exposure to JKM pricing over the 15-year term of the deal. The 2023 JKM strip price was $26.07 US/mmbtu as of April 21, 2022.
Approximately 60% of the current lower-priced hedges assumed by Tourmaline when acquiring Jupiter Resources Ltd., Modern Resources Inc., and Black Swan Energy Ltd., will roll off and these production volumes will benefit from the much higher current strip pricing for winter 2022/23. Furthermore, 82% of these current lower-priced hedges will expire by the end of 2023.
Tourmaline has an average of 922 mmcfpd hedged for 2022 at a weighted average fixed price of CAD $3.55/mcf, an average of 137 mmcfpd hedged at a basis to NYMEX of USD $(0.03)/mcf, and an average of 613 mmcfpd of unhedged volumes exposed to export markets in 2022, including Dawn, Iroquois, Empress/McNeil, Chicago, Ventura, Sumas, US Gulf Coast, Malin, and PG&E.
Realized NGL prices averaged $44.82/bbl in Q1 2022, up 63% from Q1 2021. The Company expects further strengthening of realized NGL prices through the balance of 2022. Tourmaline is the largest NGL producer in Canada.
EP UPDATE
Tourmaline drilled 66.4 net wells and completed 72.17 net wells in Q1 2022.
84.7 new net wells were brought on production in the first quarter of 2022.
The Company anticipates 44.4 net wells to come on production in Q2.
The Company achieved new record horizontal well lengths with associated record low drilling times in all three EP complexes during the first quarter. Pacesetter wells include the Progress 13-09-77-08W6, a 3,509 metre Lower Charlie Lake horizontal well, drilled to total depth ("TD") with completion assembly run in 11.7 days, the Nig D-B77-B/94-H-04, NEBC Montney 2,010 metre horizontal well drilled to TD with assembly run in 4.9 days and the Leland 12-27-59-26W5, 1,951 metre horizontal well, in the Alberta Deep Basin, drilled to TD with the completion assembly in place in 11.3 days. These continually improving drill times will help to reduce the impact of inflationary pressures.
Conducting EP operations well into spring breakup in 2022 will allow the Company to bring approximately 25 net wells on production in NEBC in the second quarter, as well as 16.4 (net) production turnovers in the Alberta Deep Basin, and three additional wells on production in the Peace River High. This will allow for continued strong production volumes in Q2 and Q3 of 2022.
NORTH MONTNEY DEVELOPMENT PROJECT
Tourmaline continues to plan for the Conroy North Montney development. This expected 100,000 boepd liquids-rich gas project represents one of the largest upcoming single conventional developments in the Western Canadian Sedimentary Basin.
Current timing is in the 2025-2026 time frame, coinciding with the startup of LNG Canada, which the Company expects to be structurally positive for Western Canadian supply/demand dynamics and natural gas pricing. This full development has not yet been included in the Company's current five-year plan.
The Company has drilled several delineation pads in the overall Laprise-Conroy-Aitken areas over the past nine months to define liquid content, well performance profiles and capital costs in advance of full development.
As part of the long term associated Conroy facilities plan, on April 12, 2022, Tourmaline acquired the remaining 50% non-operated interest in the two Aitken area gas plants from AltaGas Ltd. for $224.0 million (net of closing adjustments). The first operated 50% interest in these facilities was originally acquired through the Black Swan Energy acquisition. The plants, including the deep cut expansion, have a combined processing capacity of 290 mmcfpd and are both operating at full capacity. Annual opex savings resulting from this transaction are estimated at approximately $27 million.
Tourmaline is also developing a comprehensive liquids processing and transportation strategy as part of the overall North Montney development and will provide updates on this aspect of the project over the next several months.
ENVIRONMENTAL PERFORMANCE IMPROVEMENT
After achieving the net 25% methane emission 2023 reduction target three years ahead of schedule, Tourmaline is actively working on establishing new goals, which are expected to be disclosed in the Company's next published sustainability report in 2H 2022. Technology initiatives currently being developed and pursued include continued pneumatic pump retrofits and installation of solar electric pumps, conversion of separators to full solar electric and the pursuit of zero emission wellsite technology.
Tourmaline has now successfully transitioned all of its drilling rigs under contract from diesel to natural gas, achieving both a material emissions reduction and a net cost savings. The diesel displacement initiative has been extended into the Company's stimulation operations as Tourmaline and Trican are trialing the first Tier 4 natural gas-powered engines in Canada. To date, in aggregate, the Company has displaced approximately 69 million litres of diesel, saving approximately $57 million in total.
The Company continued to evolve several CCUS initiatives within its three operated complexes and plans to implement these material emission reduction opportunities at Tourmaline gas plants in the 2025-2030 time frame.