March 2022 WhiteWater Midstream requested the Texas Railroad Commission for a new permit for the Matterhorn Express Pipeline project. It is a future project the will connect UPTON County to FORT BEND County. WhiteWater Midstream operates a compressor station (RANKIN COMPRESSOR STATION) in Upton. The Rankin Compressor is part of its existing Whistler pipeline is approximately 450-mile, 42-inch intrastate pipeline (Whistler Mainline) to transport natural gas from an interconnect with the Waha Header near Coyanosa, TX in the Permian Basin to a terminus near Agua Dulce, TX, providing direct access to South Texas markets and consumers.
Fort Bend County, Texas represents a gateway to Cushing Texas. Companies like Enterprise and Phillips 66 Partners operate pipelines in Fort Bend.
WhiteWater Letter to the Texas Railroad Commission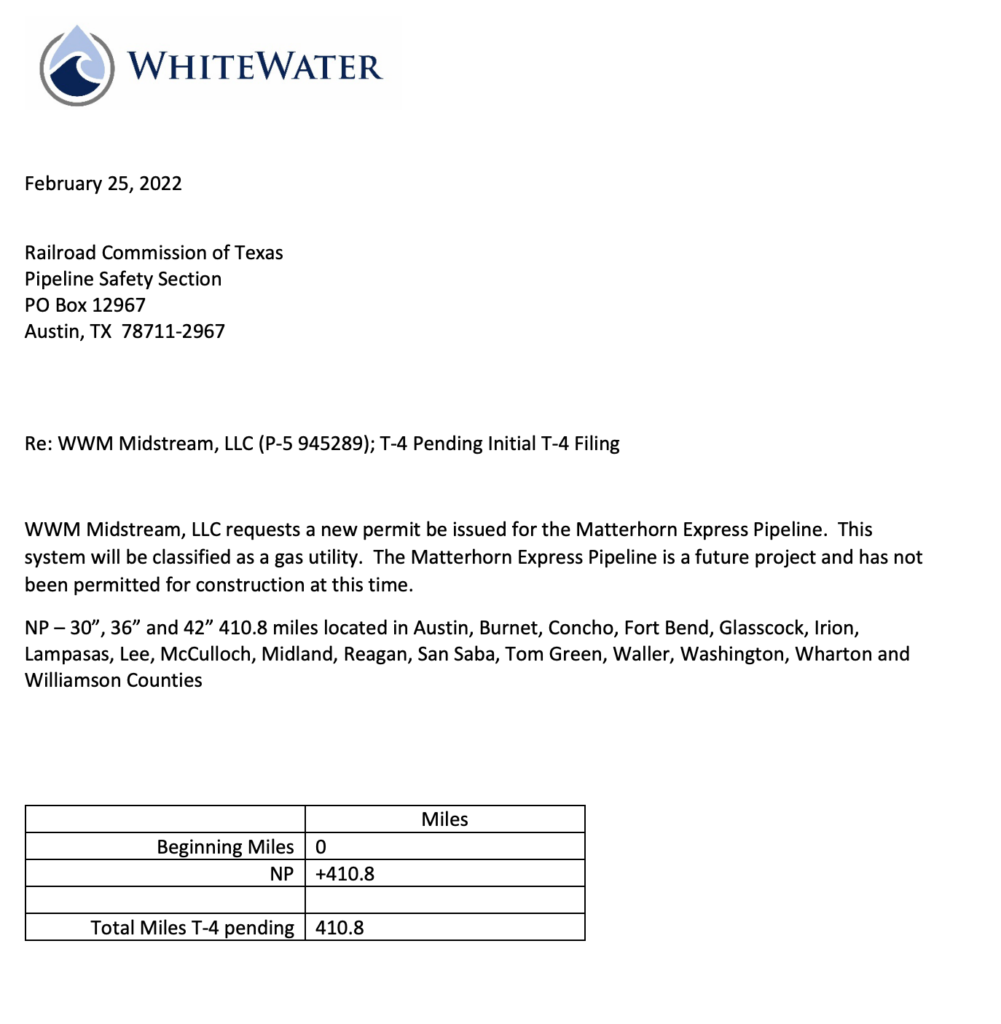 Matterhorn Express Pipeline Map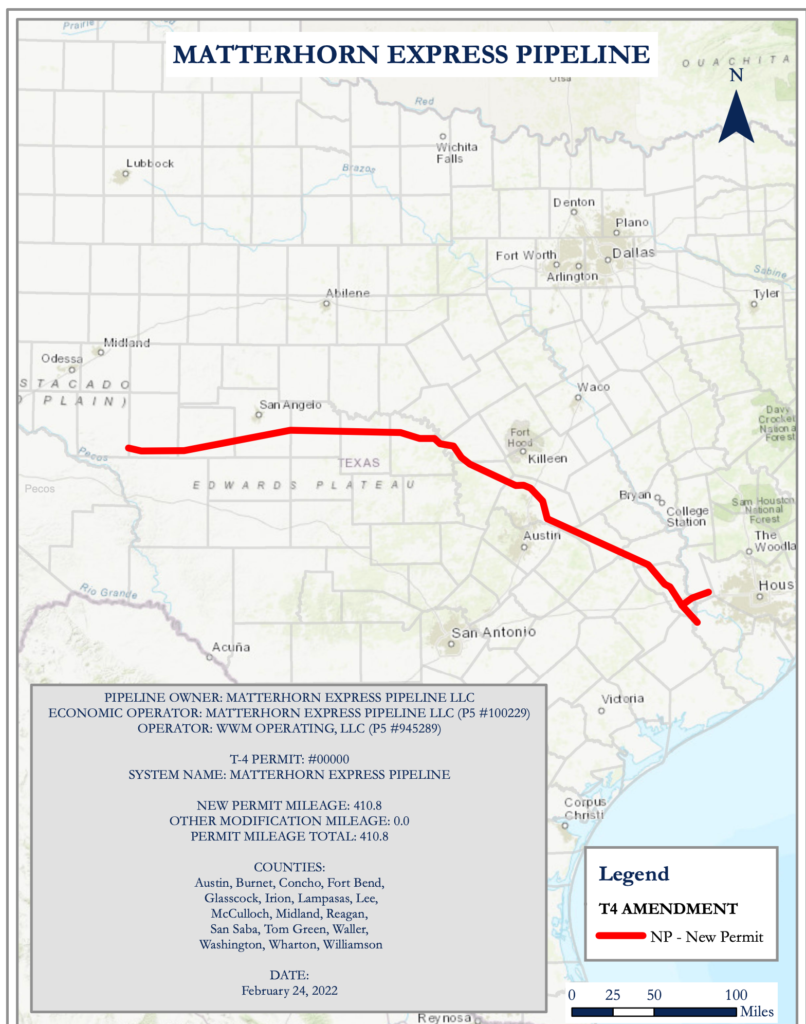 More Details
Oklahoma City's Devon Energy reached an agreement with WhiteWater, Enlink Midstream, LLC of Austin on investments to move forward with the construction of the Matterhorn Express Pipeline carrying natural gas out of the Permian Basin to Houston, Texas.
The firms say the decision to begin construction came after they secured sufficient firm transportation agreements with shippers.
WhiteWater, an Austin, Texas based infrastructure company, has partnered with Ridgemont Equity Partners and First Infrastructure Capital on the Matterhorn Express Pipeline
Supply for the Matterhorn Express Pipeline will be sourced from multiple upstream connections in the Permian Basin, including direct connections to processing facilities in the Midland Basin through an approximately 75-mile lateral, as well as a direct connection to the 3.2 Bcf/d Agua Blanca Pipeline, a joint venture between WhiteWater and MPLX.
"WhiteWater is excited to partner with EnLink, Devon, and MPLX to develop incremental gas transportation out of the Permian Basin as production continues to grow in West Texas," said Christer Rundlof, CEO of WhiteWater. "Matterhorn will provide premium market access with superior flexibility for Permian Basin shippers while playing a critical role in minimizing flared volumes."
The Matterhorn Express Pipeline is expected to be in service in the third quarter of 2024, pending the receipt of customary regulatory and other approvals.
About WhiteWater Midstream
WhiteWater is a management owned, Austin based infrastructure company founded in 2016. WhiteWater is partnered with multiple private equity funds and direct investors. Since inception, WhiteWater has reached final investment decisions on ~$3 billion in greenfield development projects.
WhiteWater Midstream (WWM), operator of the Agua Blanca and Whistler pipelines, tannounced the acquisition of Enstor's Waha gas storage assets. The assets will be held in a newly formed joint venture entity, Waha Gas Storage LLC, which will be jointly owned by Whistler Pipeline, LLC and Delaware Basin Residue, LLC, owner of Agua Blanca. The Waha gas storage facilities will be connected to Agua Blanca's Waha header system and will provide material storage capacities to customers of both the Agua Blanca and Whistler pipelines. With six existing caverns and five additional permitted caverns, the Waha Gas Storage facilities can provide approximately 10 billion cubic feet of storage capacity once fully developed.
"The Waha Gas Storage assets are strategically located near the Waha hub and our new joint venture plans on further optimizing these facilities and their capabilities in the near-term to better serve the customers of the Agua Blanca and Whistler pipelines," said Christer Rundlof, CEO of WhiteWater. "We are extremely excited to provide our customers with another premier residue service and unmatched flexibility for their residue transportation needs."