Project Summary of Upcoming Pipeline & Facility Projects in Texas
Texas oil & gas pipeline and facility project permits last 7 days report dated Aug 24, 2022 is tracking number 40 Oil & Gas and Mid Stream Operators that had 79 pipeline and facilities approved permits.
Top Oil & Gas Operators approved for a facility permits include; Clear Fork, Inc (13), Cheyenne Petroleum (11), ENLINK MIDSTREAM SERVICES LLC (5)
Top Counties approved for a facility permits include; FISHER (10), LA SALLE (7), MIDLAND (6)
Top Oil & Gas Operators approved for a pipeline permits include; Middleton Oil
---
Texas pipeline and facility project Download
---
Permit Details
Texas Pipeline Projects
Pipeline permits include gathering or transport pipelines of a liquid, gas or oil through a system of pipes. In addition to these main types of pipelines, there are also four other sub-categories of pipelines: Gathering Lines, Feeder Lines, Transmission Pipelines and Distribution Pipelines. The permits represent all types of pipelines. Source Texas pipeline and facility project permits Aug 24, 2022
Texas T4 Pipeline Permits

Texas Pipeline Construction Permits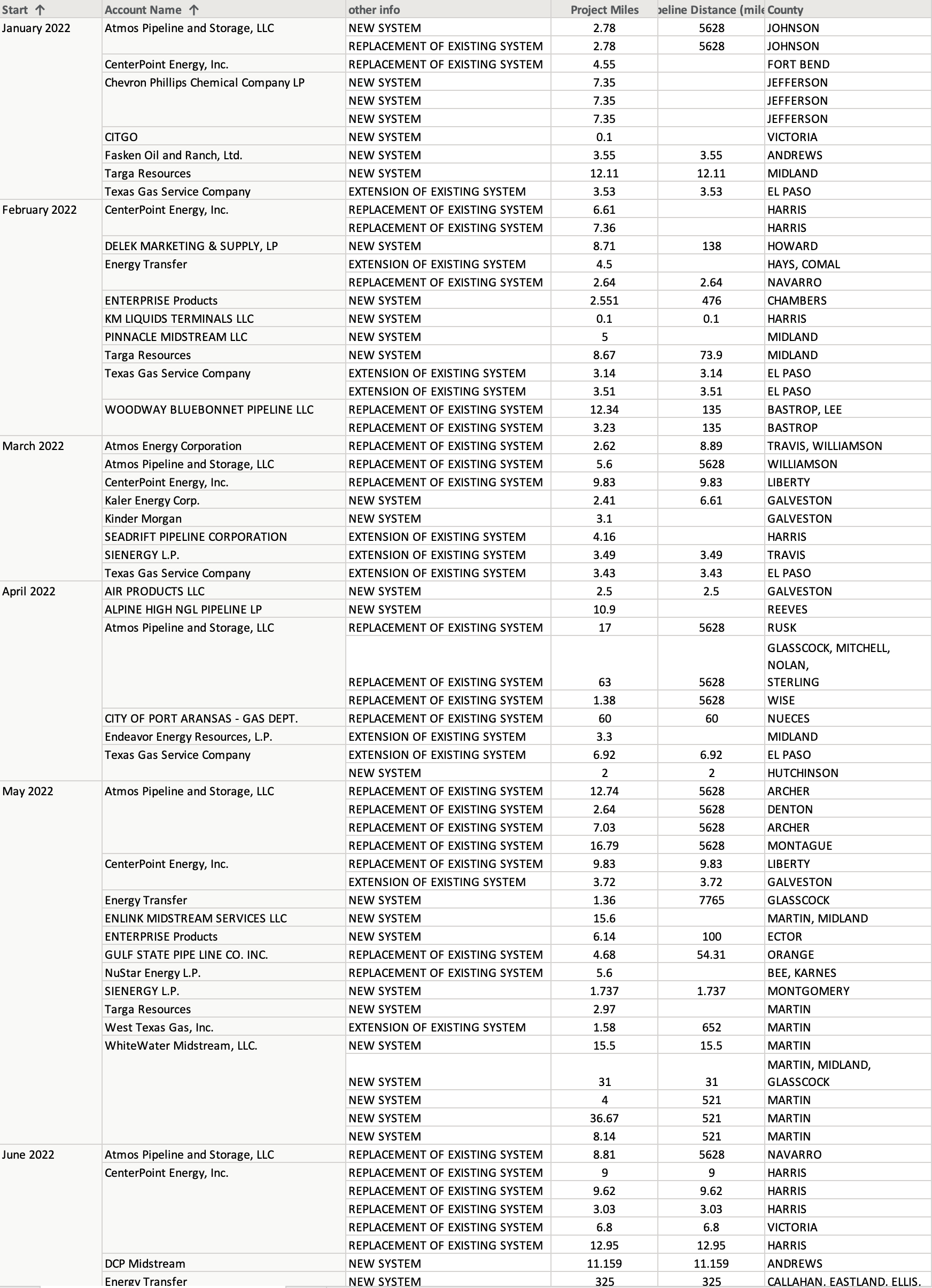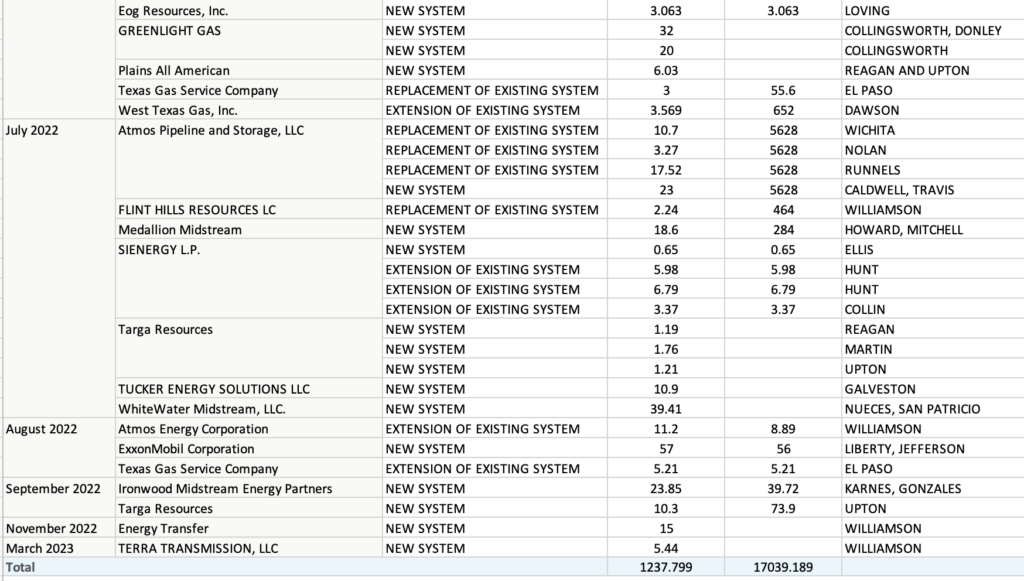 Texas Oil & Gas Facility Permits
Facilities are a system of vessels, piping, valves, tanks and other equipment that are used to gather, process, measure, store or dispose of petroleum, natural gas or water. … The upstream facility network includes equipment for the handling of oil, natural gas, natural gas liquids, and water.  Source Texas pipeline and facility project permits Aug 24, 2022
We have 3 types of permits related to construction of new facilities the Permit Type is related to the stage of the project.
Notify New – Prior to construction, a notification with basic information must be submitted.
Initial -Ninety days after submitting the Initial Project Notification, a more detailed registration for the standard permit is required. This could be related to existing plant maintenance
Revision – Permit approved with a revision to the permit. This could be related to existing plant maintenance
Facility Projects New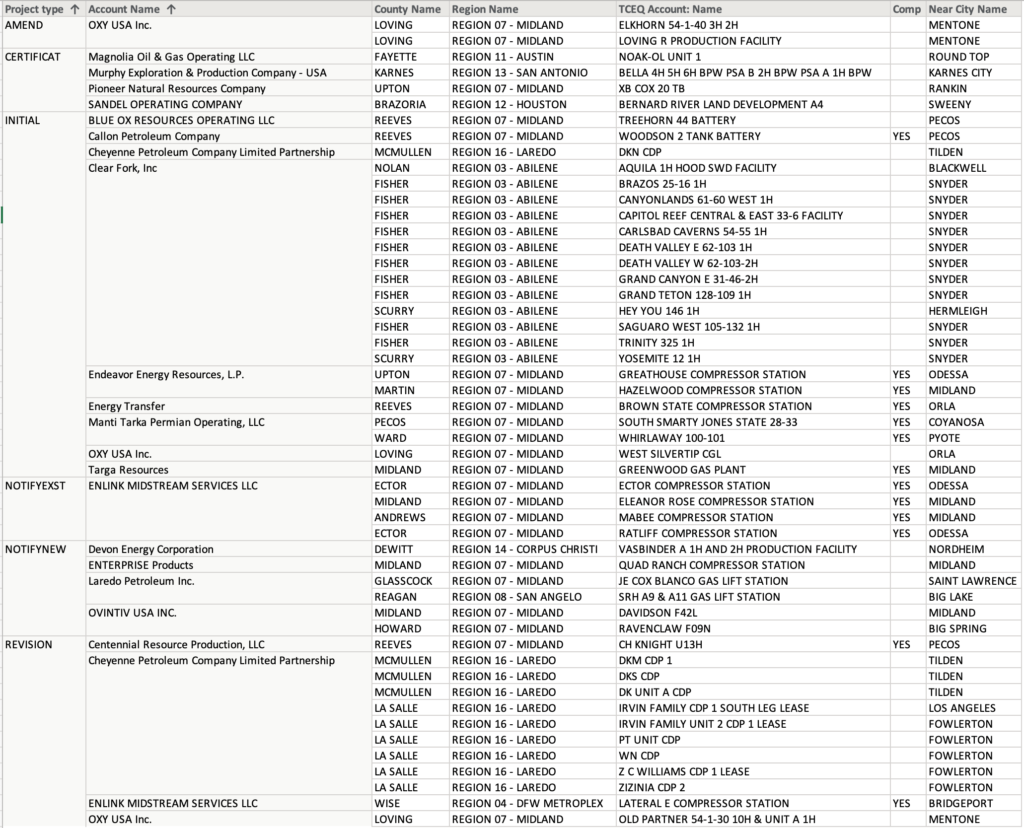 Facility Maintenance

Facility Ownership Change

---
Facility and Pipeline Project Details
Facility Projects
Clear Fork – 15 New Air Permits – ODESSA
Clear Fork is a family-owned, private equity-backed oil and gas E&P company with operations in the Eastern Shelf of the Permian Basin.
For over 40 years, Clear Fork Inc. has been involved in property acquisitions, focusing primarily on shallow oil exploration, exploitation and waterflood opportunities. Clear Fork Inc. currently operates around 125 wells.
Fisher County, TX ranks #59 in the state for BOE produced in the most recent month (Apr 2022). The information below is the summary of oil and gas data that goes back to 1993 and contains information on the 1,773 wells that have been drilled from Jan 1993 to Apr 2022.
Clear Fork witnessed the highest oil and gas production in Fisher county in September 2021. Out of all the counties, Fisher county held a share of 47.24% for the firm. The company produced 215.49 boe/d in Fisher county in September 2021, a decrease of 4.99% in production when compared with the previous month.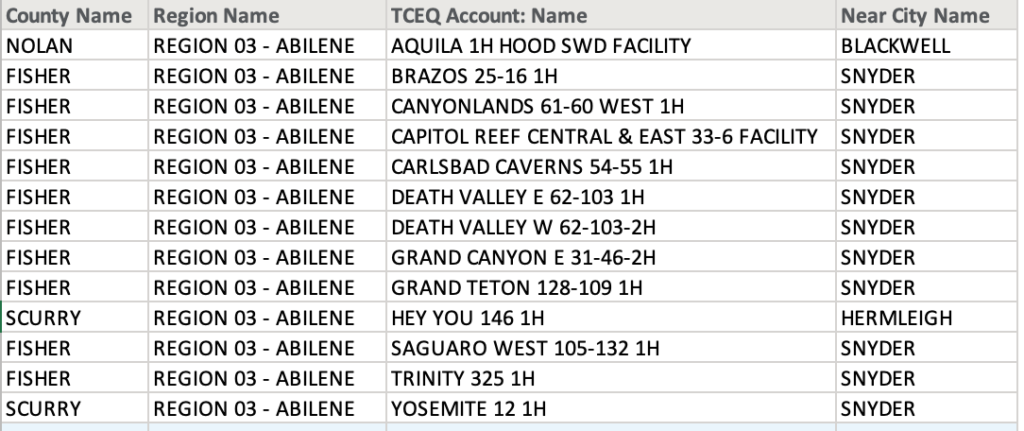 Targa – GREENWOOD GAS PLANT – MIDLAND
Targa Resources Corp. air permit approved for new cryogenic natural gas processing plant in the Permian basin.
Targa Resources Corp. is adding another cryogenic natural gas processing plant to its already expanding operations in the Permian Midland as part of the operator's broader strategy to further extend its Permian basin gathering and processing position amid heightened demand from producers.
In response to rising regional production and to meet infrastructure needs of producers, Targa plans to build and commission the new 275-MMcfd Greenwood plant in its Midland basin system by the end of fourth-quarter 2023, the operator told investors on its second-quarter 2022 earnings call.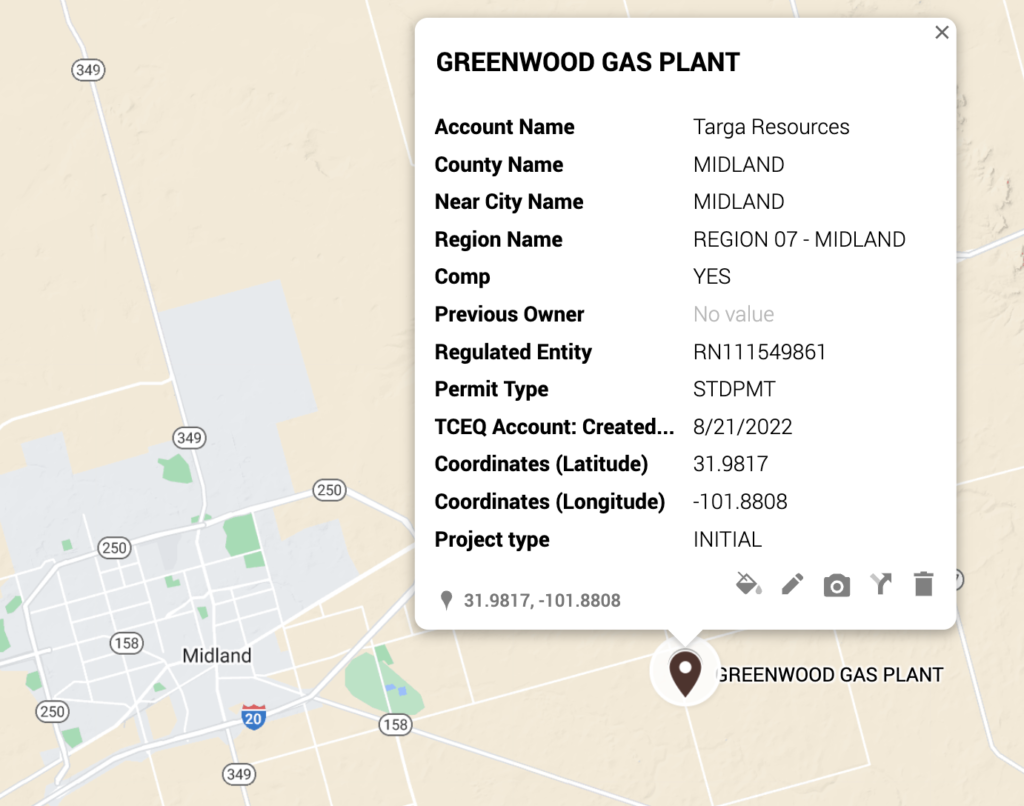 CALLON PERMIAN LLC – WOODSON 2 TANK BATTERY – Reeves
Callon Petroleum Company is an independent oil and natural gas company focused on the acquisition, exploration and development of high-quality assets in the leading oil plays of South and West Texas. Callon Petroleum our core footprint to approximately 200,000 net acres in the Permian Basin and Eagle Ford Shale.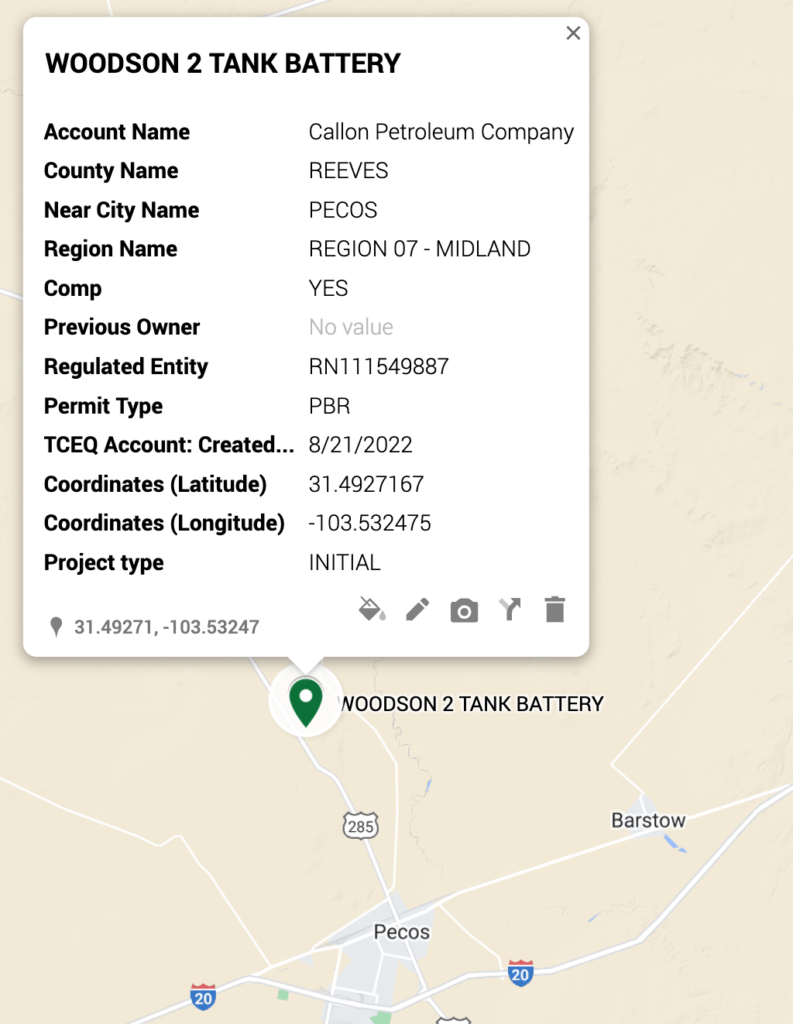 Manti Tarka Permian Operating, LLC – SOUTH SMARTY JONES STATE 28-33 – PECOS
Established in 2014, Manti Tarka Permian, LP ("MTP") is a limited partnership between Manti and Tarka Resources Inc. ("Tarka") and its subsidiary entities. Tarka is the wholly owned US subsidiary of Dutco Energy of Dubai, UAE.
MTP and its operating arm, Manti Tarka Permian Operating, LLC, is an investment vehicle for its organic growth project focused on leasehold acquisition and development in the Southern Delaware Basin, specifically Reeves, Pecos and Ward County area of interest. MTP is currently accelerating its development and expansion plan of its operated and non-operated assets in the Southern Delaware Basin.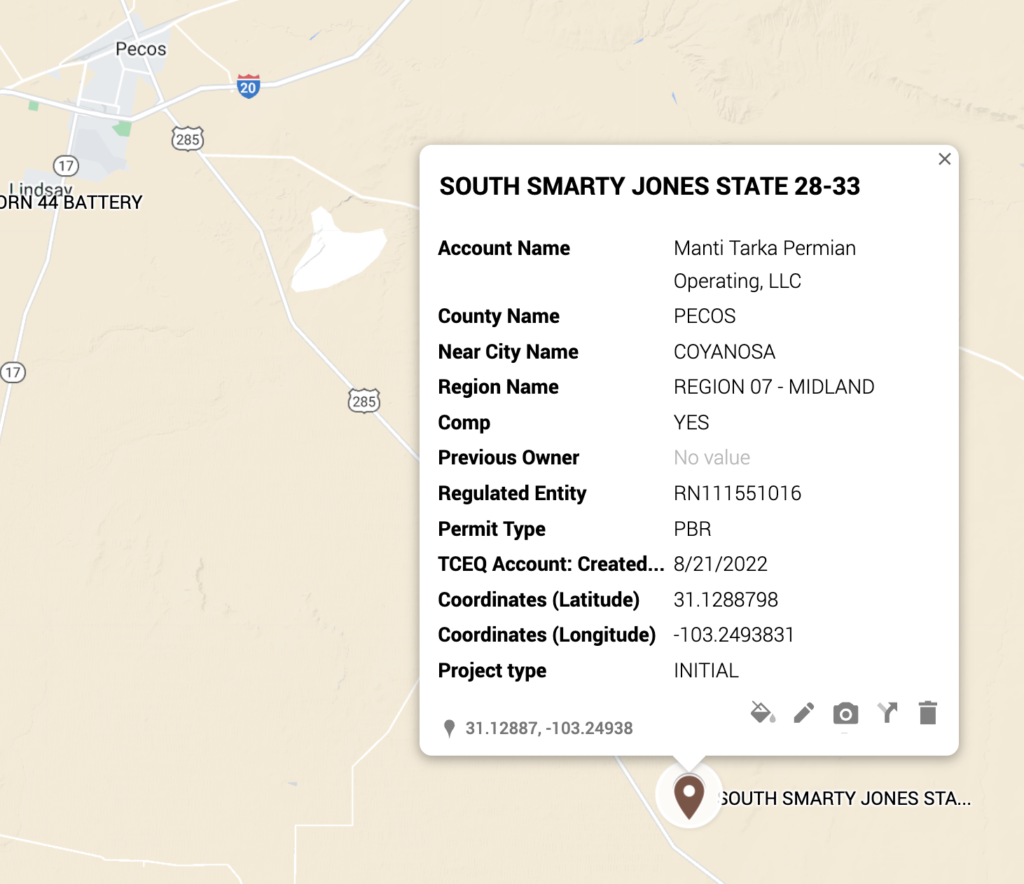 ---
Pipeline Projects
MIDDLETON OIL COMPANY – Permit #10389 – 9 miles of New Pipeline – WEBB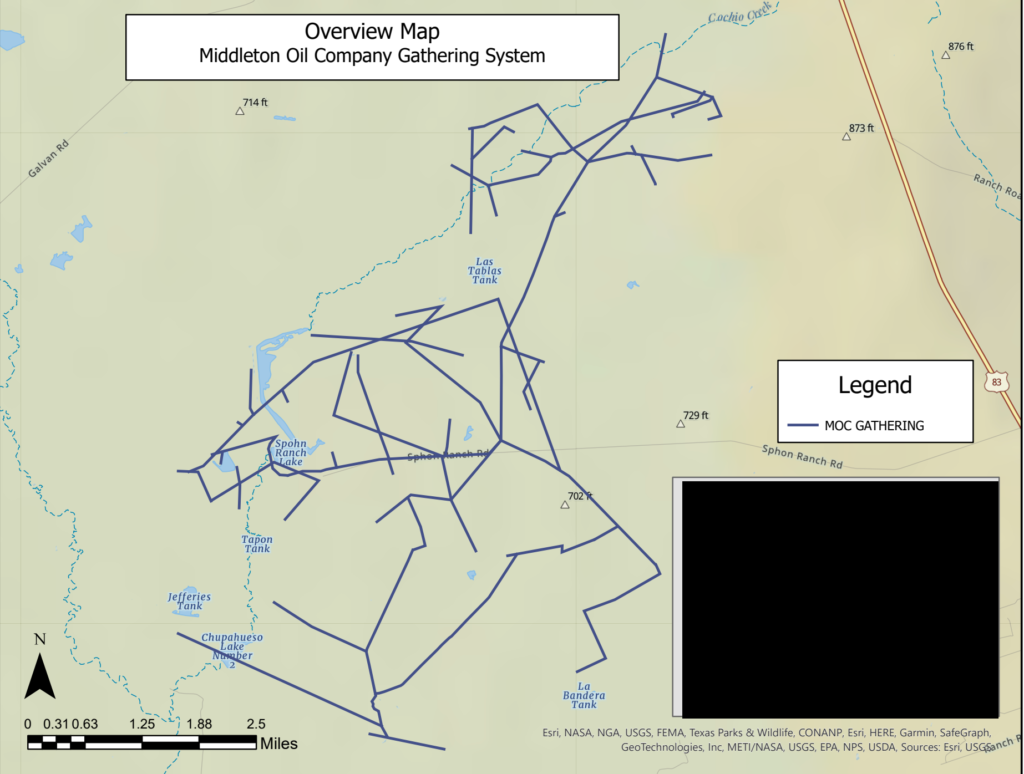 .
CASTLEROCK EF OPERATING LLC_New Pipeline (Trabsfer)_Permit#10,390_6 Miles_LA SALLE, MCMULLEN
Castlerock Exploration (CRX) is a private exploration and production company currently operating in South Texas Eagle Ford region. CRX seeks to build value through high rate of return projects by leveraging the unique experience of its technical team in conjunction with creative land acquisitions. Above all, we are committed to operating in an ethical manner, respecting the land and individuals that we partner with on a daily basis.
CRX is partnered with Denham Capital Management (www.denhamcapital.com), a global energy, resources and sustainable infrastructure investment firm with more than $12 billion of invested and committed capital since inception.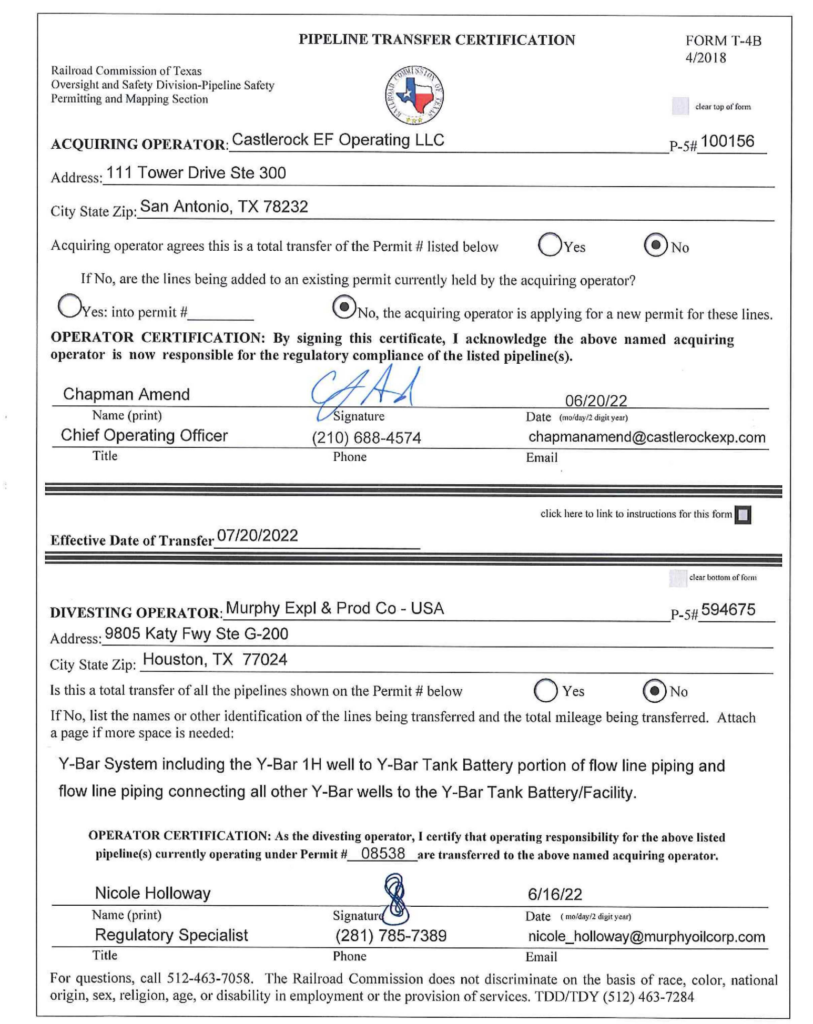 ---
Oilgasleads.com Texas Pipeline & Facility Projects