Project Summary of Upcoming Pipeline & Facility Projects in Texas
Texas oil & gas pipeline and facility project permits last 7 days report dated Aug 10, 2022 is tracking number 35 Oil & Gas and Mid Stream Operators that had 103 pipeline and facilities approved permits.
Top Oil & Gas Operators approved for a facility permits include; BKV Corporation (34), Laredo Petroleum Inc. (10), Western Midstream Partners, LP. (5)
Top Counties approved for a facility permits include; TARRANT (29), GLASSCOCK (10), MIDLAND (6)
Top Oil & Gas Operators approved for a pipeline permits include; White Water Midstream
---
Texas pipeline and facility project Download
---
Permit Details
Texas Pipeline Projects
Pipeline permits include gathering or transport pipelines of a liquid, gas or oil through a system of pipes. In addition to these main types of pipelines, there are also four other sub-categories of pipelines: Gathering Lines, Feeder Lines, Transmission Pipelines and Distribution Pipelines. The permits represent all types of pipelines. Source Texas pipeline and facility project permits July 28, 2022
Texas T4 Pipeline Permits

Texas Pipeline Construction Permits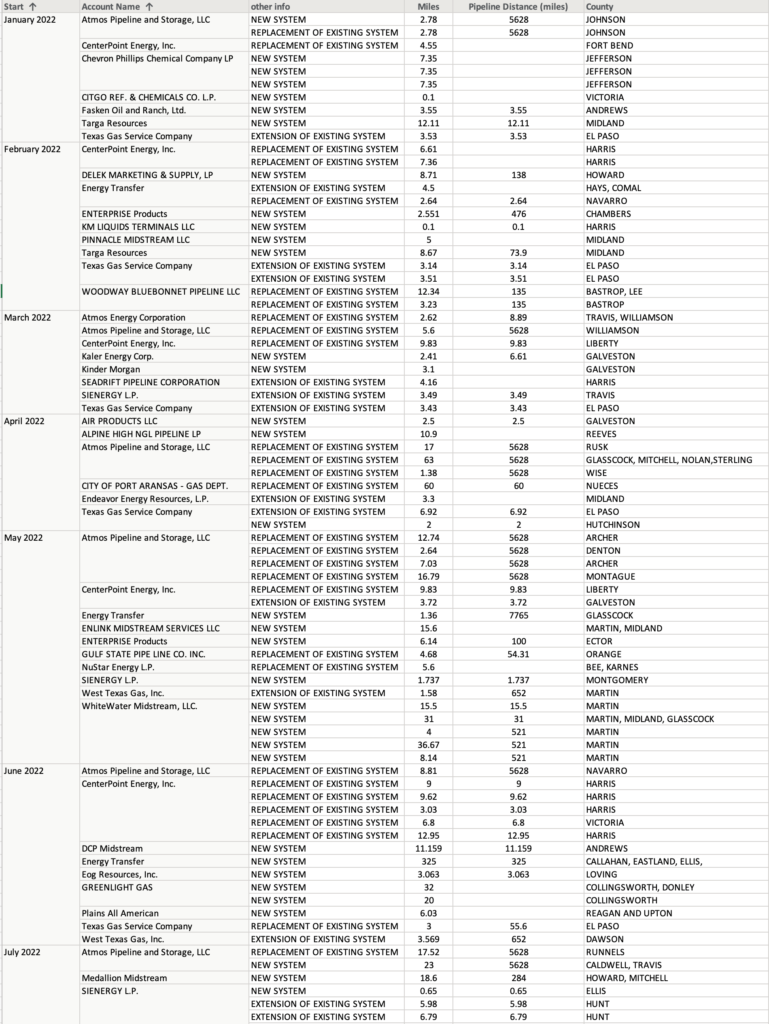 Texas Oil & Gas Facility Permits
Facilities are a system of vessels, piping, valves, tanks and other equipment that are used to gather, process, measure, store or dispose of petroleum, natural gas or water. … The upstream facility network includes equipment for the handling of oil, natural gas, natural gas liquids, and water. Source Texas pipeline and facility project permits July 28, 2022
We have 3 types of permits related to construction of new facilities the Permit Type is related to the stage of the project.
Notify New – Prior to construction, a notification with basic information must be submitted.
Initial -Ninety days after submitting the Initial Project Notification, a more detailed registration for the standard permit is required. This could be related to existing plant maintenance
Revision – Permit approved with a revision to the permit. This could be related to existing plant maintenance
Facility Projects New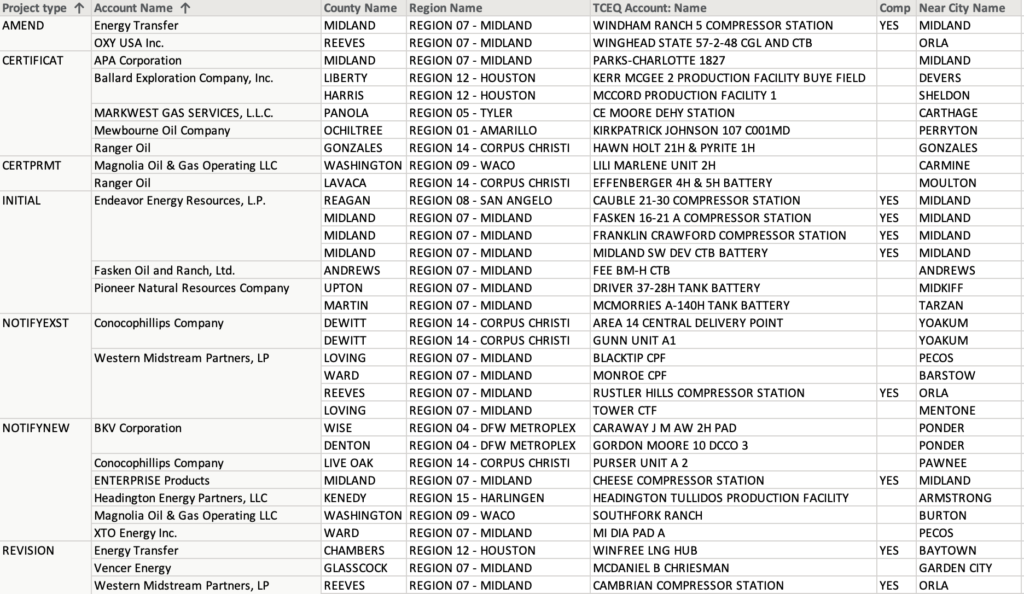 Facility Maintenance

Facility Ownership Change

---
Facility and Pipeline Project Details
Facility Projects
Endeavor Energy Resources, L.P.. – 4 Compressor Permits – Permian
The Midland Basin consists of Martin, Howard, Midland, Glasscock, Upton and Reagan counties. These Core 6 counties are the center of focus for Endeavor's horizontal drilling operations. Once thought to be uneconomic properties, these counties are now the foundation for the Permian Basin's oil inventory with some of the lowest breakeven economics across the U.S. shale patch.
The Midland Basin consists of Martin, Howard, Midland, Glasscock, Upton and Reagan counties. These "Core Six" counties are the center of focus for Endeavor's horizontal drilling operations. Once thought to be uneconomic properties, these core counties are now the foundation for West Texas' oil inventory.
With an asset position of approximately 370,000 net acres in the Midland Basin, Endeavor is poised for growth as it executes its horizontal drilling program. An estimated 90% of Endeavor's assets in the Midland Basin have yet to be developed.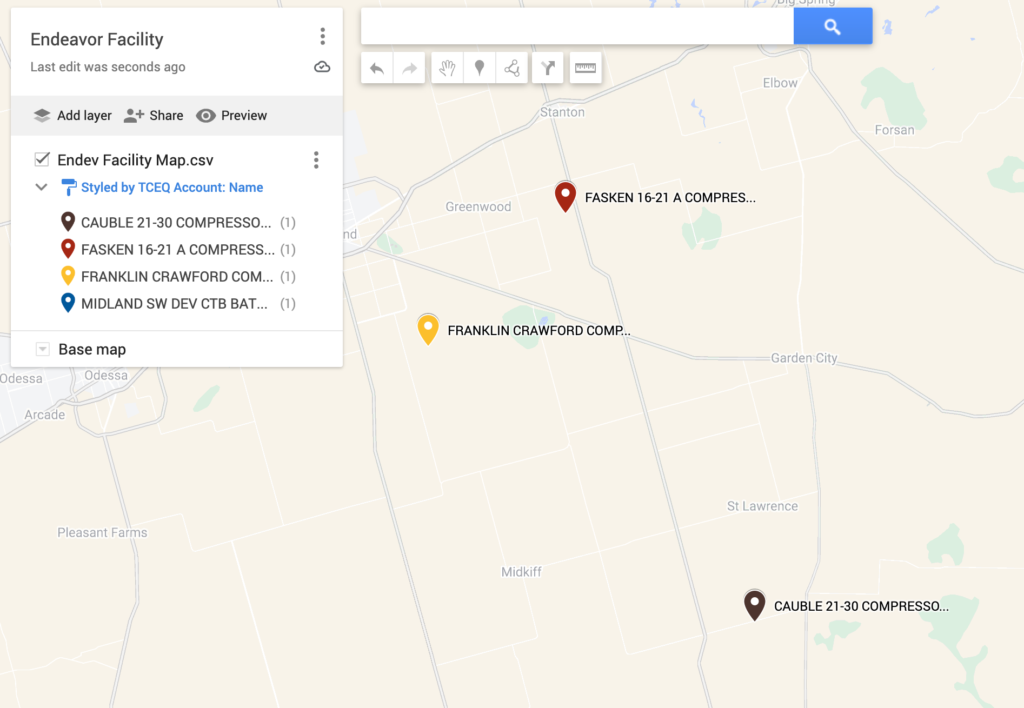 Headington Energy Partners, LLC – Permit#RN111541074- HEADINGTON TULLIDOS PRODUCTION FACILITY – KENEDY
Our largest operating position is in South Texas, where we operate approximately 120 wells with gross operated production exceeding 60,000 mcfd & 800 bopd from the conventional Frio, Vicksburg and Deep Frio trends. We continue to actively drill HPHT conventional deep gas wells in Kenedy County.
In early 2018, we initiated a drilling and development program in the Permian Basin. We are actively drilling Horizontal Wolfcamp wells in the Delaware and Midland Basins. Current gross production exceeds 10,000 BOE/D.
Non-operated assets under management are widespread and diverse, with the majority of our 3,000 property interests positioned across Texas and Oklahoma with an additional net production of 5,000 BOE/day.
We are actively seeking new opportunities in the Permian Basin and South Texas that fit well with existing operations. We are also interested in expanding our operations to other basins.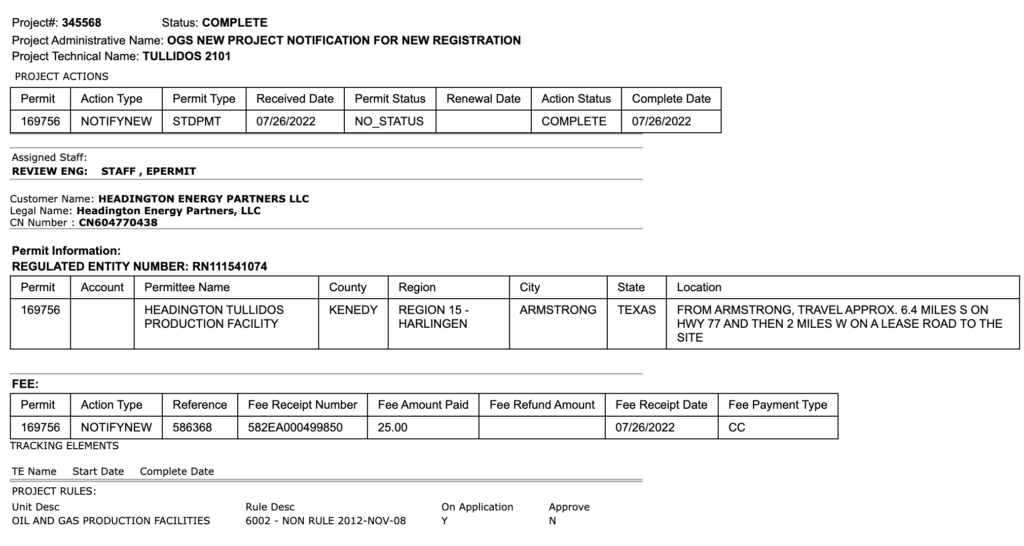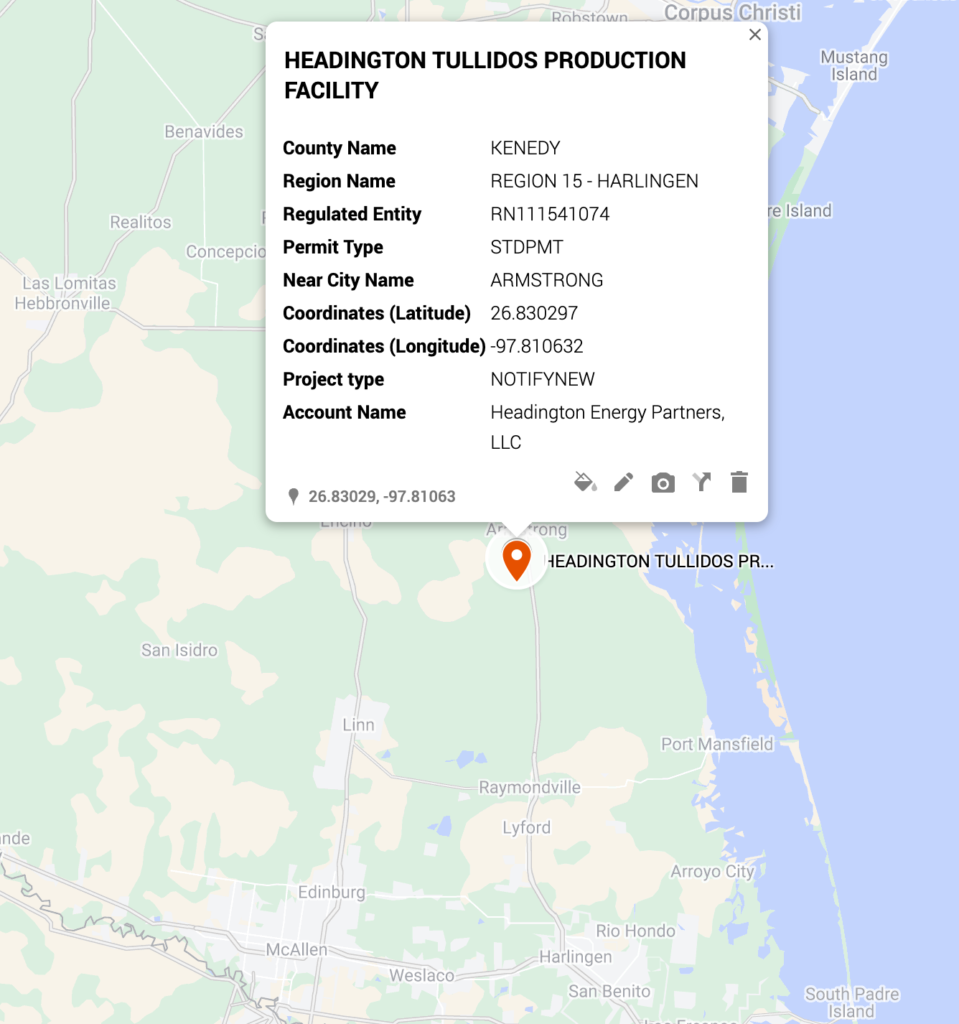 Magnolia Oil & Gas Operating LLC – Permit#RN111540258 – SOUTHFORK RANCH – WASHINGTON
Magnolia's South Texas asset platform includes a well-delineated, low-risk position in the core of Karnes County and a position in the Giddings Field, a re-emerging oil play with significant upside. Together, these positions comprise approximately 460,000 net acres targeting two of the top oil plays in the United States.
Karnes County: Core Eagle Ford and Austin Chalk
World-class acreage footprint located in the core of the Eagle Ford, substantially de-risked
Full field development allows for operational efficiencies and improved performance
Well known, repeatable acreage position targeting multiple benches and representing some of the best economics in North America
Giddings Field: Redeveloping as an Emerging Play
Emerging, high-growth asset with extensive inventory potential and significant development flexibility
Held-by-production nature of asset allows for systematic delineation and optimization of play while staying within asset cash flow
Modern high-intensity completions have resulted in a step-change improvement in well performance
At least 1,000 locations based on conservative spacing assumptions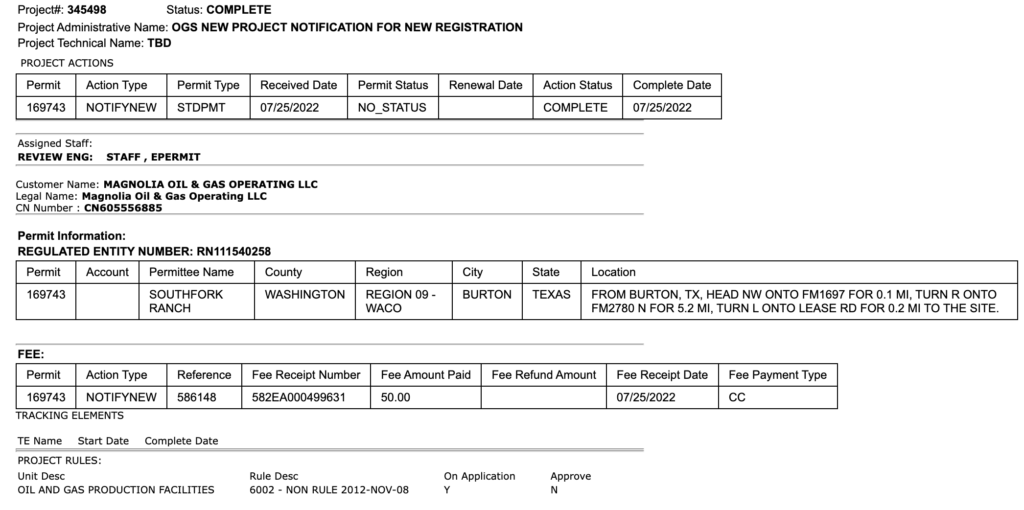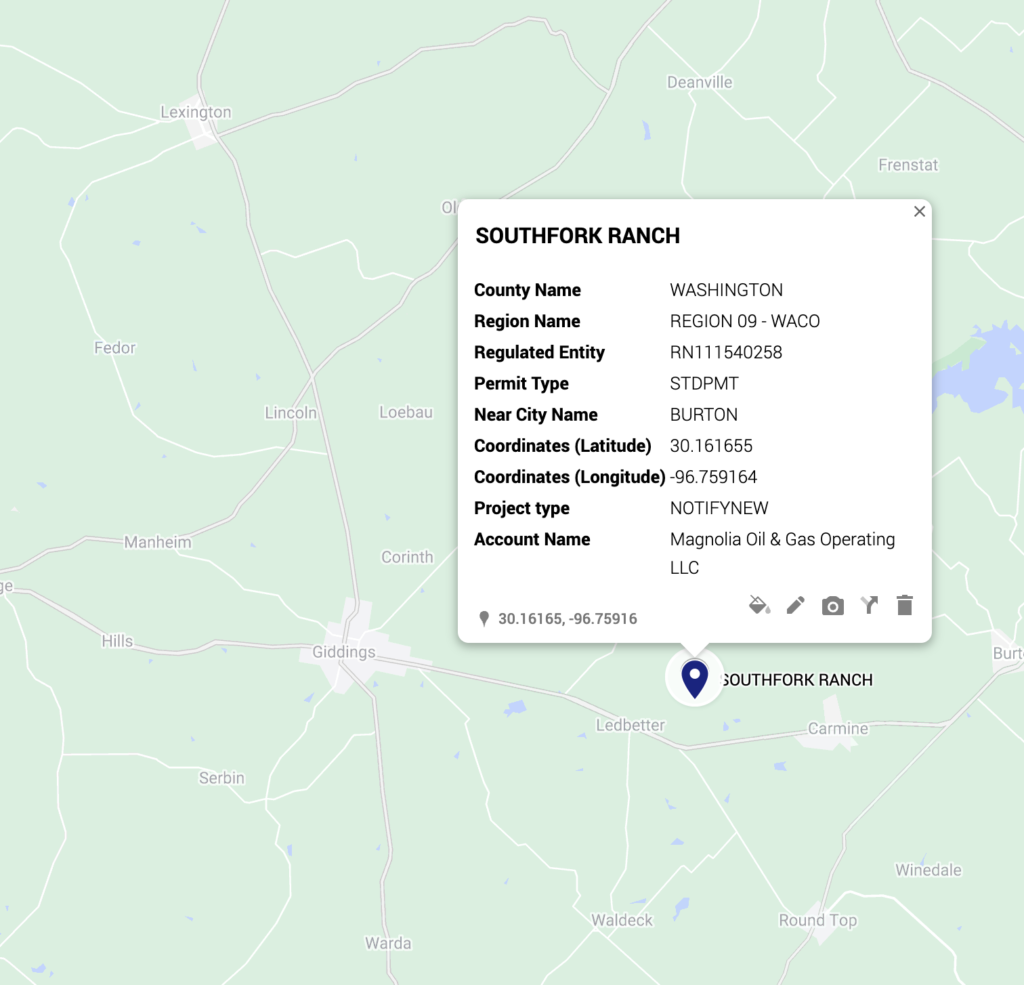 Fasken Oil and Ranch, Ltd.- Permit #RN111541066 – FEE BM-H CTB – ANDREWS
Fasken Oil and Ranch primary focus is the Spraberry Trend located in the Midland Basin covers a large area – around 2,500 square miles. As most often defined, the Spraberry includes portions of Irion, Reagan, Upton, Glasscock, Midland, and Martin Counties. In 2007, the U.S. Department of Energy ranked
The Spraberry Trend third in the United States by total proved reserves, and seventh in total production. Estimates have the Spraberry Shale holding up to 10 billion barrels of oil as well as 3 trillion cubic feet of natural gas. Global Hunter estimates the play's potential recovery resources range from 4.2 to 8.8 billion BOE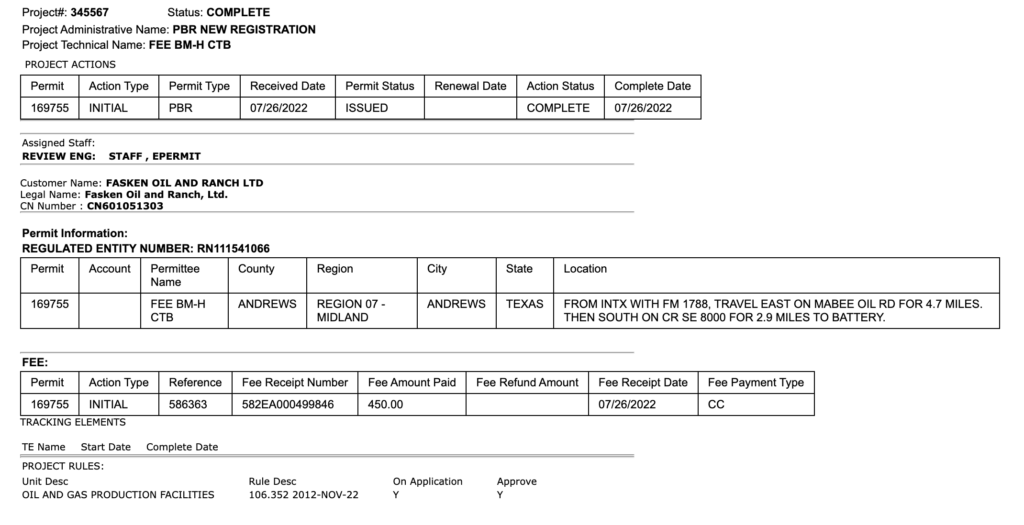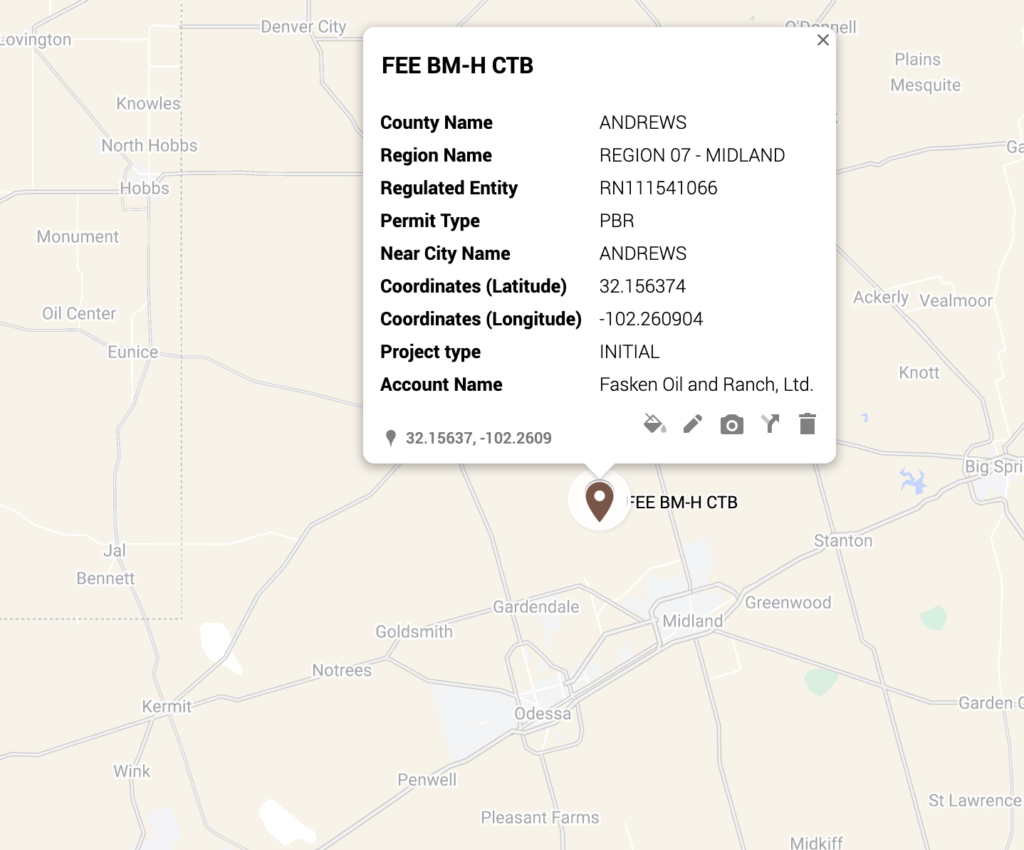 ---
Pipeline Projects
WhiteWater Midstream – Permit #110384 – 40 miles – NUECES, SAN PATRICIO
WhiteWater Midstream (WhiteWater), MPLX LP (NYSE: MPLX) and West Texas Gas, Inc. (WTG) have recently formed a Joint Venture (JV) to provide natural gas liquids (NGLs) takeaway capacity from MPLX and WTG gas processing plants in the Permian Basin to the NGL fractionation hub in Sweeny, TX. WhiteWater Midstream's Investment in the JV is backed by Ridgemont Equity Partners, Denham Capital Management and the Ontario Power Generation Inc. Pension Plan.
Whistler is a Joint Venture with WhiteWater, MPLX, WTG and Stonepeak. Whistler pipeline is an approximately 450-mile, 42-inch intrastate pipeline (Whistler Mainline) designed to transport natural gas from an interconnect with the Waha Header near Coyanosa, TX in the Permian Basin to a terminus near Agua Dulce, TX, providing direct access to South Texas markets and consumers. An approximate 80 mile 36-inch lateral provides connectivity for gas processors in the Midland Basin.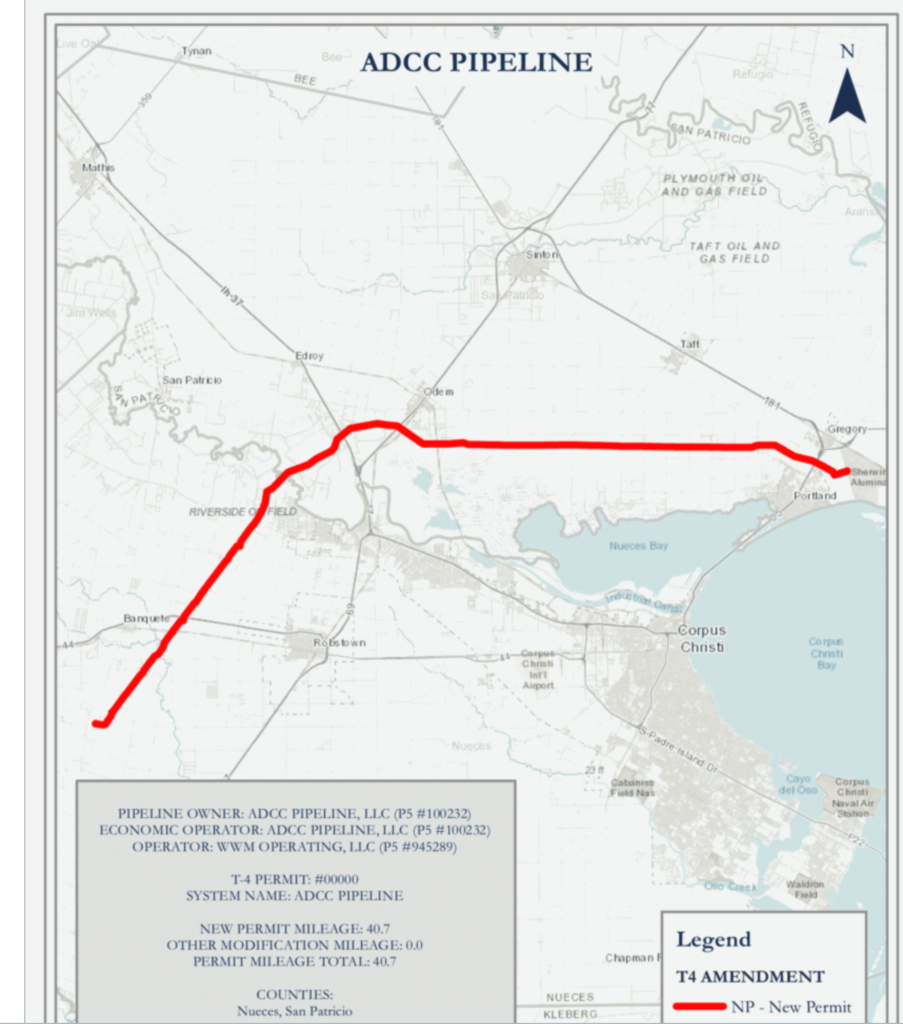 .
ITX CORPORATION._New Pipeline_Permit#10383_5 Miles_YOUNG
Ironwood Midstream was formed in 2015 to provide oil and gas producers with best in class service and access to premium markets. We design, build and operate tailored pipeline projects, currently in the Permian Basin and the Eagle Ford Shale.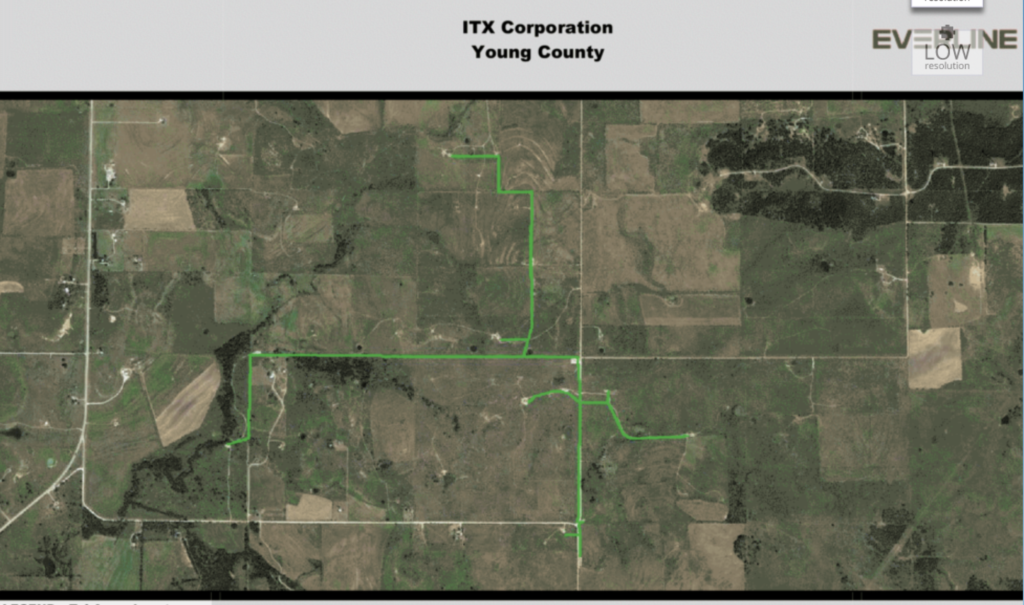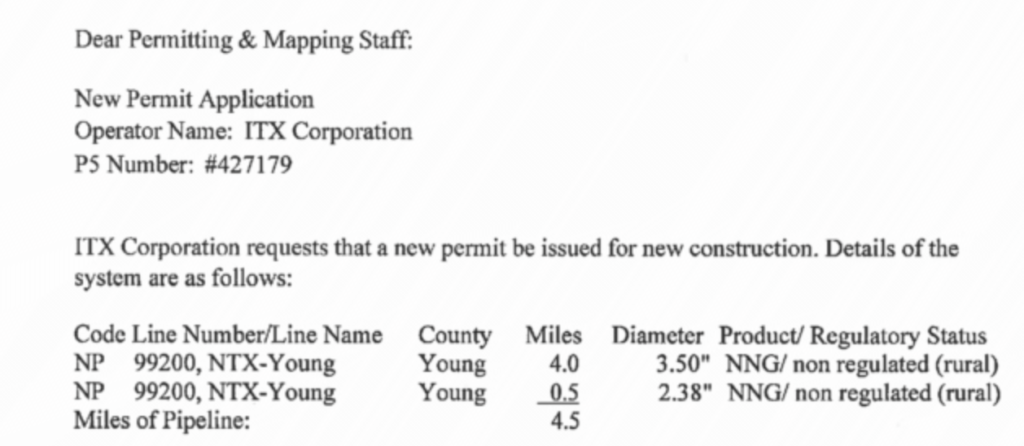 ENLINK MIDSTREAM SERVICES, LLC_ Pipeline Transfer_Permit#7643_308 Miles_HOOD, JOHNSON, SOMERVELL
EnLink Midstream, LLC (NYSE: ENLC) (EnLink) announced today that it has entered into a definitive agreement to acquire North Texas gathering and processing assets from Crestwood Equity Partners LP (NYSE: CEQP) for $275 million, subject to certain customary adjustments and regulatory approval. The adjacency of the assets to EnLink's North Texas footprint provides significant synergies and the opportunity to redeploy assets to EnLink's other areas of operation, resulting in significant capital avoidance and driving attractive transaction economics.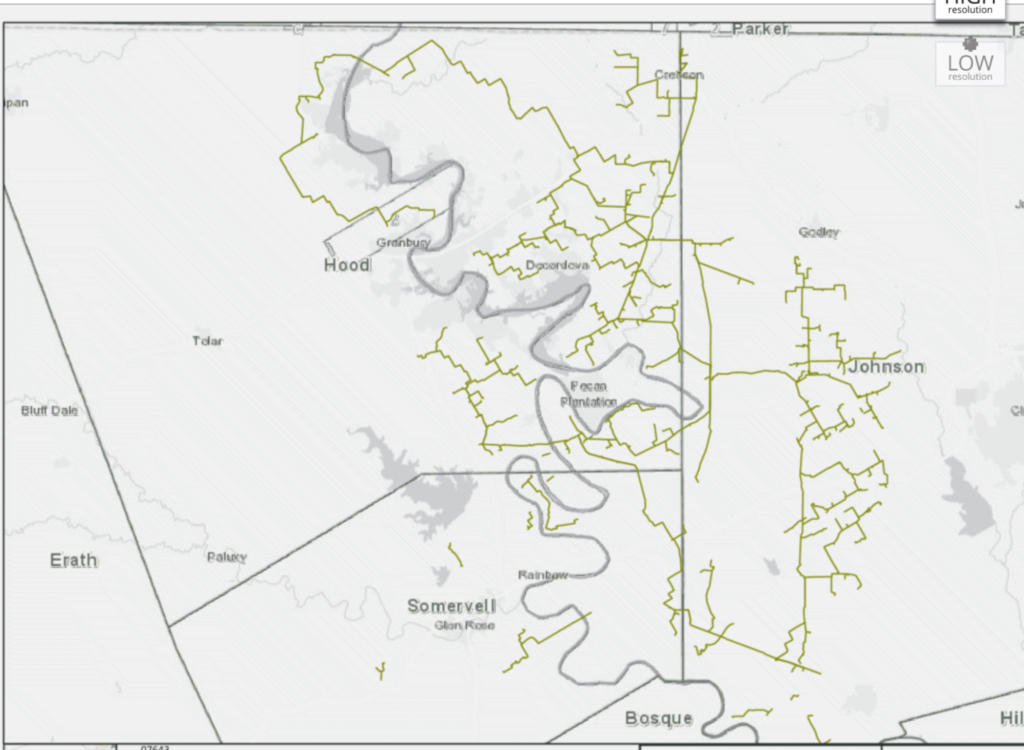 ---
Oilgasleads.com Texas Pipeline & Facility Projects