Project Summary of Upcoming Pipeline & Facility Projects in Texas
Texas oil & gas pipeline and facility project permits last 7 days report dated Sept 10, 2022 is tracking number 28 Oil & Gas and Mid Stream Operators that had 63 pipeline and facilities approved permits.
Top Oil & Gas Operators approved for a facility permits include; Earthstone Energy (9), Lime Rock Resources (8), SM Energy Company (7)
Top Counties approved for a facility permits include; WEBB (7), CROCKETT (3), ANDREWS (5)
Top Oil & Gas Operators approved for a pipeline permits include; Magnolia Oil
---
Texas pipeline and facility project Download
---
Permit Details
Texas Pipeline Projects
Pipeline permits include gathering or transport pipelines of a liquid, gas or oil through a system of pipes. In addition to these main types of pipelines, there are also four other sub-categories of pipelines: Gathering Lines, Feeder Lines, Transmission Pipelines and Distribution Pipelines. The permits represent all types of pipelines. Source Texas pipeline and facility project permits Sept 10, 2022
Texas T4 Pipeline Permits

Texas Pipeline Construction Permits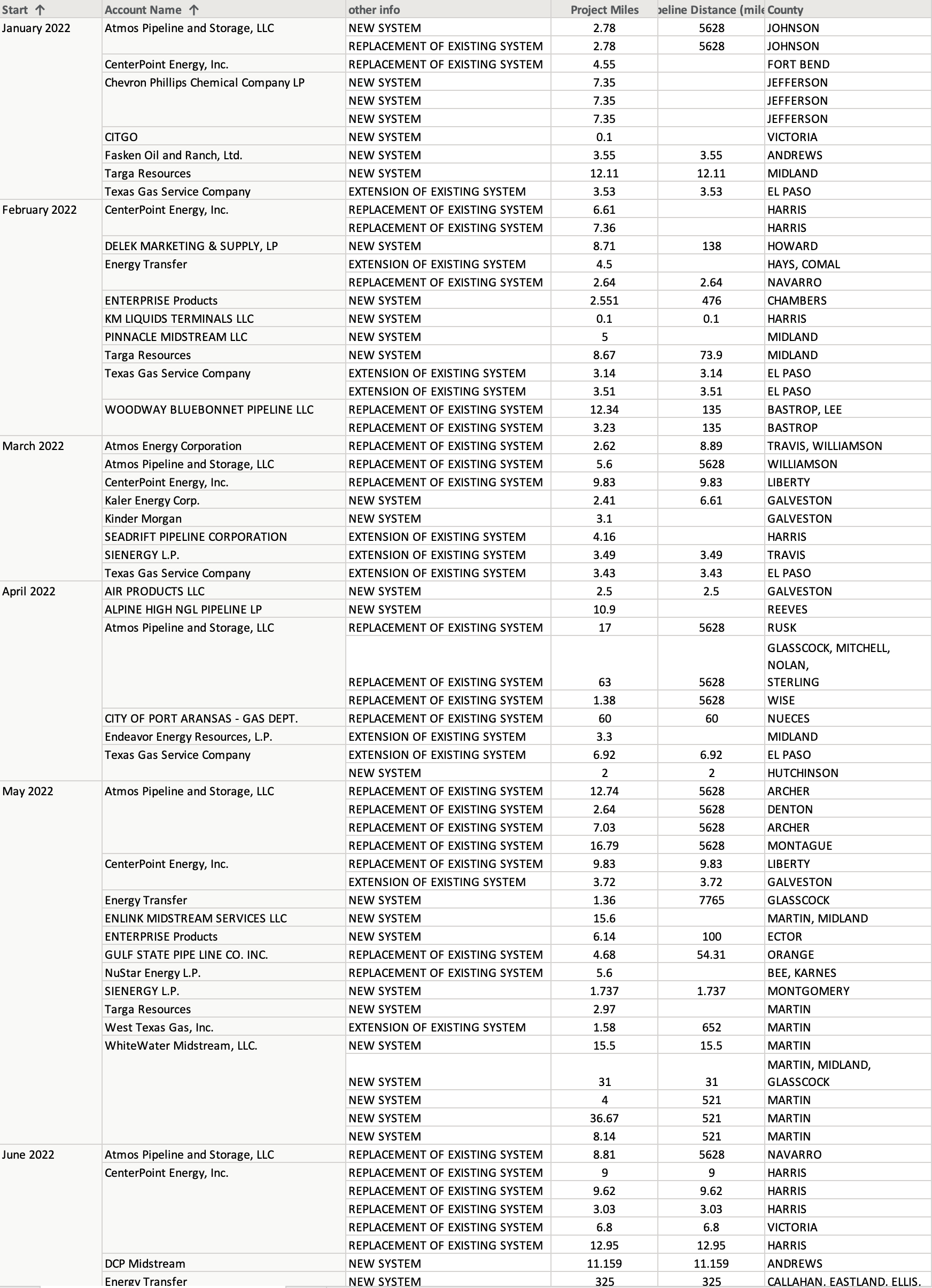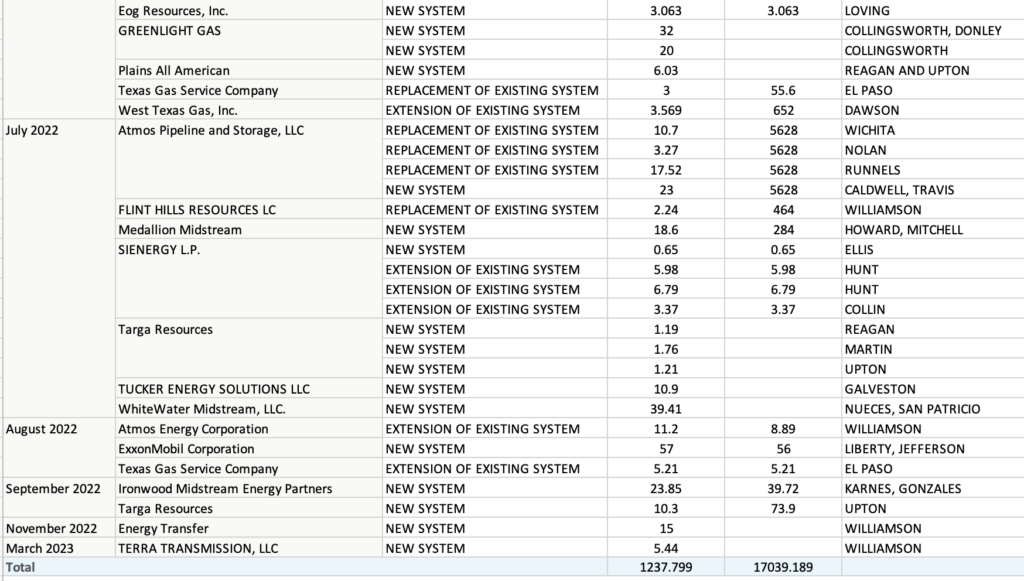 Texas Oil & Gas Facility Permits
Facilities are a system of vessels, piping, valves, tanks and other equipment that are used to gather, process, measure, store or dispose of petroleum, natural gas or water. … The upstream facility network includes equipment for the handling of oil, natural gas, natural gas liquids, and water.  Source Texas pipeline and facility project permits Sept 4, 2022
We have 3 types of permits related to construction of new facilities the Permit Type is related to the stage of the project.
Notify New – Prior to construction, a notification with basic information must be submitted.
Initial -Ninety days after submitting the Initial Project Notification, a more detailed registration for the standard permit is required. This could be related to existing plant maintenance
Revision – Permit approved with a revision to the permit. This could be related to existing plant maintenance
Facility Projects New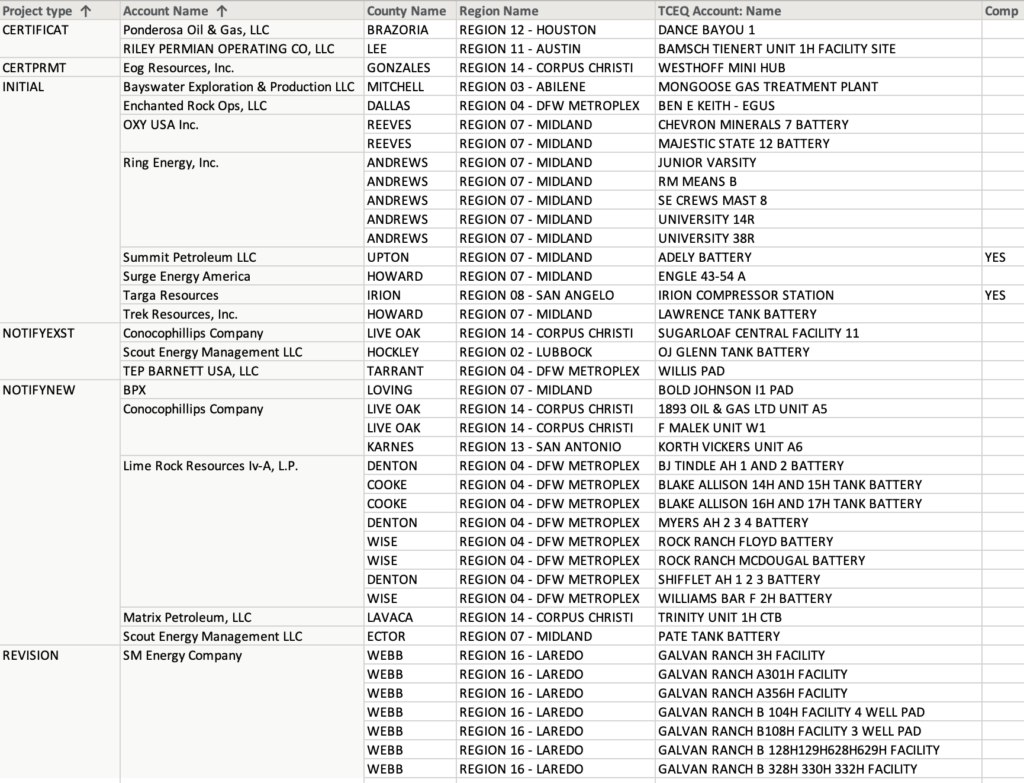 Facility Maintenance

Facility Ownership Change

---
Facility and Pipeline Project Details
Facility Projects
Ring Energy – 5 New Air Permits – ANDREWS
Ring Energy, Inc. (REI) operates out of the Permian Basin of Texas and New Mexico. The Permian Basin is unique in its size, vast infrastructure, thickness of strata, and multiple producing horizons/benches, providing a variety of exploration opportunities to develop oil and gas reserves. As a result, the Permian Basin is the top producing basin in North America.
The Permian Basin produces approximately 4.5 million Bo/d—about 37% of the U.S. daily production of approximately 12.6 million Bo/d (EIA week ending 12/31/19).
Andrews County, TX ranks #17 in the state for BOE produced in the most recent month (Jan 2022). The information below is the summary of oil and gas data that goes back to 1993 and contains information on the 21,294 wells that have been drilled from Jan 1993 to Jan 2022.

Ring Energy Wells Drilled Since 2020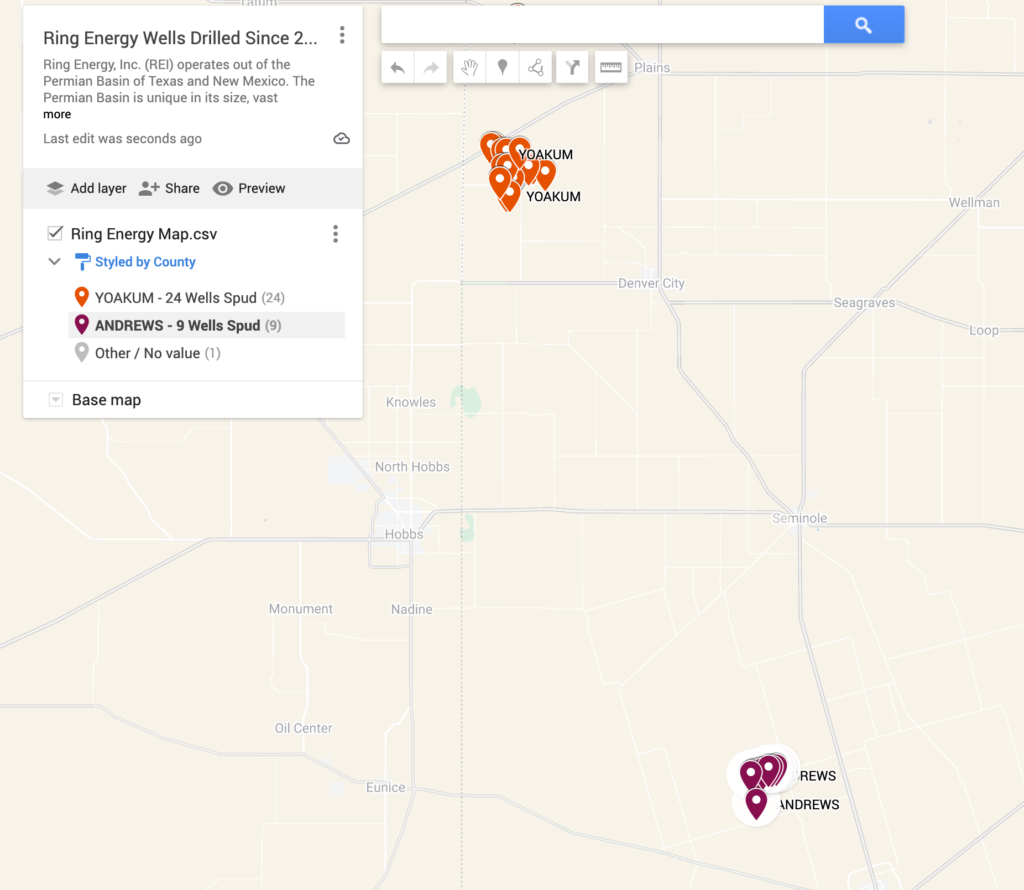 Lime Rock Resources – 8 New Air Permits – Dallas/Fort Worth
Producing property acquisition specialists.
Acquiring producing properties in the United States has been our sole strategy since our inception in 2005, and the upstream oil and gas sector has been our business focus our entire careers, through cycles, across almost all basins.
Now operating in four main regions across six states, we seek to both add acquisitions—and operating synergies—in our existing areas and selectively expand our geographic footprint in attractive new basins.
Our core focus is on producing fields, and our acquisitions through mid-year 2019 have averaged 72% of proved developed producing reserves as a percentage of proved reserves. We have a preference for properties with long-term production histories and predictable production profiles..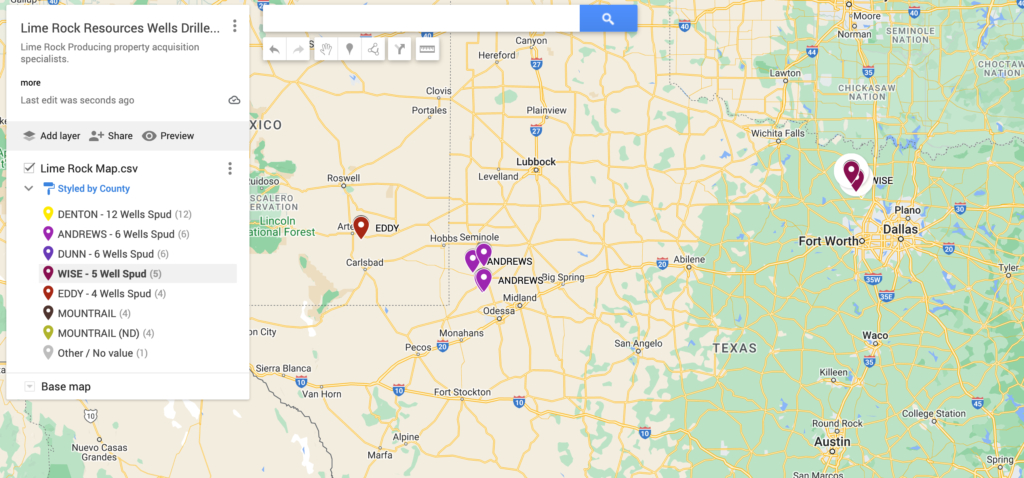 Scout Energy Management LLC – PATE TANK BATTERY – ECTOR
Scout Energy Partners is a private energy producer. Scout focuses on the acquisition, operation and improvement of upstream energy assets and associated midstream energy infrastructure.
Scout assets are long-lived, mature production characterized by predictable cash flow and shallow declines. Scout prefers operated assets and improves value through cost reduction, production enhancement and product marketing initiatives, leveraging the firm's best-in-class technical and financial talent. Scout is an experienced cross-disciplinary team of industry professionals that have extensive asset sourcing, underwriting, production operations, geology, reservoir development, land/leasing, midstream/product marketing and financial experience. The firm employs over 150 staff in its corporate office and over 750 staff across 37 field offices in six states.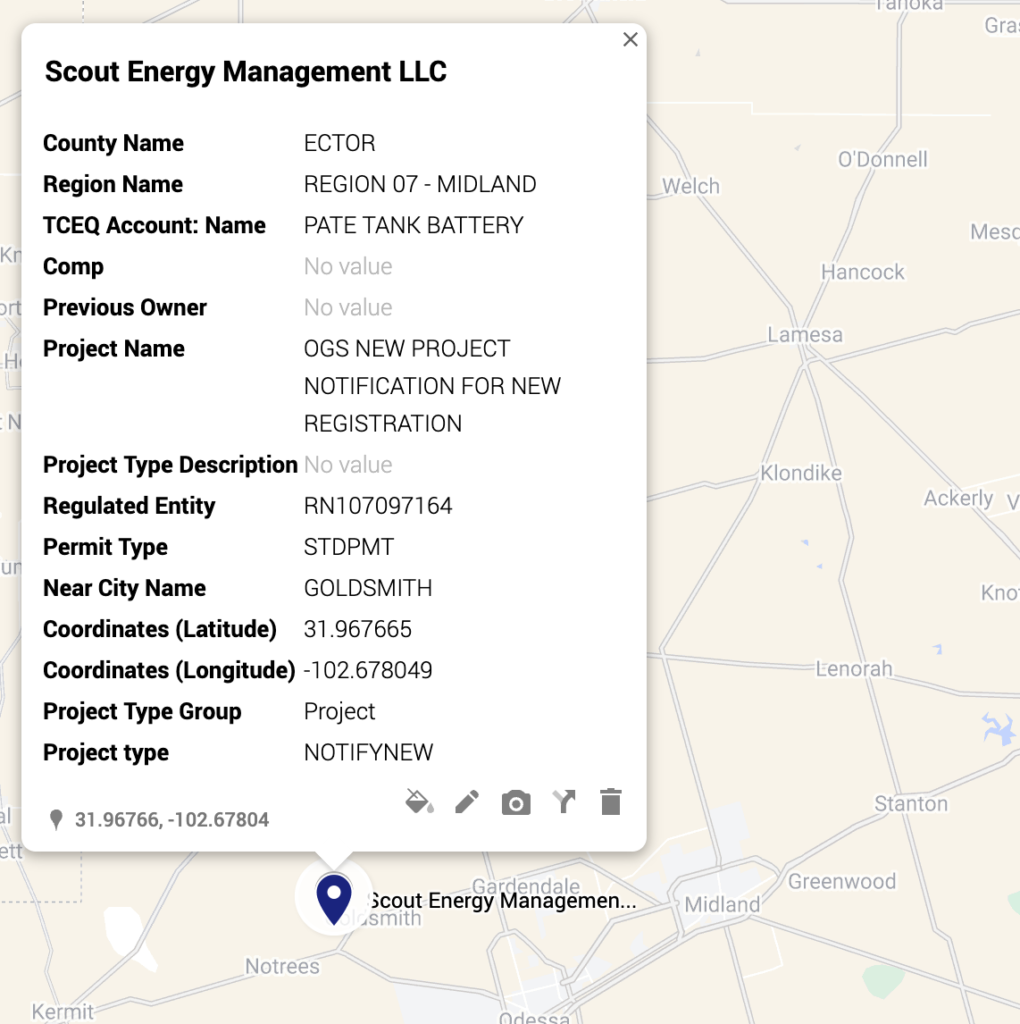 Bayswater Operating Company LLC – MONGOOSE GAS TREATMENT PLANT – MITCHELL
Founded in 2004, Bayswater Exploration & Production LLC is a Denver-based oil and natural gas development company that owns and operates principally in the Denver-Julesburg Basin in Colorado and the Permian Basin in Texas. Bayswater also has projects in the Louisiana Chalk, East Texas, and the Powder River Basin in Wyoming.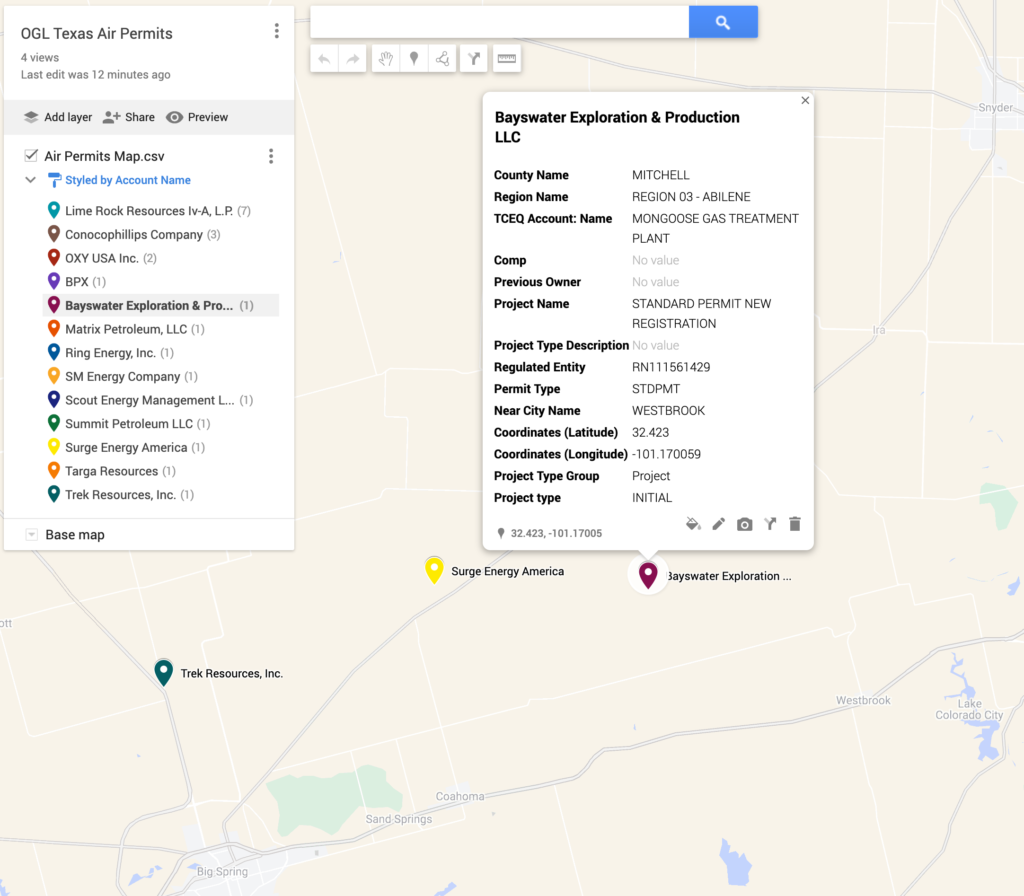 ---
Pipeline Projects
CITY OF PLAINS – Permit #10391- 9 miles of New Pipeline – YOAKUM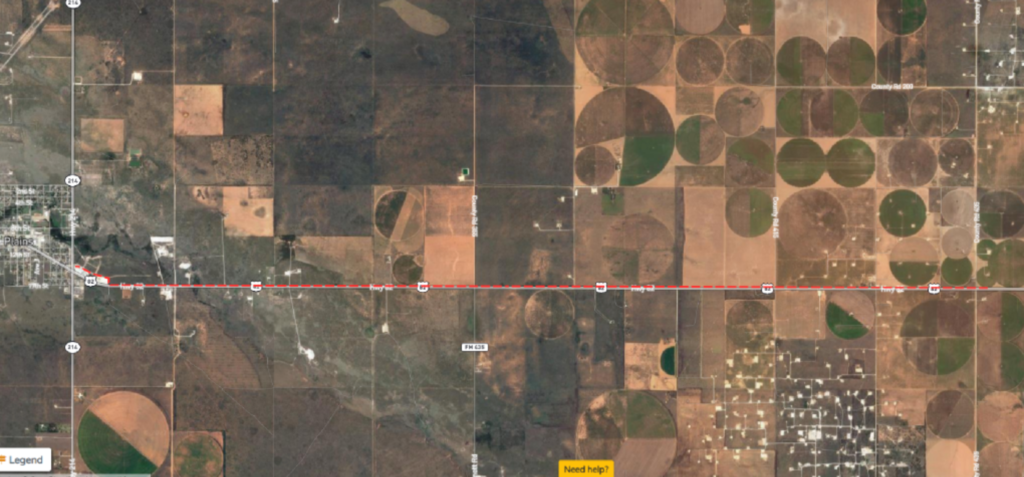 .
TERRA TRANSMISSION, LLC_New Pipeline _Permit#10392_6 Miles_WILLIAMSON
Castlerock Exploration (CRX) is a private exploration and production company currently operating in South Texas Eagle Ford region. CRX seeks to build value through high rate of return projects by leveraging the unique experience of its technical team in conjunction with creative land acquisitions. Above all, we are committed to operating in an ethical manner, respecting the land and individuals that we partner with on a daily basis.
CRX is partnered with Denham Capital Management (www.denhamcapital.com), a global energy, resources and sustainable infrastructure investment firm with more than $12 billion of invested and committed capital since inception.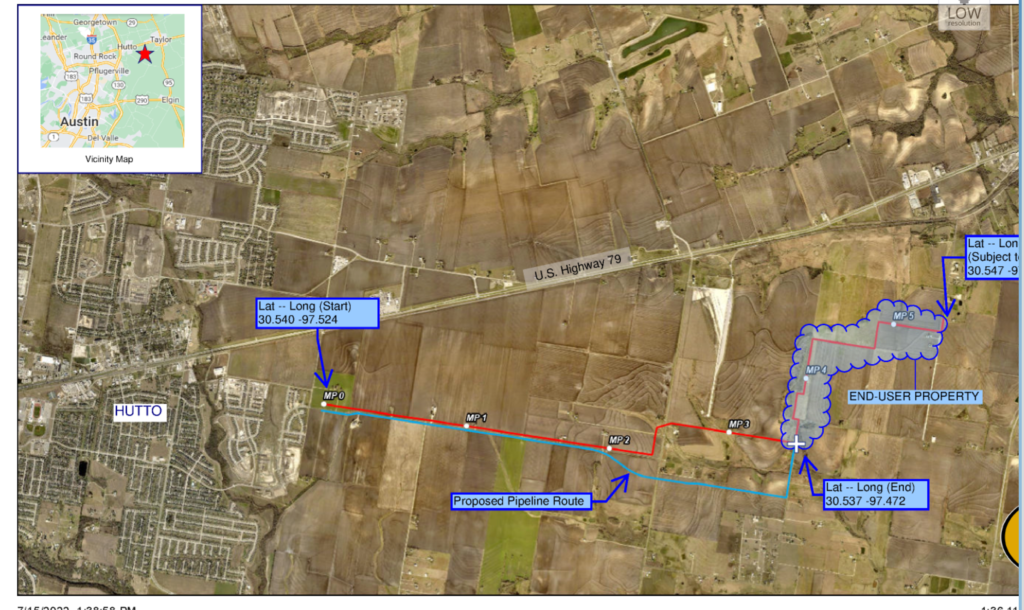 MAGNOLIA OIL & GAS OPERATING LLC_New T10393_1 WASHINGTON
Magnolia's South Texas asset platform includes a well-delineated, low-risk position in the core of Karnes County and a position in the Giddings Field, a re-emerging oil play with significant upside. Together, these positions comprise approximately 460,000 net acres targeting two of the top oil plays in the United States.
Karnes County: Core Eagle Ford and Austin Chalk
World-class acreage footprint located in the core of the Eagle Ford, substantially de-risked
Full field development allows for operational efficiencies and improved performance
Well known, repeatable acreage position targeting multiple benches and representing some of the best economics in North America
Giddings Field: Redeveloping as an Emerging Play
Emerging, high-growth asset with extensive inventory potential and significant development flexibility
Held-by-production nature of asset allows for systematic delineation and optimization of play while staying within asset cash flow
Modern high-intensity completions have resulted in a step-change improvement in well performance
At least 1,000 locations based on conservative spacing assumptions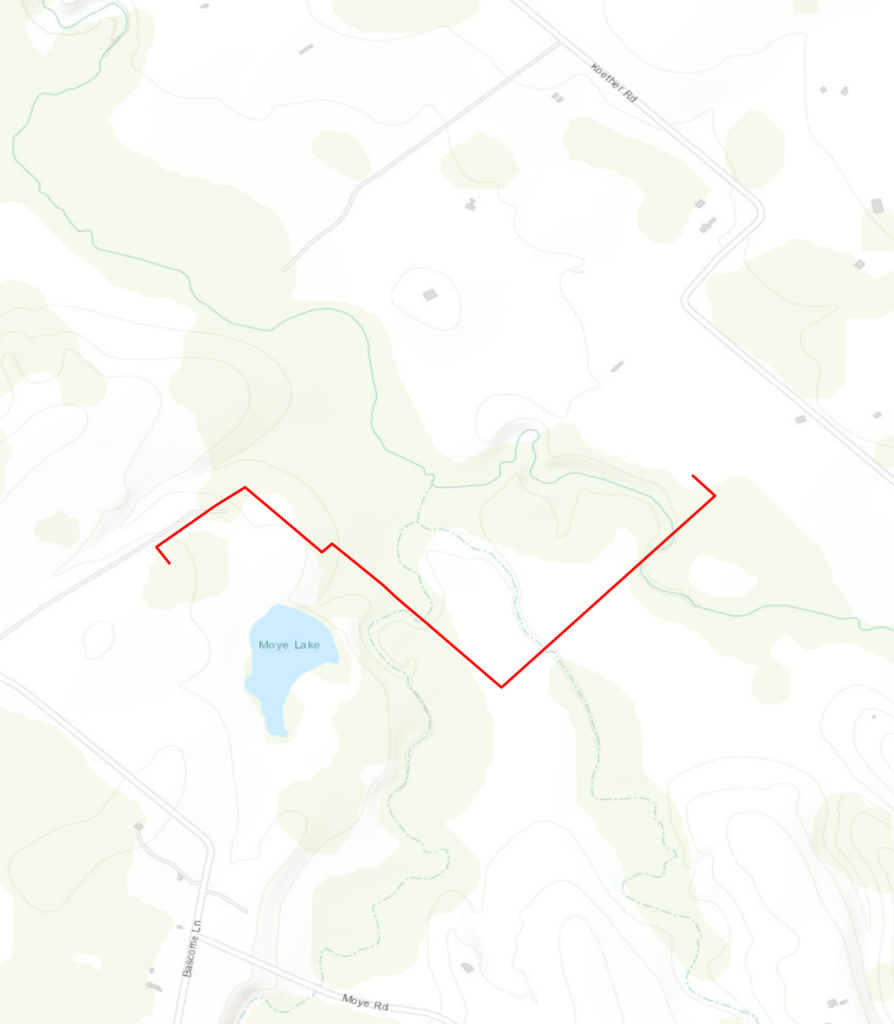 ---
Oilgasleads.com Texas Pipeline & Facility Projects