Introduction
There are many different types of wellhead stuffing box containment solutions on the market in the USA, Canada, and throughout the world.
A Stuffing box can come in many sizes, shapes, pressure ratings and most importantly with various sealing arrangements. The primary function of a stuffing box is to seal fluid pressure while the polish rod is stroked by the pumping unit.
With the use of most secondary containment, when a packing leak occurs, the pumping unit will shut down, stop the polish rod from stroking as this stops most of the flow of produced fluids, preventing large environmental spills. Further to the environmental aspects, containments reduce operator and or pumpers service time at each well during any clean up scenario.
Oil & Gas Operators set-up Environmental, Social and Governance (ESG) Steering Committees to monitor performance in the context of an evolving regulatory, legal and stakeholder landscape. The steering committee advises our senior leaders on issues for consideration in enterprise risk management, stakeholder engagement and regulatory and legal compliance.  Part of the ESG programs is to ensure that they have adequate oil spill solutions in place.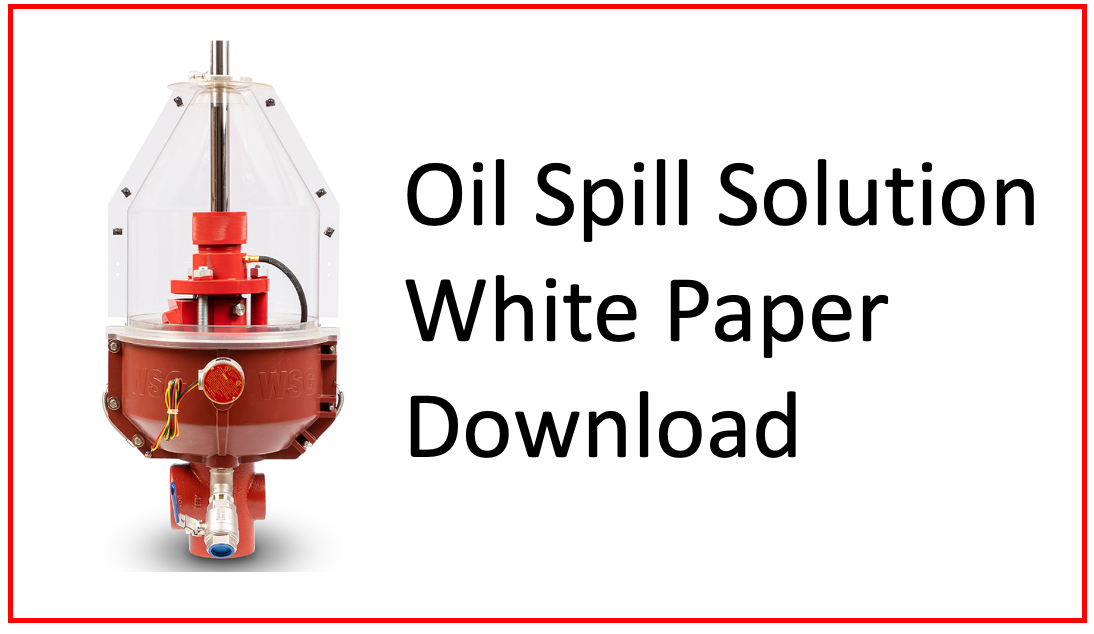 Wellsite Guard White Paper
Oil Spill Solutions White Paper
Well Site Guard Ltd. provides premier solutions for clean, efficient, complete oil spill containment. We engineer and design our reliable, high-quality wellhead units to meet and exceed the needs of North American oil producers.
With Well Site Guard, environmental stewardship does not result in high expenses associated with containing oil spills. In addition, our units include many productivity-boosting features:
10-minute installation
Built with durable materials that last indefinitely
No restriction for simple wellhead-packing replacement
Failure-free in extreme heat and cold
Avoid the downtime, labor, financial and environmental costs of oil spills with Well Site Guard. Our solution completely encloses the wellhead, containing any spills and making your worksite safer and compliant with ERCB/EPA regulations. It eliminates your need for daily cleanup, improves your operational efficiency and reduces labor expenses.
Well Site Guard Classic is cost-effective – and pays for itself in just three months. It's also the only reusable wellhead containment solution on the market, multiplying your savings.
The JK Junior Containment is the simple way to save time, money & the environment & is designed to fit most stuffing boxes in the oil & gas industry. The JK Junior Containment is an innovative wellhead containment that is easily installed at the stuffing box of a wellhead.
The JK Junior Containment has a self wicking lubrication system that not only minimizes polish rod wear but it also extends the life of the packing. The JK Junior Containment comes standard with a high level shutdown switch,( The Norriseal 1005E comes standard), which eliminates those unsightly wellhead spills and keeps the green on the ground and green in the bank.
Think of the JK Junior Containment as a little added insurance for your wellhead. It is The Little Blue Box that Saves A Lot Of Green.
Spill containment berms by Basic Concepts offer compliant spill protection for spills, leaks or hazardous accidents. Hazardous leaks and spills are a relentless challenge, not only from a personnel safety perspective but also in relation to the damaging effects on the environment which can lead to expensive fines from local authorities.
These flexible spill containment products, for indoor and outdoor use, capture anything from small leaks and drips to large scale spills up to 22,187 litres. Made of durable PVC coated fabric they are ideal for emergency use due to their compact design and portability.
Flexible spill berms by Basic Concepts are offered in a number of different styles, and sizes depending on industry or use.
Pollution Control Corp. has been providing Oilfield and Industrial Containment Systems since 1992. American Pollution Control Corp. (AMPOL) is a full service environmental remediation company and contractor that specializes in inland, nearshore, and offshore emergency response and hazardous waste remediation. Serving oil and gas companies, industrial companies and government agencies, AMPOL provides emergency and nonemergency toxic and hazardous materials containment, collection and assistance with transport and disposal.
AdOil Inc., is a client-first company that develops, manufactures and distributes wellhead containment devices for the oil industry to protect against the financial and environmental costs of wellhead leakage.
The company began as a wellsite inspection firm in 1986 and our inspectors noticed a recurring problem of wellhead seal wear related spillage. This problem was a concern to AdOil Inc. and its customers because of soil and groundwater contamination. Reclamation and disposal costs were skyrocketing, and a need was identified for an effective way to mitigate the risks associated with increasing water-oil ratio (WOR) to avoid soil contamination.
All products currently on the market proved ineffective and difficult to use by the field personnel. AdOil Inc. developed and field tested the TITAN® as a solution in 2002. The TITAN® is durable and operator-friendly product featuring a cast aluminum basin and shatterproof clear view cover. This product arrests all seepage, spills, fluids, and leaks. By addressing common small leaks, heavy leaks and blowouts were eliminated addressed simultaneously. The TITAN® was designed to exceed environmental compliance and reduce oilfield operating costs. A true win-win solution.
Suitable for all oil wells and is paramount in environmentally sensitive areas. Wellhead containment proves to be both cost-effective and environmentally conscious.
Katch Kan™ has been pro-actively providing sustainable Well Life Cycle Solutions™ to the Upstream Oil and Gas Industry for over 25 years.
When used together, the Rig Safety System™, Zero Spill System™ and other Katch Kan™ Systems increase personnel safety, capture lost drilling fluid, and redirect the lost fluids for recycling or reuse. The systems provide drilling fluids cost savings and a cleaner, safer and more efficient operation while the well is active. By reducing the environmental impact, the systems lessen liabilities and cost associated to the cleanup, remediation and reclamation phases.
Katch Kan™ systems work for Land Drilling, Off-Shore Drilling, Well Servicing/Workover and Well Head Applications.
The Zero Spill System™ captures lost drilling fluid, and redirects the lost fluids to be recycled and/or reused. Katch Kan's Zero Spill System™ not only captures fluids but reduces the need to fish for dropped foreign objects, thereby reducing downtime and loss of production.
Designed as a response to industry feedback, regulatory concerns, and environmental stewards all demanding a more efficient and safe way to contain production and drilling fluids from releasing on site the Zero Spill System™ delivers cost savings to any rig.
The wellhead oil & blowout containment unit is rust proof easy to install and protects stuffing box packing from snow, rain, wind and debris.
Fully enclosed and self-contained
Durable, rust-free construction
U.V. resistant
All hardware is corrosion resistant stainless steel
Sloped collection tray provides natural drainage, making the unit more drainage efficient and maintenance-free
Tapered polish rod washer drains migrating fluid back into collection unit
automatic pumpjack shutdown also available
---
Rig Count Reports
Texas Pipeline Projects